By Jeff White (jwhite@virginia.edu)
VirginiaSports.com
CHARLOTTESVILLE — When he learned in the fall that his team's first two ACC series would be on Tobacco Road against two of the league's traditional powers, University of Virginia head baseball coach Brian O'Connor had some concerns.
Not since 2017 had the Cavaliers played their first two conference series on the road, and had they stumbled early this year, they could have fallen behind in the race for regular-season ACC supremacy. But after seeing his team take two of three games from North Carolina in Chapel Hill and two of three from NC State in Raleigh, "you feel really great," O'Connor said.
At 19-2 overall and 4-2 in ACC play, Virginia has every reason to feel good about how its 20th season under O'Connor is unfolding. The series win over NC State was the Wahoos' first in Raleigh during O'Connor's tenure, and they've played well in every phase of the game.
The No. 8 Hoos are hitting .332 as a team, which ranks fourth in the country. Junior catcher Kyle Teel leads the team with a .457 batting average, and five other every-day starters are at 341 or better. Virginia's pitchers have a combined earned-run average of 2.62, which ranks fourth nationally. In the field, only No. 1 LSU has a better fielding percentage than UVA, which has committed nine errors.
"Part of having great pitching, I think, is that we've played really fantastic defense," O'Connor said. "At this point it's been one of our better defensive clubs, and that goes back to the enthusiasm. To be good defensively, certainly you have to have skill, but you've got to have energy to play it and you've got to be able to put the bad at-bats behind you, and we've had a lot of guys that have done that."
Since dropping the series finale in Raleigh last weekend, the Cavaliers have won twice at Disharoon Park, defeating High Point 8-3 on Tuesday and beating Georgetown 6-4 on Wednesday. And now, at last, they get to host an ACC series.
Virginia is scheduled to play three games against Florida State (12-9, 3-3) at Disharoon Park this weekend: Friday at 1 p.m., Saturday at 1 p.m., and Sunday at 1 p.m. (With inclement weather expected Friday, the starting time for the series opener was changed from 6 p.m. to 1 p.m.)
"It is good to finally be back and have an ACC weekend at home," O'Connor said Wednesday night. "I'm excited because I think it's a great opportunity for our fans to come out and support this team and the start that we're on this year. And so I'm looking to have a great environment here at the Dish this weekend."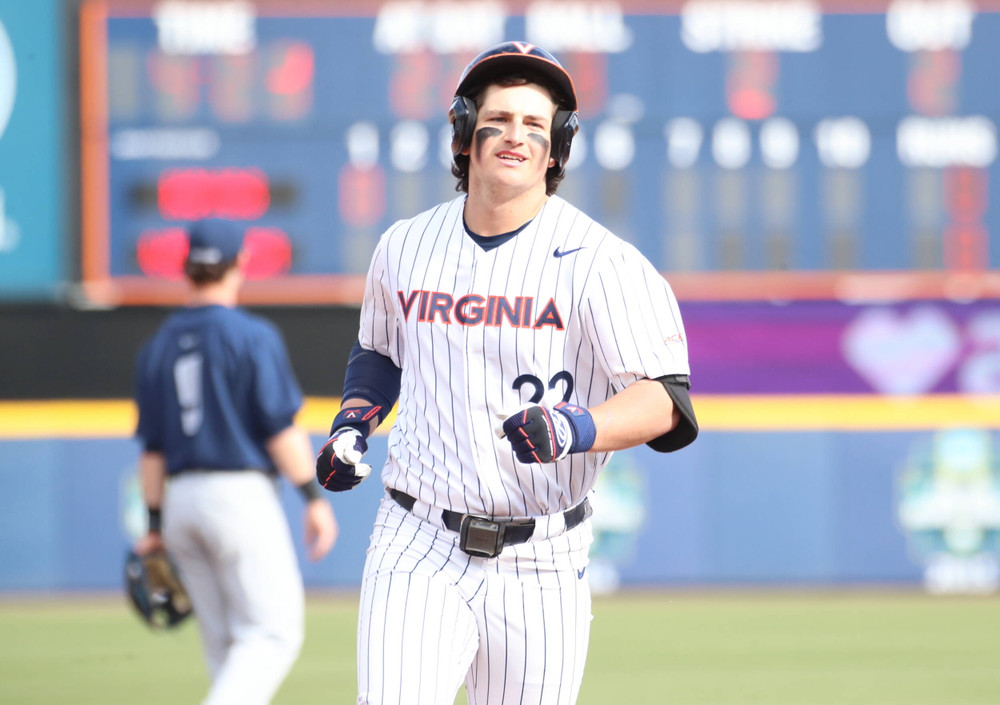 At this point last season, the Cavaliers were 20-1. They finished 39-19 after losing in an NCAA tournament regional in Greenville, N.C. Many of the top hitters from that team are back this year, but UVA lost pitchers who accounted for two-thirds of the 511.2 innings thrown last season.
How pitching coach Drew Dickinson's group would fare this year was uncertain, but through the first third of the season the Cavaliers' newcomers have excelled. They include transfers Brian Edgington (Elon), Connelly Early (Army), Nick Parker (Coastal Carolina), Angelo Tonas (Georgetown) and Chase Hungate (VCU), and freshmen Jack O'Connor, Kevin Jaxel, Evan Blanco and Bradley Hodges.
"They've all been great," sophomore shortstop Griff O'Ferrall said.
The new pitchers "want to prove themselves in this uniform, in the UVA uniform," O'Connor said, "whether it be first-year players like Jack O'Connor and Blanco and Jaxel and Hodges, right on down the line. And then you've got the transfer kids … Those guys are out there every day pitching like they're competing for a spot, and that's great. Competition is a good thing. And so I've just been impressed with what they've done, and we need to continue to do what we've done up until this point."
Every team takes on its own personality, said O'Connor, who's guided UVA to the College World Series five times, with an NCAA title in 2015. It's still early in the season, but the current Cavaliers have done "a really great job of picking each other up," O'Connor said.
"There might be an error, and the pitcher does his job. They've shown really, really great poise and a high level of enthusiasm every day that they come to the ballpark. I've always said as a coach, you're in trouble if you have to coach energy and enthusiasm, and you don't have to do that this with this team. They love competition. They're ready to go, and they treat each day like a new day, and that's a good quality to have for sure."
The Hoos are averaging 9.6 runs per game. They didn't meet that standard against Georgetown, but they still totaled eight hits, including home runs by Jake Gelof and Teel.
Teel and junior Ethan O'Donnell, a transfer from Northwestern, have five homers apiece this season. Gelof, a junior, leads Virginia with seven and needs only five more to tie E.J. Anderson, who hit 37 in the 1990s, for the program's career record.
"We're playing a good brand of baseball," Gelof said. "We're limiting walks, taking care of the baseball, going up to the plate with great approaches, passing the baton on to the next guy, and just having that team mentality. It speaks to the coaches and how they get us ready for the season."
O'Ferrall led the Cavaliers with three hits and three RBI against Georgetown (11-9). At shortstop, he smoothly handled a throw to second from Teel in the ninth that catch Travis Ilitch stealing.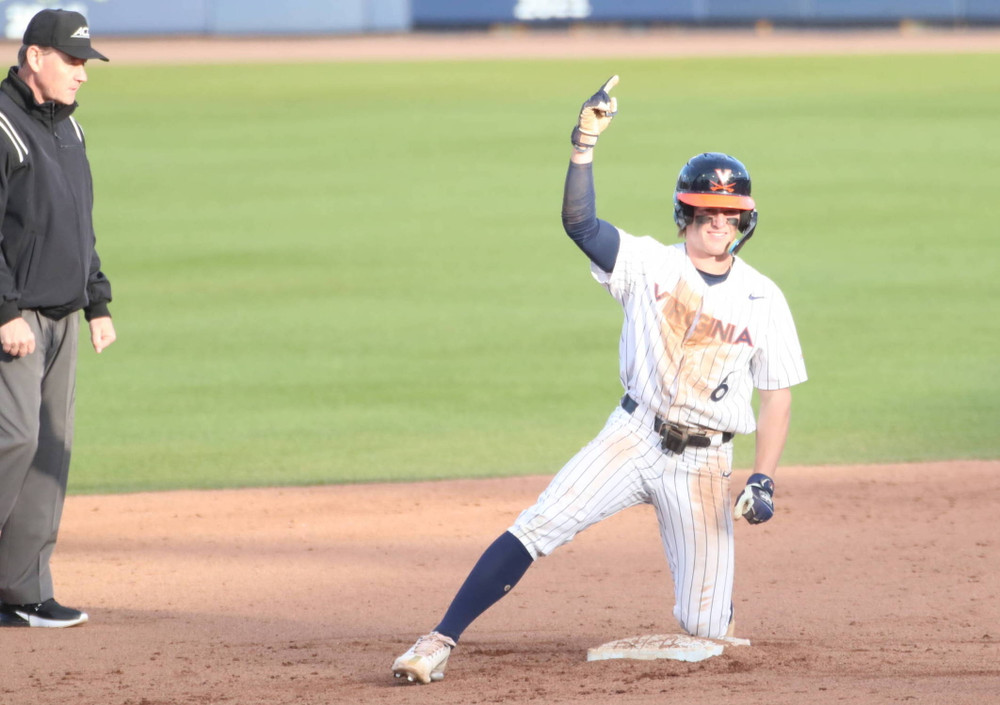 This marked the first time Virginia has played back-to-back midweek games this season, and O'Connor liked the way his players responded to that challenge.
"It tests your pitching depth, but also it tests your toughness and your competitiveness from a position player standpoint to come back out there again after yesterday," O'Connor said, "and I thought our guys really responded and played a good ball game."
Hodges, in his first start, allowed one run in 2.2 innings, and Jaxel struck out six, walked none and gave up no hits in 2.2 innings, his longest appearance of the season. Tonas, Hungate, Blanco and closer Jay Woolfolk also threw for the Cavaliers.
"The energy around this team is really good," O'Ferrall said. "I think we do a great job of really putting people down when we're on top and continue to grow leads and take advantage of opportunities that we have. I really like the energy and the camaraderie we have going."
Now comes a series with Florida State, a perennial power that has struggled in its first season under head coach Link Jarrett. The Seminoles have lost six of their past seven games, including a Tuesday night clash with No.. 3 Florida, but they won a series at TCU early in the season and remain dangerous.
"Maybe they haven't got as many wins over the last week that they would like," O'Connor said, "but we know their talent level. They will have the best arms, the best collection of pitchers that we have seen on a weekend this year."
Jarrett had successful runs as head coach at UNC Greensboro and Notre Dame before coming to FSU, and he'll "have Florida State ready to play," O'Connor said, "because I know the caliber of coach he is and the talent that they have. So it'll be a great weekend that we're looking forward to."
O'Ferrall: "I think we're all excited for the atmosphere. Obviously, being away the first two weekends brought a challenge for us and we were excited to do it, but there's nothing like an ACC series at home. So we're excited to see all the fans come out and play some good baseball."
To receive Jeff White's articles by email, click the appropriate box in this link to subscribe.