By Jeff White (jwhite@virginia..edu)
VirginiaSports.com
CHARLOTTESVILLE, Va. — On a cold, blustery afternoon in Pittsburgh, University of Virginia head softball coach Joanna Hardin summoned freshman pitcher Eden Bigham from the bullpen. It was the bottom of the sixth inning, and the Pitt Panthers had runners on first and second with none out in an ACC game that was tied 2-2.
The pressure didn't bother Bigham, whose poise belies her age. The conditions were another matter.
"That was awful," Bigham said this week, shaking her head. "I'd get my feet set on the mound and the wind would blow me over sideways. It was crazy."
Undeterred, Bigham prevailed in her battles with Mother Nature and Pitt last Saturday. After a sacrifice bunt moved the runners to second and third, she struck out the next two batters. UVA scored two runs in the top of the seventh, and then Bigham retired the Panthers in order to end the game.
"She came in and got it done," said Hardin, whose team completed the series sweep Sunday.
Such performances have become commonplace for Bigham, who's from Concord, a small town about halfway between Lynchburg and Appomattox. She arrived at UVA as one of the most highly regarded recruits of Hardin's tenure, and she hasn't disappointed.
"Eden's been very impressive so far," said Melanie Mitchell, the star pitcher on the UVA team that advanced to the NCAA tournament in 2010.
"She has a veteran presence on the mound despite being a freshman," said Mitchell, who's now an analyst on broadcasts of ACC games. "She throws hard and spins the ball well. Her rise ball jumps and is her strikeout pitch. She really only gets hit when she misses her spots, which isn't often. I'm looking forward to seeing how she does against teams like Virginia Tech and Florida State. Those will be tough tests."
In her college debut, Bigham threw a no-hitter in Virginia's season-opening win over Lamar. She's made 11 starts and five relief appearances, and she's 8-3 with a 1.27 earned-run average. She has 83 strikeouts in 71.2 innings, and opponents are hitting .138 against her.
"Eden is coming in and doing exactly what we needed her to do and exactly what we believed she was capable of doing," Hardin said.
"She is one of the most competitive people I think I've ever met. She wants the ball, and she is pretty fearless. She's extremely humble. Humility is a great quality, but humility is not a lack of confidence. I think Tony [Bennett] actually says this: It's not thinking less of yourself; it's just thinking about yourself less often. Eden just isn't overly involved with herself and her own stats or her numbers or her success or her failures. She just really wants to learn and grown and get better."
Long before NCAA rules allowed her to speak with Bigham, Hardin became a fixture at her games. The Wahoos wanted to make sure Bigham knew she was a major priority for them. And so Hardin and her assistants showed up to see Bigham play for Rustburg High in the spring and the Williamsburg Starz travel team in the summer. They even attended Bigham's volleyball games.
Their efforts were rewarded when, in September 2020, Bigham committed to UVA. She's part of a talented first-year class whose other members include Jade Hylton, Courtney Layne, M.C. Eaton, Kassidy Hudson and Kelsey Hackett.
In 2022, the Cavaliers won 28 games, their most since 2010, when they went 34-23 and made the program's only appearance in the NCAA tournament. Heading into their series with North Carolina (13-22 overall, 3-6 ACC) this weekend at Palmer Park, the Hoos are 23-10, 4-5, and their freshmen have played leading roles.
Hylton, who's from Martinsville, has hit a team-high eight home runs. Eaton has hit five homers, and Layne is 2-0 in eight pitching appearances.
"This class is exactly what we expected," Hardin said.
Bigham and Hylton are roommates, and they played travel ball with Hackett, who's from Appomattox. As the Cavaliers' 2022 recruiting class grew, Bigham said, its members started talking about the impact they could have on a program that traditionally has lagged behind the ACC elite. They wanted to help build something special at UVA.
"Our recruiting class was very strong," Bigham said, "and we knew that. So we talked about making a difference in the program and what we could do for the team and the program that they maybe haven't had in the past."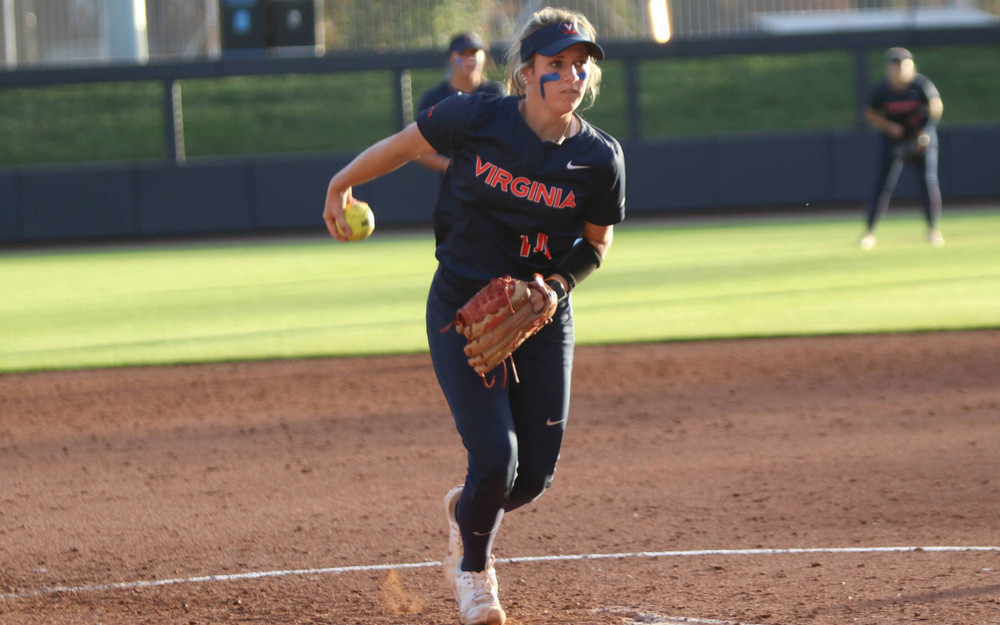 Bigham grew up around the sport. Her mother, Katie, starred in softball at Rustburg High, where she had a career record of 74-4, and at Liberty University, where she had a career ERA of 1.59.
Katie Bigham coached Eden in youth league and at Rustburg High, where Eden threw six perfect games and broke the school record, set by her mother in the 1990s, for career strikeouts. Eden's father, Seth, coached her in travel ball.
At Rustburg, Eden relied almost exclusively on the rise ball, a pitch that's thrown with backspin on an upward trajectory. Hardin and Mike Roberts, who's in his second year as the Cavaliers' pitching coach, asked Bigham to expand her repertoire.
"We told her from day one, 'You're going to have to have a change-up and you're going to have to throw to the outside part of the plate, you're not going to live in the ACC on one pitch,' " Hardin said, "and she just really embraced that. I think that's really hard, for pitchers that have been very successful with one pitch or with one really specific thing, to come in and have your coaches say, 'It's good, but you need to add this, that and that to be successful.' But she's done great with that, and I think that's the difference-maker with her, that she's been able to execute to two sides of the plate. She's been able to throw the off-speed, she's working the bottom of the zone. It takes a hungry, humble and smart athlete to do that, and she's been that to the T."
Bigham said: "At first I was really nervous, because you're a freshman and then she comes in and says that to you and you're freaking out, like, 'How am I going to be successful?' "
At Rustburg, Bigham said, "I would probably throw 115 pitches [in a game], and 110 of them would be rise balls. In high school, you don't really need anything different, honestly. You throw strikes and you're fine. But my changeup is totally different [than it was last summer]. We changed that from the beginning, and I think that was a smooth transition, so that made me a little more confident. And so now I'm throwing a curveball, which I'm honestly throwing way more often than I thought I was gonna throw it."
Bigham is not the only pitcher who's shined for the Cavaliers this season. Jenny Bressler, a graduate transfer from UNLV, is 6-1 with a 1.84 ERA, and senior Molly Grube (7-6) has a 1.60 ERA. The Hoos have a team ERA of 1.84.
"Coach Roberts has done a great job," Hardin said. "He's just been a great addition [to the program] holistically, but definitely with our pitching staff. He's helped develop Molly, and as a freshman coming, Eden has learned so much from him. So he gets a lot of credit for where we're at as a [pitching] staff."
Her first year at UVA has flown by, Bigham said. She's undecided on a major, but her classes this semester include Poetry Writing, Religion in America since 1865, Buddhism, and Sociology of the Family.
"A little bit of everything," Bigham said, laughing.
She sees her family often. Concord is about a 75-minute drive from Charlottesville, and the Bighams are regulars at Palmer Park. After playing two straight ACC series on the road, Bigham and her teammates are thrilled to be home this weekend.
UVA is scheduled to meet UNC at 2 p.m. Friday, 1 p.m. Saturday, and 4 p.m. Sunday.
"The traveling part [of college softball] is just exhausting," Bigham said. "We drove to Clemson and drove to Pitt. I think it was like 1:30 in the morning when we got back from Clemson, and we had class the next morning. So being here and not having to travel, I think, is really exciting. And then I live so close that all my home crowd can come and we can get dinner after the game. Everybody's family pretty much comes to the home series, and you have home-field advantage, too, so that's always exciting."
To receive Jeff White's articles by email, click the appropriate box in this link to subscribe.