By Jeff White (jwhite@virginia.edu)
VirginiaSports.com
CHARLOTTESVILLE, Va. — Likes millions of golfers around the world, Ben James has been closely following the Masters since the tournament began Thursday in Augusta. Ga. James envisions himself competing for a green jacket one day, and he has every reason to believe that's a realistic goal.
Last summer, not long after graduating from high school, James played in a PGA Tour event, the Travelers Championship, on a sponsor exemption. He shot 72 in the first round and 69 in the second. He missed the cut by three strokes, but James drew confidence from his experience at TPC River Highlands in Cromwell, Conn.,
"I felt like I held my own," he said. "Obviously, there's a ton of nerves and it was my first experience, but tying Jordan Spieth and beating a couple of the best players in the world is pretty encouraging to me. There's no doubt in my mind I could see myself out there competing and seeing where my game matches up against the best players in the world."
The 6-foot-2 James, who's from Milford, Conn., enrolled at the University of Virginia last summer as the nation's top-ranked recruit and top-ranked boys junior amateur player. It's been easy to understand how he earned that status. In September, in his debut as a Cavalier, James announced his arrival by shooting a 9-under-par 63 in the first round of the Streamstrong Invitational in Florida.
"He kind of put the whole world on notice," Virginia head coach Bowen Sargent said.
Some 35 years ago, Sargent made his debut for the NC State Wolfpack. He doesn't remember what he shot in his first college tournament, but he knows it wasn't 63.
"It was probably closer to 83 than 63," Sargent said, laughing.
James, who's ranked 16th among the nation's college golfers, averages 69.52 strokes per round to lead the No. 21 Wahoos. He's won three tournaments in 2022-23, including the Streamstrong Invitational, and he's had four other top-5 finishes. Twice he's been named the ACC Men's Golfer of the Month.
"He's as good as any player I've coached," said Sargent, who's coached three ACC individual champions and a U.S. Amateur runner-up during his tenure at UVA.
James, whose grandfather was a scratch golfer, swung a club for the first time as a 3-year-old. James' father, Don, was an avid golfer too and encouraged his son to pursue the sport. James' aptitude for the game was apparent almost from the start. When he was 10, he won his age group at the U.S. Kids World Championships in Pinehurst, N.C.
"That's when I kind of figured out myself that I wanted to continue playing and that I have a chance to do this for a career," James said, "and to work hard every day to try to succeed."
At the tender age of 11, he committed to the University of Connecticut, which had offered him a scholarship. James later withdrew that commitment and re-opened his recruitment, after which Sargent received a phone call from former UVA head coach Mike Moraghan, who's executive director of the Connecticut State Golf Association.
The New England Golf Association annually hosts a junior tournament in which all-star teams from Connecticut, Massachusetts, Rhode Island, Vermont, Maine and New Hampshire compete against each other. Moraghan coaches the Connecticut team.
"Ideally, you're taking the seven best players from your state," Moraghan said, "and you go and play a 54-hole team competition."
James was only 13 when he made the Connecticut team for the first time. "And he was the best player we had," Moraghan said. "He was a little kid. He could only hit the ball about 200 yards, but his maturity level and the way he worked his way around the golf course and the understanding that he had for how to play tournament golf, as a 13-year-old, was so impressive.
"I was so impressed with him that I called Bowen and said, 'Here's a kid you gotta take a look at.' You can't help but be impressed the first time you see Ben James play, whether he was 13, 15, 17 years old. You watch enough junior golf and you can really recognize when a kid is exceptional."
James said he's "always been a really good driver of the ball. I hit it very straight, so that helps a lot. That's been something I could always rely on. I think more when I was younger, I had to just be more crafty, especially with chipping. I feel like I could hit every shot."
The Cavaliers already were aware of James—"Every golf coach in the country knew who he was," said Sargent—but they began recruiting him in earnest after hearing from Moraghan. To James, Moraghan mentioned UVA as a school worth considering.
"Obviously, Mike has played a big factor in my junior golf life and still does in my amateur career," James said. "I was seeing him almost every week at the [CSGA] events and we just became such good friends. He was like, 'Maybe UVA could be a good spot,' and that's kind of all it took for us start looking at the school and figure out this is the place I want to be."
Sargent said: "Mike helped us a lot. He put a bug in Ben's ear. I don't know that we would have probably gotten a look had it not been for Mike."
Every year, Moraghan said, Connecticut has "kids who are good enough players to play somewhere at the Division I level, so I really enjoy helping them make their decision and connecting them to programs where I know people. I wasn't just pushing UVA on Ben. I knew he could play for any team in the country. I encouraged him, 'Look at lots of programs and make your decision based on your priorities. Obviously, you want to go to a great program where you'll be challenged with your golf and you'll be on a great team and you'll play a great schedule. But it should also be a good fit academically, a good fit for what you're looking for in terms of the size of the school'—the usual advice you give a kid who's trying to make an important decision."
Moraghan said he has still has "a very clear memory of, when Ben was first on the team as a 13-year-old, seeing him sitting at a dining-room table with the other guys on the team. He was like half their size, but he just seemed to fit right in. The way he interacted with the other players and the other players interacted with him, it was a nice thing to see how he was as a teammate."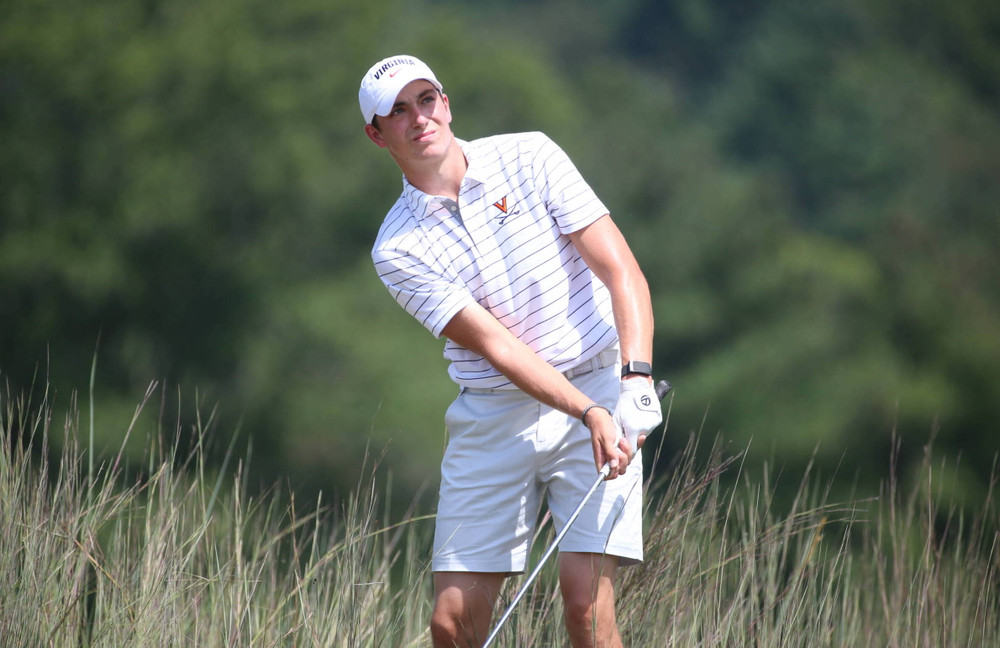 At UVA, James has been reunited with Chris Fosdick, who began his college career at Division II Florida Southern. They grew up playing in the same tournaments—and for Moraghan on the Connecticut junior team—and have been friends for more than a decade.
"Obviously I couldn't be happier that it worked out that Ben ended up at Virginia," Moraghan said. "It's fantastic. And I couldn't be happier that Chris is there too."
Asked what makes James special as a golfer, Sargent said, "I think if anybody went and watched him, they would obviously say his ball-striking. It's world-class, there's no doubt. But as I've coached him and dug a little bit deeper, I think it's more his practice habits are good, he works the right way. He's very professional in his approach, and I can't help but think that's the reason he's as good as he is.
"There's a lot of people that hit it well. Now, he hits it exceptionally well, but I think everything that he puts into it day to day is the reason he is who he is."
James could have opted to pursue a professional career after graduating from Hamden Hall Country Day School, but he says he always planned on attending college.
"I never thought I wouldn't," said James, who's interested in an American studies major. "I plan on staying four years and I'm going to. It's just something that was always a part of my plan and part of my family's plan."
The ACC Championships start April 21 in Pinehurst, N.C. First, though, the Hoos will close the regular season by hosting the second annual Lewis Chitengwa Memorial at Birdwood Golf Course. Fifteen teams, including two from UVA, will compete Monday and Tuesday in the 54-hole event.
Chitengwa, who died of meningococcal meningitis in 2001 at the age of 26, was the first Black golfer on the men's team at UVA, where he played for Moraghan. During his four years in the program, the Zimbabwe native recorded 17 top-10 finishes, with two victories, and twice was named an All-American.
Growing up, James said, he learned a little bit about Chitengwa from Moraghan, who'll be in Charlottesville for the tournament this week.
"I heard he was a phenomenal player and a great, great guy," James said.
The Cavaliers are coming off a strong showing at the Augusta Haskins Award Invitational in Georgia, where they finished third in a 15-team field.
"We proved to ourselves that we could all play against the best schools," James said. "That field was really good and we were right there. So we played some good golf there, and we're very excited for the home event. Obviously being right here at Birdwood and having people we know come out, we're going be really comfortable. It's another strong field and I think it'll be a good way hopefully to get a win and end the regular season on a strong foot."
To receive Jeff White's articles by email, click the appropriate box in this link to subscribe.