GREENSBORO, N.C. – Virginia sophomore Amanda Sambach leads the field after the opening day of play at the ACC Championships in Greensboro, N.C. She posted rounds of 4-under 68 and 6-under 66 at Sedgefield Country Club during Thursday's opening 36 holes of competition.
Sambach helped No. 22 UVA to a fourth-place standing after the first two rounds at 1-under 575. The Cavaliers recorded scores of even-par 288 and 1-under 287. Second-ranked Wake Forest leads the 12-team field at 15-under 561 while No. 31 Duke is second at -10, 566 and No. 24 Clemson is third at 8-under 568.
Following Friday's final round of stroke play, the top four teams will advance to the match play portion of the tournament. UVA finished the second round 11 shots ahead fifth place No. 11 Florida State (586).
Sambach's second round score of 6-under 66 matched the best 18-hole performance by a Cavalier at the ACC Championships. Current LPGA Tour member Lauren Coughlin shot 6-under 66, also at Sedgefield, on her way to winning the 2016 ACC Championship. The best 54-hole score by a UVA golfer at the event was Briana Mao's 10-under 206 in 2015, also at Sedgefield. Mao tied for first that year but lost a playoff for the individual crown.
During her opening round, Sambach had birdies on holes two and five before returning to even par following a double-bogey on number six. On the back nine, she posted birdies on 10, 11, 16 and 18.
Her second round score also included a fabulous back-nine performance. After reeling off nine consecutive pars to open her second round, she made eagle on the 10th hole, and followed that up with birdies on 12 and 14. Then, she posted her second eagle on No. 15 to finish her final nine holes at 6-under 31.
Sambach finished the day at 7-under on Sedgefield's par-five holes.
Last year, as a freshman, Samback placed third at the ACCs at 1-under 215. The tournament was held in Pawley's Island, S.C. that year.
Celeste Valinho posted UVA's second-best score during the first round at 1-under 143 to end the day in 12th place. Megan Propeck is 32nd at 149 (76-73) and Jennifer Cleary and Rebecca Skoler share 39th position at 7-over 151.
The ACC Championships also decide the point at stake for women's golf in the Smithfield Commonwealth Clash series between Virginia and Virginia Tech. The Cavaliers will enter the final round 14 shots ahead of the Hokies. Virginia Tech ended the second round in sixth position at 13-over 589. Currently, the clash is tied at 8-8.
Friday's third round of stroke play gets underway at 9 a.m. UVA will be paired with Florida State and Virginia Tech. Those teams will tee off starting at 9 a.m. Live scoring is online at Golfstat.com.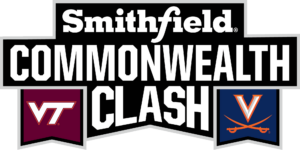 ACC Championships
Sedgefield Country Club
Greensboro, N.C.
Par 72, 6,092 yards
Second-Round Results
Team Results
 1. Wake Forest      285-276-561
 2. Duke             283-283-566
 3. Clemson          285-283-568
 4. Virginia         288-287-575
 5. Florida State    293-293-586
 6. Virginia Tech    290-295-589
 7. Boston College   293-298-591
 8. NC State         298-296-594
 9. Louisville       293-301-598
10. Notre Dame       308-291-599
11. North Carolina   301-295-601
12. Miami            305-308-613 
Individual Leaders
1. Amanda Sambach, Virginia    68—66-134
2. Rachel Kuehn, Wake Forest   66-70-136
3. Phoebe Brinker, Duke        71-69-140
3. Annabelle Pancake, Clemson  70-70-140 
Virginia Results
 1. Amanda Sambach   68-66-134
12. Celeste Valinho  71-72-143
32. Megan Propeck    76-73-149
39. Jennifer Cleary  74-77-151
39. Rebecca Skoler   75-76-151