By Jeff White (jwhite@virginia.edu)
VirginiaSports.com
CHARLOTTESVILLE, Va. — They were not yet in high school when they first met at a lacrosse camp. Devon Whitaker was from the Philadelphia area. Maggie Bostain lived 250 miles away in Richmond. The two girls formed an immediate bond.
They would sit together on bus rides "awkwardly and quietly," Whitaker recalled with a laugh, but each recognized a kindred spirit in the other. Bostain and Whitaker continued to see each other at lacrosse events as high school standouts, and in the fall of 2020 they became teammates at the University of Virginia.
They're now roommates and starting defenders for the UVA women's lacrosse team. They're both kinesiology majors, too.
"They are a great tandem, and they are best friends," Virginia head coach Julie Myers said, "and they play so well together. They're also incredible people and crazy smart. Everything they do, they do so, so well."
This is the second year Whitaker and Bostain have lived together. They were not roommates in 2020-21, but all the freshmen on the women's lacrosse team lived in Gibbons dormitory that academic year, because of COVID-19 protocols.
"Sharing a hallway, our whole class got really close-knit," Bostain said, "and I think me and Dev were very similar people, so we hit it off."
During the pandemic, Whitaker said, the two "had a lot of time to bond with one another and kind of push each other off the field and on the field. We play a very similar style, and we both love to run. So we kind of were there for each other to go on an adventure. We'd run and find a new trail or whatever it was, or go to the field together and just kind of have a pass. It was nice to have someone just like you who had same work ethic to push you."
Another thing they had in common: Each played in the midfield early in her UVA career. Bostain, in fact, totaled 15 goals and five assists and made the ACC's All-Freshman team in 2021. But Myers moved her to defense last year to make better use of Bostain's skill set.
"Middies are not always on the field—they do rotate off and on—and Maggie is a fast-break attacker," Myers said. "She's not necessarily a settled attacker. So to be able to keep her on the field and really highlight what she's great at, which is stick checks, interceptions, ground balls and fast transitions, she fit better as a defender than she did as a middie, because not every offensive set is a fast break. The only thing it really did was take her out of that settled attack, which was not really her forte."
Initially, said Bostain, a graduate of Collegiate School in Richmond, the position change "was a tough pill to swallow for me, just feeling like you weren't doing what you knew you were capable of. But, honestly, switching to defense, now looking back, it's been the best decision I've made. Not only with the people I'm now playing with, but it's just all around better for me mentally and physically."
Whitaker, a graduate of Episcopal Academy in Newton Square, Pa., had less success at middie than Bostain in 2021.
"Devon was so nervous her first year when she had the ball that we were like, 'All right, let's put you on defense and use that speed and athleticism,' " Myers said. "Her nervousness has definitely been tabled, and over the course of her career, she's become a really important person on our draw circle."
Whitaker started all 20 games on defense last season, and Bostain started 12. As juniors "they continue to grow," Myers said, "and they're just both really competitive kids who at the end of the day say, 'Wherever the team needs me and wherever I can make the biggest impact for our success is where I want to play.' They've both done a nice job of buying into defense, but I also think it's what highlights their strengths and sets us apart as far as what our defense can do."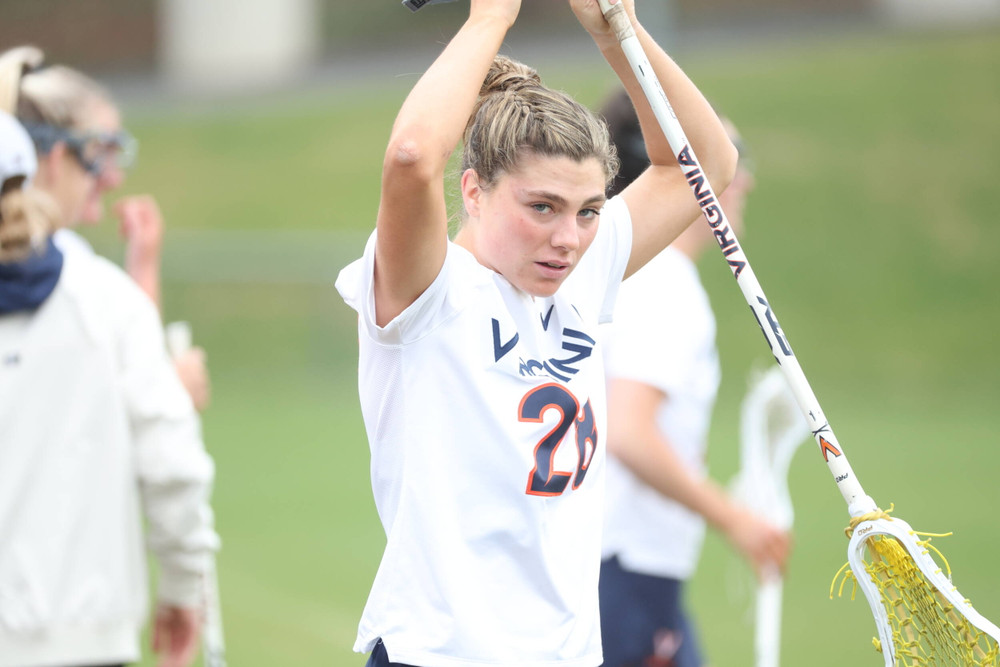 The Wahoos generally have been solid on defense this season, but they gave up 17 goals to North Carolina on March 11, 21 to Syracuse on April 1, and 25 to Boston College last Saturday.
"Clearly we had a defensive breakdown on Saturday," Myers said, "but those [Whitaker and Bostain] together, with that energy and that love and that passion, and just their understanding and knowing of the other person, it is contagious across the entire defensive unit and then across the team."
One regular-season game remains for Virginia, which is ranked No. 12 nationally. At 7 p.m. Thursday, the Cavaliers (10-5 overall, 5-3 ACC) host Virginia Tech (9-7, 3-5) at Klöckner Stadium, where they're unbeaten this season.
"Obviously, it would be nice to pick up six ACC wins out of the nine possible games," Myers said. "So that would be a huge step, and [a win] would give us a lock on that No. 4 seed [in next week's ACC tournament], which is also an improvement from years past. So I think for a lot of reasons this game is really important. But just after getting our butts kicked on Saturday, it's really important to see how we respond and make sure that we are competitive across the field for the entire length of the game."
The Hoos met Monday to review videotape of their loss to BC, and it "was a tough film session," Whitaker said.
The tape showed, Bostain said, that "once we got down we just kind of broke instead of just getting our selves back together and getting it going."
Both raved about the impact assistant coaches Brittany Dipper and Ally Kennedy, each of whom joined Myers' staff last year, have had on the program.
"I think it's been new energy," Whitaker said, "and I love how Dipper's implemented her ideas into our defense. It's kind of been like a fast-paced, upbeat defense, and she really wants to play to our strengths, which I think is awesome. Dipper can get on us and push us to be our best, but she also supports us and reaches out whenever she feels like we're down or anything like that."
The winner Thursday night will earn a point in the annual Commonwealth Clash competition. Whitaker gained an appreciation for the rivalry once she arrived on Grounds. Growing up in Richmond, Bostain was keenly aware of how Hoos and Hokies feel about each other.
"I've always rooted for UVA," she said, "so I've had this rivalry kind of ingrained in myself since I was young."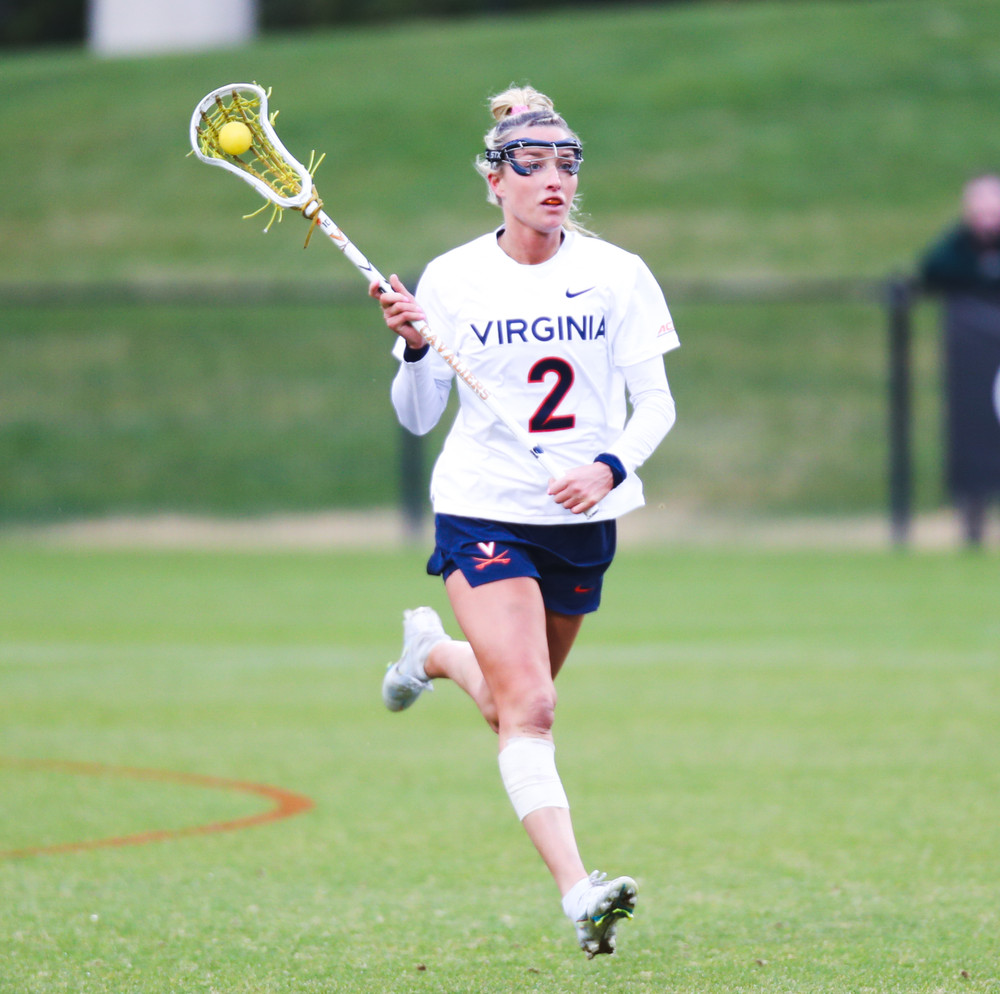 Myers, who's also from the Philly area, grew up with Whitaker's father. "So that's a family that my whole family connected with long before Devon was ever even a person," Myers said.
Whitaker has an uncle, Gui Costin, who played golf at UVA, and that piqued her interest in the school. Also, she said, there are "a lot of Philly people who went to UVA—a lot of lacrosse people especially—and they always rave about it. I grew up watching both women's and men's lacrosse and kind of fell in love with the school."
She committed to Virginia as a freshman in high school. The Hoos had to wait longer to land Bostain, who was leaning to UVA but still uncommitted when an NCAA rule change made it impermissible for college coaches to talk to prospective recruits before Sept. 1 of their junior years of high school.
"We did have to wait on her," Myers said, "and that was a scary one. She was a really sought-after player by so many top programs, and we thought the longer we had to wait, the more this could become a really competitive scenario for us."
The Cavaliers need not have worried. Bostain committed to them in September of 2018, much to the delight of Whitaker, who'd been recruiting her friend.
"I definitely was like, 'You need to come here,' " Whitaker said.
Bostain's talents are not limited to the lacrosse field. She's also an accomplished fiddler who opened for the Gatlin Brothers in 2015 and Lee Greenwood in 2016 as part of the Old Dominion Barn Dance at the Beacon Theatre in Hopewell.
"My mom wanted me to pick an instrument when I was young," Bostain said, "and I loved to watch Charlie Daniels play. So I just was like, 'I want to be like him.' And so I ended up picking up the fiddle."
Bostain discovered that one of her relatives, Cal Newman, who passed away in 2021, was a renowned fiddler, and that accelerated her progress. "So I ended up meeting with him, reconnecting the family, and then since I was 7 or 8, I would go out every Saturday and play with him and just kind of learn from him," she said.
Myers has yet to see or hear Bostain perform in person, "and I keep asking her to. I say, 'Before you're done, you have to have to let us hear it.' We've seen videos, but we've never seen it live."
Bostain and Whitaker, not surprisingly, plan to live together in 2023-24, too. Bostain is interested in attending physician assistant school after graduating, and Whitaker hopes to go to nursing school.
For now, they're enjoying their undergraduate years and hoping to help the Hoos have an extended postseason run this spring.
"I feel like our team is very close and connected," Whitaker said, "and I'm really grateful for that, because I think that kind of gets us through these tough times. We all want to get back to work, even when it's hard or when we have to have to thick skin watching the [Boston College] film."
Dipper preaches the importance of staying in the present, Bostain said, "and I think a lot of times [in previous seasons] we got ahead of ourselves, thinking two games ahead, three games ahead, Whereas this year, I think we've really taken what she said with some extra thought, and I feel like it's shown in our playing."
To receive Jeff White's articles by email, click the appropriate box in this link to subscribe.