Virginia Clinches 2022-23 Smithfield Commonwealth Clash
CHARLOTTESVILLE, Va. — Virginia Athletics clinched the 2022-23 Smithfield Commonwealth Clash on Sunday when the Cavaliers' men's golf team posted a better finish at the ACC Championships than its counterpart from Virginia Tech. UVA tied for third-place during the stroke play portion of the event to advance to the match play semifinals. Virginia Tech was 12th overall.
The point from the men's golf competition gives Virginia an 11-8 advantage over the Hokies with just two points still at stake. Those points will be decided at the ACC Men's and Women's Outdoor Track and Field Championships on May 11-13.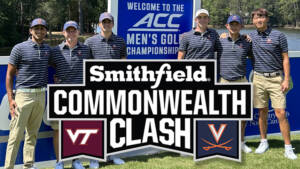 The Smithfield Commonwealth Clash is an all-sports competition between the Cavaliers and Hokies. In some sports, where there is not a regular-season head-to-head meeting, the point between the respective programs is contested at ACC Championship competitions.
Smithfield became the sponsor of the series between the in-state rivals in 2021.
The Commonwealth Clash, originally called the Commonwealth Challenge (2005 to 2007), has been a part of the UVA-Virginia Tech rivalry since 2014. It was an all-sports points-based program with the Commonwealth Clash trophy presented to the winning school each year for its dominance in head-to-head competitions.
Virginia won the two Commonwealth Challenge competitions and now four of the seven Commonwealth Clash campaigns with one tie. The 2019-20 Clash was left undecided due to the cancellation of spring sports because of the pandemic.
This year, UVA took the Smithfield Commonwealth Clash points in men's soccer, men's and women's cross country, volleyball, women's swimming, men's and women's tennis, men's and women's golf and women's lacrosse. The teams split points in women's soccer (two matches) and men's basketball (two games).