By Jeff White (jwhite@virginia.edu)
VirginiaSports.com
CHARLOTTESVILLE, Va. — From his friend and mentor Les Disharoon, University of Virginia head baseball coach Brian O'Connor learned many things over the years. Perhaps the most important lesson, O'Connor said Monday, was the power of positivity.
O'Connor came to UVA in the summer of 2003 after nine years as an assistant coach at Notre Dame. Not long after arriving in Charlottesville, O'Connor met Disharoon, and they remained close until Disharoon died last week at the age of 90. They spoke on the phone for the last time Monday, and Disharoon passed away on Tuesday.
In 2018, the Cavaliers' stadium was named Disharoon Park in honor of Disharoon and his wife, Ann, who passed away in 2013.
O'Connor and Disharoon would talk when Virginia was playing well. They'd talk when the Wahoos were struggling, too, O'Connor said, and he drew encouragement from their conversations. "There a lot of great lessons that I learned from him as a young coach. One of his favorite sayings was, This too shall pass. There's going to be difficult things that are going to happen and it's all about how we respond to it."
Under O'Connor, UVA has become one of the nation's top programs. The Cavaliers have made five trips to the College World Series during his tenure, and in 2015 they won the NCAA title. But there have been lows as well as highs.
"Baseball is a tough game," O'Connor said. "It's going to humble you and can humble you quickly. Life's a tough game, and it can humble you in a hurry."
Neither Disharoon nor his wife had ties to UVA when they moved to Charlottesville, but they became avid supporters of the University and its baseball program. From the start, O'Connor said, he could tell that Disharoon was "passionate about what we were doing here and wanted to do anything he could do to make an impact on the young men that wear our uniform."
A Brown graduate, Disharoon later earned an MBA from Columbia and had a long and successful career in the life insurance industry. So whenever they spoke, O'Connor said, "it was an opportunity for me as a young coach, coming here at 32, to learn and grow from somebody that was wildly successful in the business world, and I learned a lot from him."
Disharoon's wisdom holds particular relevance for O'Connor after a weekend in which Virginia went 0-3 at Notre Dame. That was the second straight ACC series loss for the Hoos, who went 1-2 against Pitt at Disharoon Park (April 14-16).
"We have to get back on the horse and get back to work and get back to playing good Virginia baseball," O'Connor said.
The 13th-ranked Hoos (32-9 overall, 12-9 ACC) have 14 regular-season games remaining. The next 11 will be played at Disharoon Park, starting Tuesday night against Liberty (19-20). The Cavaliers are 23-2 at home this season, and for a program that's looking to host an NCAA tournament regional for the first time since 2016, this is a pivotal stretch.
The homestand includes series with No. 20 Duke (27-12, 12-8) and No. 21 Louisville (26-13, 8-10). The Blue Devils visit Disharoon Park this weekend, and the Louisville series starts May 12, after the exam break at UVA.
Three of the Cavaliers' first four ACC series were on the road. That tested them, but now they get to reap the benefits of playing that frontloaded schedule.
"It's always good to be here," O'Connor said on a sunny afternoon at the Dish. "The team certainly plays very, very well here and this is where we practice every day. This is where we did everything in the fall and our fans are here, so it's good to be back home, and I know our guys will be excited to step on this field and be positive about what we have going on."
Three nights after crushing VCU 19-6 in Richmond, UVA dropped the series opener at Notre Dame, losing 10-7 on Friday. The second game was scheduled for Saturday afternoon, but bad weather forced a postponement. The teams played a doubleheader on Sunday, and the Fighting Irish won 10-2 and 5-4.
Not only did Virginia's pitchers struggle in South Bend, so did several of its most dangerous hitters. For the season, Kyle Teel, Ethan Anderson and Jake Gelof are hitting .417, .380 and .352, respectively. In the Notre Dame series, Teel was 2-12, Anderson was 0 for 10, and Gelof was 0 for 12.
"The middle of our lineup this weekend had a tough weekend, and this is the way the game is," O'Connor said. "You go down to VCU and we're knocking the ball all over the place, and this game can humble you in a hurry. And so you just have to handle the waves in this game."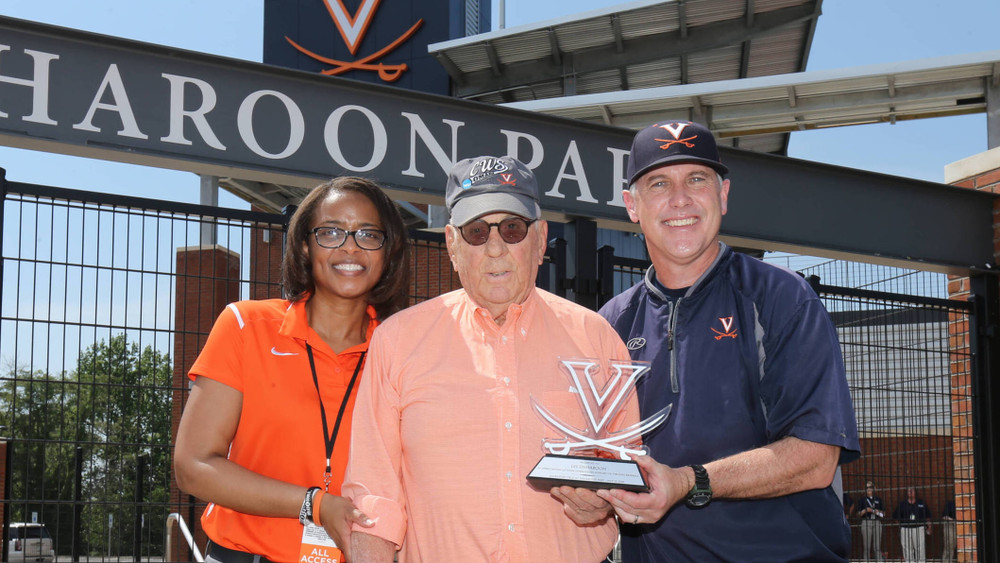 O'Connor said UVA's "players work hard, they want to win, they've got a lot of energy, and sometimes in this game, it just doesn't happen for you. Our job as leaders, as coaches, is to put them in the best possible position to be successful and continue to encourage them.
"You lose a series, you get swept in a series, I'm the head coach, I'm the leader, I take full responsibility for it, because it's my responsibility to get the players ready to play every day … They're 18 to 23 years old. I'm the one that has the experience, and it's my responsibility to have them ready to play every day. And sometimes you motivate a team or talk to them a certain way or steer them in a certain direction. Sometimes it doesn't work, and it didn't work this weekend. And I own that. And so I'm focused on us getting better on Tuesday against Liberty."
This has been a trying stretch for his players, but that's to be expected, O'Connor said. "When you pour everything into it, your work and your heart into something you love to do and it's your passion, it's easy to get frustrated, and disappointed when you don't have success. Candidly, I'd be disappointed if they weren't that way. Somebody that doesn't work hard and doesn't have a passion for something, they haven't earned the right to be frustrated. So that's part of it. That's part of what we have to go through, and my job as the leader is to encourage them to manage it the right way. I hate losing a lot more than I love winning, and so it starts with me on how I manage it. And I got to work this morning, very positive about what we have in front of us and the opportunity that we have in front of us."
Even after the series losses, Virginia is tied for second in the ACC's Coastal Division, a half-game behind Duke.
"We're 12-9 in the league and we're in great position," O'Connor said. "Would everybody like to be 15-6? Sure, we would, but you can count those teams in this country on one hand, and we have a great ball club and we just need to get back to playing what has made us successful. And that comes down to execution, candidly, in every facet of the game."
O'Connor noted that two other strong ACC teams were swept over the weekend: North Carolina, by Boston College in Chapel Hill; and NC State, by Clemson in Raleigh.
"It's baseball, and you see it at every level," O'Connor said. "What's important is that you try to stay as steady as possible and you manage the depths. How you handle not having success is critically important. Not there's comfort in other people's frustrations and disappointment, but it gives you a perspective on how baseball works, and so that way you don't react in a real negative way from game to game or series to series. So I know our team has that in them, and they'll bounce back."
To receive Jeff White's articles by email, click the appropriate box in this link to subscribe.