EARLYSVILLE, Va. – No. 9 Virginia won all 10 of its races at the UVA Invite Saturday (April 29) at Rivanna Reservoir. UVA won all five races against No. 19 Tennessee and all five races vs. Navy in its final regular season regatta.
Coach Sauer talks about the Cavaliers' sweep at the UVA Invite
UVA claimed wins against the Volunteers in the Third Varsity Eight (6:57.3-7:24.6), Second Varsity Four (7:33.9-7:55.7), Varsity Four (7:23.3-7:39.8), Second Varsity Eight (6:38.0-6:43.3) and Varsity Eight (6:35.3-6:48.6) in the morning session.
UVA V8 races to a win over Navy
In the afternoon session, the Cavaliers raced past Navy in the Third Varsity Eight (6:56.3-7:23.2), Second Varsity Four (7:34.9-8:06.4), Varsity Four (7:33.5-7:53.6), Second Varsity Eight (6:54.2-7:24.5) and Varsity Eight (6:39.2-6:55.5).
"I thought it was pretty good," Virginia head coach Kevin Sauer said. "We had a tough Monday (vs. Texas) as everybody knows, but they responded really well and raced really, really hard."
The Cavaliers honored seniors Brooke Alexander, Tahne Badenhorst, Freya Birkas-Dent, Larkin Brown, Bella Carter, Janet Conklin, Eva Frohnhofer, Lily Jarrett, Lauren Orr, Amelia Parizek, Carter Shields, Bianka Smeulders, Sarah Statler, Katie Stephens, Leia Till and ViVi Van Ingen at the conclusion of the invite.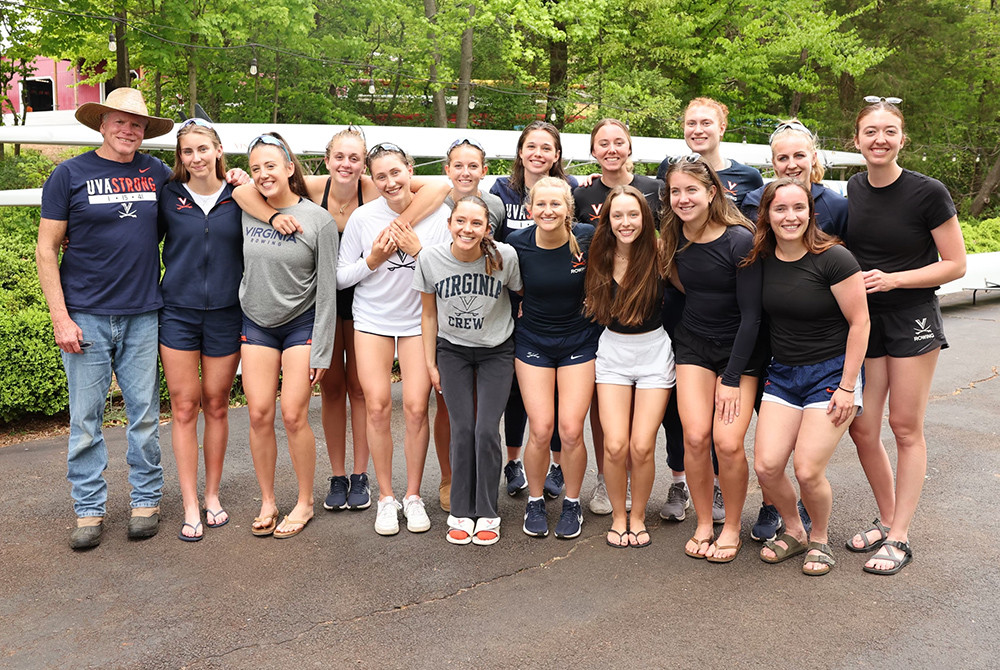 The ACC Rowing Championships will be held on Friday and Saturday, May 12-13 on Lake Wheeler in Raleigh, N.C. Virginia has won 21 of the 22 conference championships and has claimed 86 of the 95 events contested. The conference regatta features five events, including the Varsity Eight, Second Varsity Eight, Third Varsity Eight, Varsity Four and Second Varsity Four.
The NCAA Championships will be held Friday-Sunday, May 26-28 in Camden, N.J. The Cavaliers placed ninth at the 2022 NCAA Championships.
UVA Invite Results
Saturday, April 29
No. 9 Virginia vs. No. 19 Tennessee:
3V8/4V8/5V8: 1. Virginia 3V8, 6:57.3, 2. Virginia 4V8, 7:05.1, 3. Virginia 5V8, 7:18.6, 4. Tennessee 3V8, 7:24.6
2V4: 1. Virginia, 7:33.9, 2. Tennessee, 7:55.7
V4: 1. Virginia, 7:23.3, 2. Tennessee, 7:39.8
2V8: 1. Virginia, 6:38.0, 2. Tennessee, 6:43.3
V8: 1. Virginia, 6:35.3, 2. Tennessee, 6:48.6
North Carolina vs. Navy
3V8: 1. Navy, 7:21.3, 2. North Carolina, 7:36.8
2V4: 1. Navy, 7:55.3, 2. North Carolina, 8:04.5
V4: 1. Navy, 7:47.3, 2. North Carolina, 8:04.0
2V8: 1. Navy, 7:07.5, 2. North Carolina, 7:17.0
V8: Navy vs. North Carolina (no time for either boat)
No. 9 Virginia vs. Navy:
3V8/4V8/5V8: 1. Virginia 3V8, 6:56.3, 2. Virginia 4V8, 6:58.9, 3. Virginia 5V8, 7:10.0, 4. Navy 3V8, 7:23.2
2V4: 1. Virginia, 7:34.9, 2. Navy, 8:06.4
V4: 1. Virginia, 7:33.5, 2. Navy, 7:53.6
2V8: 1. Virginia, 6:54.2, 2. Navy, 7:24.5
V8: 1. Virginia, 6:39.2, 2. Navy, 6:55.5
No. 19 Tennessee vs. North Carolina
3V8: 1. Tennessee, 7:18.4, 2. North Carolina, 7:37.1
2V4: 1. Tennessee, 7:57.1, 2. North Carolina, 8:14.4
V4: 1. Tennessee, 7:46.5, 2. North Carolina, 8:02.3
2V8: 1. Tennessee, 7:06.9, 2. North Carolina, 7:33.6
V8: 1. Tennessee, 6:52.6, 2. North Carolina, 7:14.6
Virginia Lineups vs. Tennessee
Varsity Eight: Coxswain: Janet Conklin, Stroke: Kate Kelly, 7: Elsa Hartman, 6: Lauren Benedict, 5: Leia Till, 4: Cillian Mullen, 3: Catherine Williams, 2: Lily Jarrett, Bow: Eva Frohnhofer
Second Varsity Eight: Coxswain: ViVi Van Ingen, Stroke: Sophia Coppola, 7: Sky Dahl, 6: Lauren Orr, 5: Paige Loh, 4: Riley Richardson, 3: Larkin Brown, 2: Jenna Hajji, Bow: Meagan Goldsmith
Third Varsity Eight: Coxswain: Chloe Lee, Stroke: Izzie Bird, 7: Teagan Orth, 6: Grace Lebo, 5: Helene Dmitrijev, 4: Riley Richardson, 3: Beatrice Jones, 2: Brooke Alexander, Bow: Bianka Smeulders
Fourth Varsity Eight: Coxswain: Emma Bradish, Stroke: Ailbhe O'Grady, 7: Katie Stephens, 6: Lindsay O'Neil, 5: Lily Bernero, 4: Reilly Katz, 3: Dylan Bentley, 2: Ava Wisnoski, Bow: Tahne Badenhorst
Fifth Varsity Eight: Coxswain: Sarah Staler, Stroke: Hannah Guy, 7: Carter Shields, 6: Sarah Rapaglia, 5: Katie Rapaglia, 4: Amelia Parizek, 3: Paige Lane, 2: Alison Miller, Bow: Alexa Zavattaro
Varsity Four: Coxswain: Nora Grabcheski, Stroke: Lauren Jochims, 3: Nel Straub, 2: Kate McGee; Bow: Kelsey Gems
Second Varsity Four: Coxswain: Zoe Tekeian, Stroke: Sarah Bradford, 3: Addison Luce, 2: Natalie Bailey; Bow: Izzie Begley
Virginia Lineups vs. Navy
Varsity Eight: Coxswain: ViVi Van Ingen, Stroke: Kate Kelly, 7: Elsa Hartman, 6: Lauren Benedict, 5: Leia Till, 4: Cillian Mullen, 3: Catherine Williams, 2: Lily Jarrett, Bow: Eva Frohnhofer
Second Varsity Eight: Coxswain: Janet Conklin, Stroke: Sophia Coppola, 7: Sky Dahl, 6: Lauren Orr, 5: Paige Loh, 4: Riley Richardson, 3: Larkin Brown, 2: Jenna Hajji, Bow: Meagan Goldsmith
Third Varsity Eight: Coxswain: Faye Berry, Stroke: Izzie Bird, 7: Helene Dimitrijev, 6: Grace Lebo, 5: Teagan Orth, 4: Brooke Alexander, 3: Beatrice Jones, 2: Tahne Badenhorst, Bow: Bianka Smeulders
Fourth Varsity Eight: Coxswain: Allison Triano, Stroke: Ailbhe O'Grady, 7: Katie Stephens, 6: Lindsay O'Neil, 5: Lily Bernero, 4: Reilly Katz, 3: Dylan Bentley, 2: Ava Wisnoski, Bow: Alison Miller
Fifth Varsity Eight: Coxswain: Ashlyn McGinn, Stroke: Carter Shields, 7: Sarah Rapaglia, 6: Katie Rapaglia, 5: Amelia Parizek, 4: Alexa Zavattaro, 3: Savannah Fox, 2: Paige Lane, Bow: Lily Spyredes
Varsity Four: Coxswain: Nora Grabcheski, Stroke: Addison Luce, 3: Nel Straub, 2: Kate McGee; Bow: Kelsey Gems
Second Varsity Four: Coxswain: Zoe Tekeian, Stroke: Sarah Bradford, 3: Lauren Jochims, 2: Natalie Bailey; Bow: Izzie Begley