By Jeff White (jwhite@virginia.edu)
VirginiaSports.com
CHARLOTTESVILLE, Va. — The University of Virginia baseball team will play its regular-season home finale Sunday afternoon. Whether the Cavaliers are back at Disharoon Park in the NCAA tournament will depend on how they fare in their final two ACC series.
No. 21 UVA (38-11, 13-11) is scheduled to host Louisville (29-19, 9-15) at 6 p.m. Friday, 4 p.m. Saturday and 1 p.m. Sunday. The Wahoos close the regular season with a three-game series against Georgia Tech (28-20, 10-14), starting next Thursday in Atlanta.
The top 16 seeds in the NCAA tournament will host four-team regionals. The Hoos are looking to start the tournament at home for the first time since 2016—the season after they won the College World Series. They've hurt their postseason résumé by dropping three straight ACC series, but their RPI (13) remains excellent, and a strong showing down the stretch would boost their hopes of being back at the Dish to begin  the NCAA tournament.
"It's playoff baseball," junior third baseman Jake Gelof said.
His team knows what's at stake down the stretch, head coach Brian O'Connor said. Still, that's "in the background," he said. "Certainly, you don't play for that. That's an added bonus if you do play well, and we know the situation we're in. We're in a situation where we're just trying to win every ACC game we can."
In the final two series, the Cavaliers are "going to do some things, probably pitching-wise, that we haven't done all year, [with] the approach to just take them one at a time and try to win the game in front of us, and that's what you do at the NCAA tournament time," O'Connor said. "You put guys in the bullpen that maybe have started, and then just kind of see how the weekend goes and put yourself in the best position to win the game in front of you. And that's a scenario we're in."
The Hoos made history Wednesday at Disharoon Park. With an 8-0 win over Radford, Virginia became only the third NCAA team since 2010 to finish the regular season undefeated in non-conference play, joining Arizona State (24-0 in 2010) and Texas A&M (25-0 in 2015).
UVA is 25-0 against non-ACC opponents this season.
"I'm just really proud of our team," said O'Connor, who's in his 20th season at Virginia. "I talked to them [Tuesday] at practice and informed them they have an opportunity to do something that's never been done in our baseball program's history … and they accomplished that, and that is an incredible accomplishment."
Freshman pitcher Jack O'Connor (no relation) described the team as "a bunch of guys who want to go out here and just play baseball. It doesn't matter [about] setting records or doing a bunch of things that people consider to be cool. We just want to come out here and have a good time winning baseball games, and that's what we've been doing."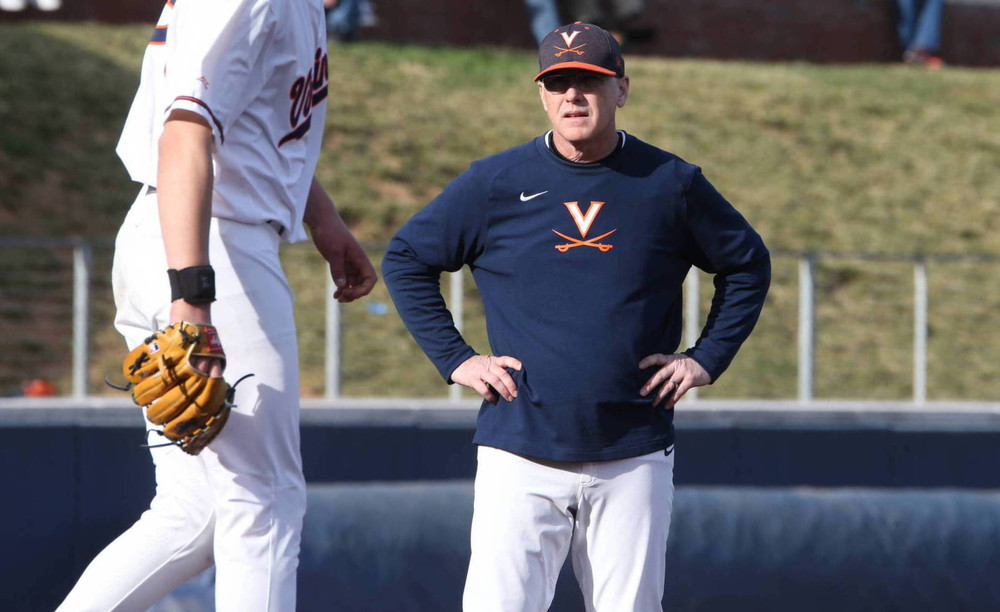 Coming off a week-long break for final exams, the Cavaliers had little trouble with Radford (9-40), which is in its first season under head coach Alex Guerra. Led by Gelof, who went 3-for-3 and drove in three runs, Virginia totaled nine hits. Seven UVA pitchers limited the Highlanders to four hits.
Connelly Early started for the Hoos, and O'Connor, Angelo Tonas, Brian Edgington, Bradly Hodges, Kevin Jaxel and Jay Woolfolk worked out of the bullpen. O'Connor and Edgington have been weekend starters for Virginia.
"Not having played for a week, we were going to chop the game up from a pitching standpoint," Brian O'Connor said. "It was good to see Edgington and O'Connor get out there, pitching out of the bullpen and giving them some experience doing that."
Gelof smashed his team-leading 19th home run to put the Cavaliers ahead 3-0 in the third inning. The game's most memorable play, though, came from classmate Kyle Teel, Virginia's catcher.
In the top of the third, after Jack O'Connor fired a third strike past Avery Spencer, the ball got away from Teel. But he sprinted up the first-base line, scooped up the ball and flipped it back-handed to first baseman Ethan Anderson for the out.
"He's one of the better athletes we've ever coached here in our 20 years here, and that was phenomenal," Brian O'Connor said of Teel, who's batting a team-high .416. "Personally, I think the guy can play anywhere on the field. He thinks he can pitch. It wouldn't surprise me later on in his career if he even lands on the infield in pro ball. I certainly think he can catch, but his versatility and his athleticism is just as good as you find. And he showed that on that one."
Teel is "a freak athlete," Jack O'Connor said. "He goes after everything, and he's all in for every pitch. The ball was 30 feet up the line and he was there before I was, getting it and just flipping it to the first baseman like it was casual. That's just amazing. Having a guy who you know is gonna go after it and do everything he can to get outs for you, that's such a comforting feeling as a pitcher."
For Jack O'Connor, a 6-foot-5 right-hander from Arlington, the relief appearance was his first as a Cavalier. He pitched three innings—the most of anyone on either team Wednesday—and struck out five while allowing no hits.
"We'll see what this weekend brings us, but I thought he looked really, really good," Brian O'Connor said.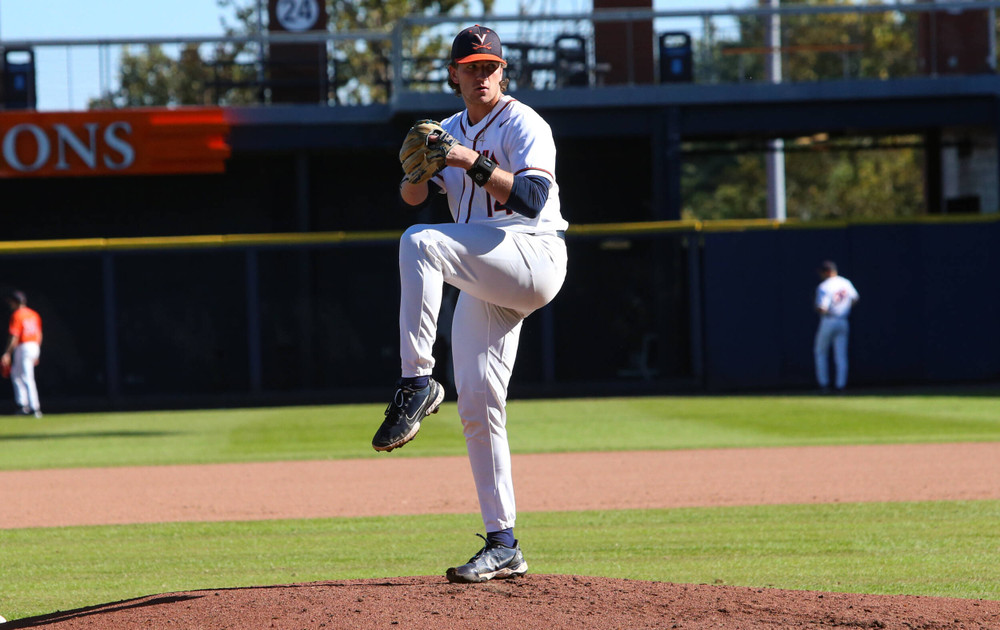 The key to the Cavaliers' success in non-conference play, Gelof said, has been the offense "picking up the pitching and pitching picking up the defense, playing well-rounded baseball, taking care of business. It's a pretty cool thing to be able to do. Now we got our sights on Louisville this weekend at home."
Since winning on the road against arch-rival Kentucky on April 25, Louisville has lost four straight games, all at home. Clemson swept the Cardinals in an ACC series last weekend, and Vanderbilt defeated them in 12 innings Tuesday night.
All of Louisville's recent opponents, however, have been formidable. In the latest D1Baseball.com rankings, Vanderbilt is No. 5, Clemson is No. 16, and Kentucky is No. 17.
With six regular-season games left, plus at least two in the ACC tournament, the Cavaliers are well-positioned to advance to the NCAA tournament for the 17th time under Brian O'Connor. (There was no tournament in 2020, due to the COVID-19 pandemic.)
"We're in a great spot," he said after the Radford game. "That was our 38th win of the year. I think that's faster than we've done it in recent history, and we've been 13-11, 14-10 [in ACC play] at this juncture of the season a lot in my time here. And so it's just a matter of finishing strong and winning every game that you can, and you hope your résumé is good enough to be playing and maybe playing here at home."
Gelof said he doesn't concern himself with bracketology. "I just go out there and try to win the ball games," he said. "That's our job, and all the other stuff will take care of itself if we take care of our end."
To receive Jeff White's articles by email, click the appropriate box in this link to subscribe.