By Jeff White (jwhite@virginia.edu)
VirginiaSports.com
CHARLOTTESVILLE, Va. — Cole Kastner is in the transfer portal, but University of Virginia lacrosse fans need not worry. The All-ACC defenseman isn't leaving anytime soon. Kastner has one year left in the McIntire School of Commerce, and he's looking forward to completing his UVA lacrosse career in 2024.
After that, though, the 6-foot-7 Kastner intends to fulfill another athletic dream. Lacrosse has been his sport of choice at UVA, but he loves hoops, too, and he's looking to use his final year of eligibility in a Division I basketball program in 2024-25.
"That would be so cool," UVA head men's lacrosse coach Lars Tiffany said.
Before his second year, Kastner talked to the men's basketball staff at Virginia about joining Tony Bennett's team as a walk-on, but the logistical challenges were too much to overcome.
"It was really tough to figure out how to make that work in terms of having a normal day," Kastner said of practicing lacrosse in the morning and basketball in the afternoon, with his Comm School classes in between.
"It didn't work out," he said. "but I'm still hopeful I can play basketball with my fifth year."
Kastner, who's from Palo Alto, Calif., went ahead and entered the portal this spring to give himself "the flexibility to start having these conversations with coaches," he said. "Obviously, a lot of them are focused pretty much on the 2023-2024 season, which makes sense this next year, but [the plan is to] schedule some visits this summer and set up some workouts, stuff like that, where I can show these coaches that while I didn't play basketball for three years, I can still play."
The response to his entry into the portal surprised Kastner, who's a regular in pickup games at the Aquatic and Fitness Center on Grounds.
"I heard kind of quickly from some low-major, mid-major schools, which was pretty exciting honestly and shocking a little bit," Kastner said. "That was definitely a cool moment."
Before his sophomore year at the Menlo School, Kastner grew from 5-foot-11 to his current height. The extra inches helped him on the basketball court. Tiffany, though, wasn't sure Kastner's 6-foot-7 frame would serve him well at the highest level of college lacrosse.
"There were no comparables," Tiffany recalled. "You don't see 6-foot-7 defensemen, and I literally had the thought, 'Can you be too tall?' You might move laterally well on a basketball court compared to other 6-5, 6-10 people, but what about trying to guard those 5-10, 5-11 guys? It takes so much longer for your step to hit the ground, and meanwhile the smaller guard, aka attackman, has changed direction and beaten you. I was like, 'Maybe you can be too tall for lacrosse,' especially at the Division I level."
Blake and Cort Kim, twin brothers who had coached Kastner in club lacrosse in the Bay Area, had no such concerns. "They kept calling me and saying, 'Lars, you gotta do this,' " Tiffany said. "I think it's somewhat documented that I hemmed and hawed for over six months."
Finally, though, he decided to take a chance of Kastner. "He literally got the last spot in that [recruiting] class," Tiffany said. "It was, 'All right, let's do it. Let's give it a shot.' "
The Wahoos' coaches saw Kastner as a project "who might stand on the end of the bench for four years and block the first-row people's view of the game," Tiffany said. But they also recognized that he was an elite athlete, which meant "this could work out really great," Tiffany said.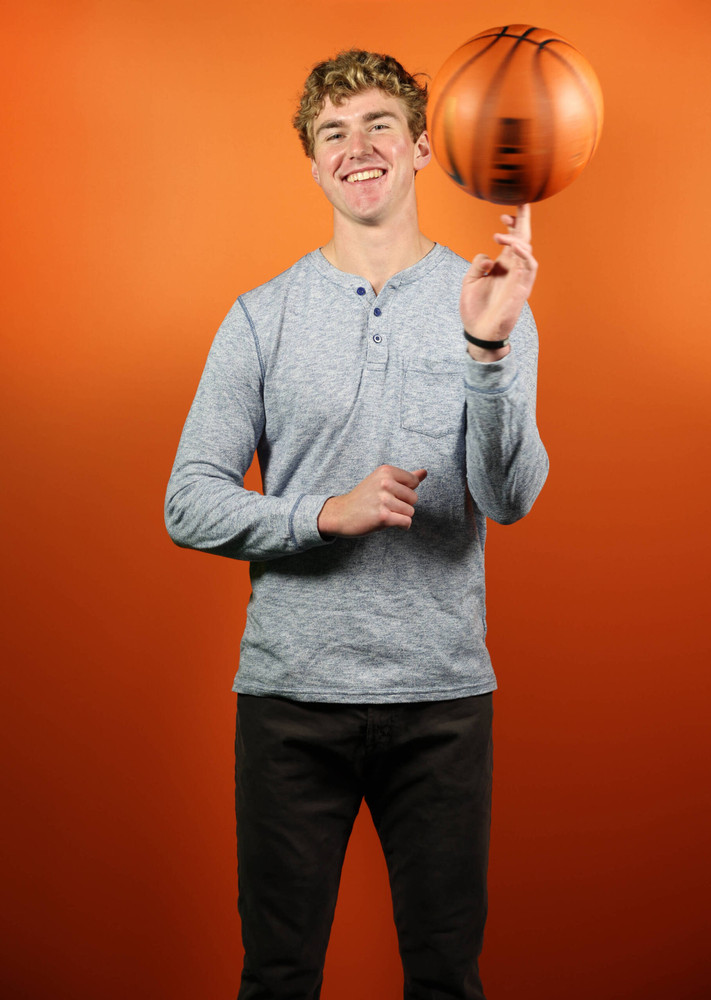 For much of his first year in the program, Kastner was known as "Project 39," a nod to his jersey number. Tiffany, who's also the Cavaliers' defensive coordinator, noted Kastner's mistakes in practice and saw them as reasons not to play him. Assistant coaches Kip Turner and Sean Kirwan thought differently.
Tiffanny remembers a conversation with his assistants about Kastner. "I said, 'Are you telling me we should just play him and grow with his mistakes?' And they're nodding their heads vigorously. They're like, 'Yes, yes, yes! Don't worry if he doesn't know everything.' "
Near the midway point of the 2021 regular season, Kastner's role on defense began to grow. Among those who took note was Tiffany's mentor, Dom Starsia, who won four NCAA titles as Virginia's head coach.
"After Cole started really exerting himself on the ride and making plays all over the field, I got a call from Dom: 'Lars, what the heck? You have so much talent that you can pull a guy off the bench the second half of the season who's like a second-team All-American defenseman?' " Tiffany recalled. "Because Dom, who was really good at evaluating talent, immediately said, 'Lars, he's an All-American.' "
UVA fans know the rest of the story. Kastner moved into the starting lineup for the Cavaliers' first game in the 2021 NCAA tournament, and he's stayed there. He was named a second-team All-American as a sophomore and has collected additional All-America honors this spring, with more likely to come later this month.
Kastner is about to play his eighth NCAA tournament game. The first four were in 2021, when the Hoos defeated Bryant, Georgetown, North Carolina and Maryland to secure the program's seventh NCAA title.
In 2022, Virginia routed Brown in the first round before losing to eventual NCAA champion Maryland in the quarterfinals. The Cavaliers are seeded No. 2 in this year's tournament, which they opened last weekend with a 17-8 win over Richmond at Klöckner Stadium.
Now comes another postseason clash with Georgetown. At noon Saturday, in an NCAA quarterfinal to air on ESPNU, the Hoos (12-3) meet the seventh-seeded Hoyas (13-3) in Albany, N.Y. Georgetown comes in on a 13-game winning streak and has a formidable attack led by Tucker Dordevic (63 goals, 13 assists), a transfer from Syracuse,
"It's exciting," Kastner said. "There's nothing better than matching up with another team that is gonna give you the best look that they can give, from our defensive perspective against their offense. So we're super pumped for that. They have so many great players over there, people we've played against over the last couple years, people that have been at Georgetown the whole time or people who have transferred in."
Georgetown is averaging 14.9 goals per game. The Cavaliers, meanwhile, lead the nation in that category (17.6 goals per game). Six UVA players have scored at least 21 goals each this season, led by fifth-year senior attackman Xander Dickson (school-record 58). Attackman Payton Cormier has scored 49 goals, midfielder Thomas McConvey 27, midfielder Griffin Schutz 21, and attackman Connor Shellenberger 21. Shellenberger leads UVA with 47 assists.
Practicing against that offense, Kastner said, is ideal preparation for the defensive challenges Virginia faces in the postseason.
Heading into the NCAA tournament, the Cavaliers scrimmaged regularly to stay sharp, Kastner said. In one such scrimmage Kastner found himself covering Dickson.
"I hadn't guarded him in a little while, and trying to guard him, I was lost," Kastner said, laughing. "He's unbelievable. It's remarkable. It's much fun going against all those guys: Shelly, Schutz, Truitt [Sunderland], Corms, Thomas McConvey, it doesn't matter who it is. They're all going to give you a different look, and you know it's the best look that you could get. So we're really fortunate to have guys like that to go against and continue making us all better."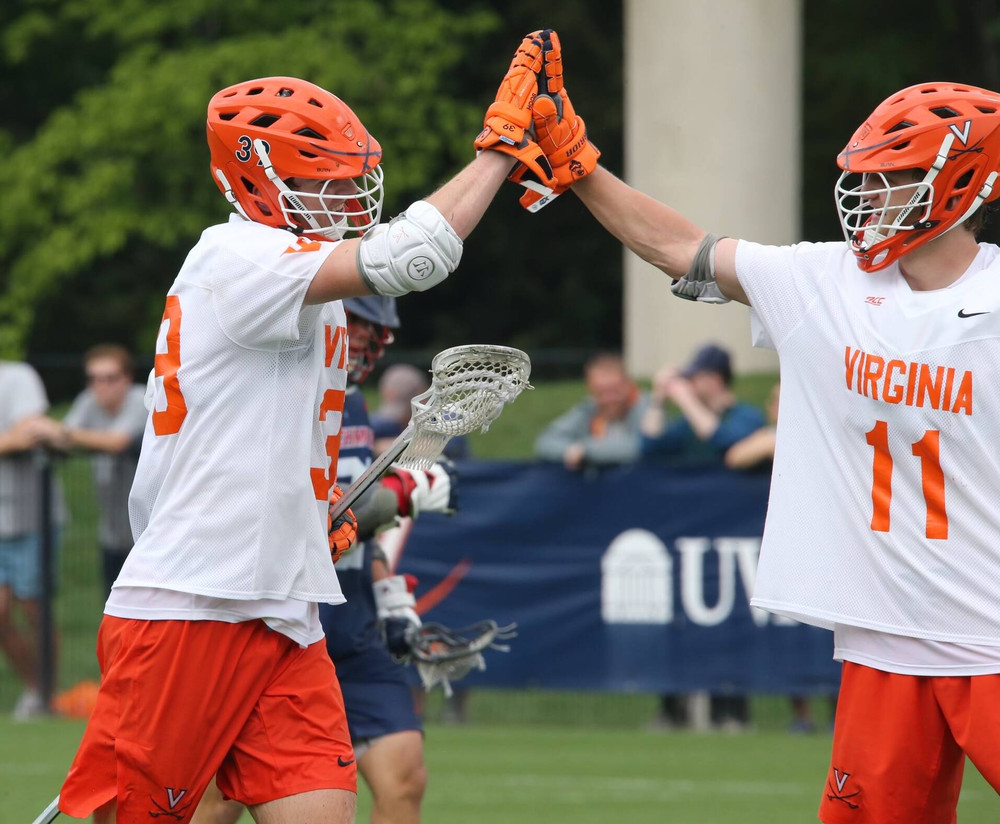 Kastner isn't the only All-ACC defenseman at UVA. Cade Saustad also earned that honor this month and recently was named a third-team All-American by Inside Lacrosse. Saustad is a fifth-year senior, and so he has no more than three games left in his illustrious Virginia career.
"It's pretty crazy," Kastner said. "I don't think I have fully comprehended it yet. Cade and I have been best buddies since I got in here. So I'm so lucky that he kind of took me under his wing and helped me figure out how to add value to our team on the defensive end.
"It's amazing to see what he's done. He's just so steady. You're never gonna get a bad game out of him. He's such a fantastic guy, great leader, unbelievable lacrosse player, so I hope I get to stretch it out as long as I can with him and the other fifth-years out there."
Kastner and the 6-foot-5 Saustad played leading roles in 2021 when Virginia crushed Georgetown 14-3 in the NCAA quarterfinals in Hempstead, N.Y.
"They are the longest defense we've played all year," Georgetown head coach Kevin Warne said after the game. "I feel like I'm watching Jurassic Park, with a bunch of velociraptors running around in front of a goal."
Kastner hopes to end his junior season by hoisting the NCAA championship trophy in Philadelphia, where the Cavaliers were crowned in 2006 and in 2019. Then he'll turn his attention to his two summer internships. The first, in New York City, will give him more exposure to private equity, said Kastner, whose concentrations in the Commerce School are finance and information technology.
"Then I'm going back to the Bay Area in mid-June and working at an investment management firm up in San Francisco," Kastner said. "So I'm really looking forward to that."
He's also looking forward to training in the offseason, during which he rarely picks up a lacrosse stick.
"I don't know if Coach Tiffany loves hearing this, but I don't play a whole lot of lacrosse," Kastner said. "It's kind of counter-intuitive. I play a lot of basketball, and basketball just translates so well in terms of the athletic movements that you need to have out there on the lacrosse field."
His role models include Pat Spencer, who, after winning the Tewaaraton Award as a Loyola (Md.) attackman, spent his fifth year on the basketball team at Northwestern and now plays in the G League.
"I was talking to Pat Spencer about it," Kastner said, "and he was like, 'Dude, just hang up your stick, go to the gym, play basketball, do what you love, and I promise you you'll be good come the fall.' "
That works for his head coach.
"I think it's healthy that he's playing basketball," Tiffany said. "I'm a big fan of these guys not doing a whole lot of lacrosse in the summer when they get older and not overdoing it and burning themselves out."
To receive Jeff White's articles by email, click the appropriate box in this link to subscribe.