CHARLOTTESVILLE, Va. – Disharoon Park will serve as one of the 16 regional host sites for the 2023 NCAA Division I Baseball Championship. Virginia will host a four-team, double-elimination tournament June 2-4.
Two games will be scheduled for Friday (June 2), Saturday (June 3) and Sunday (June 4). If necessary, a single game will be played Monday (June 5). Regional game times will be announced Monday after the NCAA selection show at noon on ESPN2.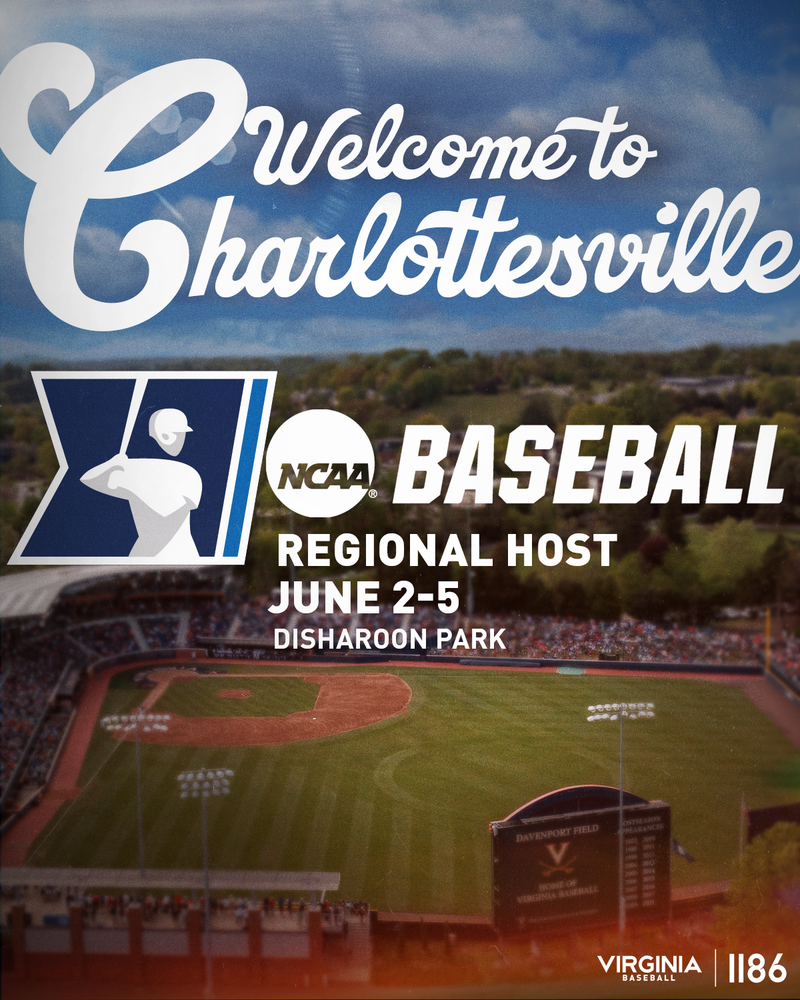 The remaining at-large teams, top-eight national seeds and first-round regional pairings will be announced at noon Monday (May 29) on ESPN2. The selection committee will set the entire 64-team bracket through both the regionals and the first round of the Men's College World Series.
2023 NCAA Regional Host Sites
Auburn, Alabama – Auburn (34-21-1)
Baton Rouge, Louisiana – LSU (43-15)
Charlottesville, Virginia – Virginia (45-12)
Clemson, South Carolina – Clemson (43-17)
Columbia, South Carolina – South Carolina (39-19)
Conway, South Carolina – Coastal Carolina (39-19)
Coral Gables, Florida – Miami (FL) (40-19)
Fayetteville, Arkansas – Arkansas (41-16)
Gainesville, Florida – Florida (44-14)
Lexington, Kentucky – Kentucky (36-18)
Nashville, Tennessee – Vanderbilt (41-18)
Stanford, California – Stanford (38-16)
Stillwater, Oklahoma – Oklahoma State (41-17) through games of 5/28
Terre Haute, Indiana – Indiana State (42-15)
Tuscaloosa, Alabama – Alabama (40-19)
Winston-Salem, North Carolina – Wake Forest (47-10)
By virtue of being awarded a regional, all 16 host institutions also have been selected to the 64-team championship field. All 16 regionals are scheduled for Friday, June 2 to Monday, June 5.
Virginia has been a host institution for NCAA Regionals 10 times (2004, 2006, 2007, 2010-2014, 2016, 2023). The Cavaliers will be part of the NCAA Tournament field for the 20th time overall and 17th under head coach Brian O'Connor.
TICKET INFORMATION
All-session regional tickets will go on-sale Monday May 29th at 9 a.m. on UVATix.com. Single session tickets (sessions 1 – 6) will go on-sale at a later time when the full bracket and dates & times are announced. Please note the ticket office will be closed Monday for Memorial Day and reopen on Tuesday at 9 a.m.
PARKING INFORMATION
Daily parking can be purchased online at UVATix.com or upon drive up for spaces in the JPJ South and West Lots $10 in advance or $15 upon drive up. All sessions parking passes can be purchased for $30 advance. Spots are first come, first served. Parking passes must be purchased using a valid credit/debit card; cash will not be accepted on site.