By Jeff White (jwhite@virginia.edu)
VirginiaSports.com
CHARLOTTESVILLE, Va. — It's easy to look at the University of Virginia baseball team and marvel at the juniors in its lineup.
There's catcher Kyle Teel, the ACC Player of the Year, who's hitting .416 with 61 RBIs. There's third baseman Jake Gelof, who holds the program record for career home runs (47) and has 22 this season. There's center-fielder Ethan O'Donnell, a transfer from Northwestern who's hitting. 364 with 12 homers and who, like Teel and Gelof, was named to the All-ACC first team last month.
"Those guys are phenomenal players," head coach Brian O'Connor said.
The Cavaliers' second-year class has considerable firepower too. In the opening game of the NCAA regional at Disharoon Park, O'Connor started five sophomores—shortstop Griff O'Ferrall, first baseman Ethan Anderson, right-fielder Casey Saucke, designated hitter Anthony Stephan and left-fielder Colin Tuft—and they helped top-seeded Virginia overwhelm fourth-seeded Army 15-1 on Friday afternoon.
"All of those guys have jumped on board," said O'Connor, whose team is seeded No. 7 overall in the NCAA tournament, "and it's made the depth of our offense just really, really good."
The double-elimination regional continues with two games Saturday. Army (38-18) meets third-seeded Oklahoma (31-27) at noon, with the loser heading home. In the winners' bracket, Virginia (46-12) faces second-seeded East Carolina (46-17) at 6 p.m.
ECU defeated Oklahoma 14-5 on Friday night. Earlier in the day, Tuft had a quiet game offensively against the Black Knights, and Stephan, who's hitting .333 this season, had only one hit in four at-bats, a fourth-inning double, but their classmates led an explosive offense that knocked starter Robbie Buecker out of the game in the first inning. The Wahoos finished with 18 hits.
"Their offense is really dynamic," Army head coach Chris Tracz said.
O'Ferrall, who's from Richmond, leads off for the Hoos. He singled twice in the first inning Friday and finished 3-for-4 with two RBIs. The fourth Cavalier to make first-team All-ACC, O'Ferrall is hitting .399 this season.
Anderson, a switch-hitter from Virginia Beach, crushed a two-run homer to right field in the first inning and finished 2-for-4 with three RBIs. For the season, he's hitting .379 with 12 homers and 59 RBIs. With 24 doubles apiece, Anderson and Teel are tied for the program's single-season record.
Saucke, who's from Rochester, N.Y., went 3-for-5 with two RBIs. After hitting .360 in 2022, when he made the ACC's All-Freshman Team, Saucke started slowly at the plate this season. But he's raised his batting average to .292 and has 14 doubles, four homers and 46 RBIs.
"Casey is a very talented baseball player," Anderson said. "Even early on in the season, when the numbers might have not shown that he was doing too well, he was just constantly on the barrel, hitting it straight at guys. Now it's coming around. Balls are falling, he's hitting balls hard and he's consistently having a great approach."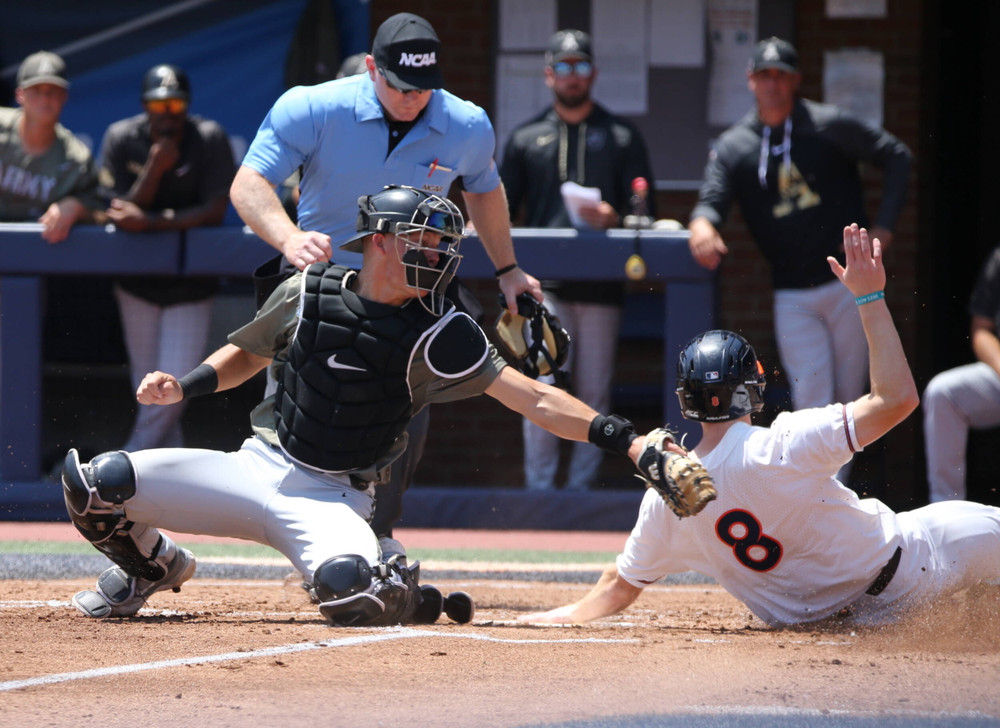 The Hoos are hosting an NCAA regional for the first time in seven years, and their fans turned out in force Friday. The attendance, 5,487, set a record for a UVA postseason game in Charlottesville, and the crowd had plenty to cheer from the start. After right-hander Brian Edgington retired the Black Knights in order, the Hoos batted around in a first inning highlighted by Anderson's blast.
"There's no better feeling than hitting a home run early on in the game with the huge crowd that we had," Anderson said. "The whole stadium was buzzing."
O'Connor said: "What an unbelievable atmosphere for 12 noon on a Friday."
In the bottom of the first, O'Ferrall hammered Buecker's first pitch back up the middle for a hit, and the Black Knights' starter never found his footing. After O'Donnell lined out to right field, Gelof singled. Teel followed with a single that scored O'Ferrall, and then Gelof came home on a wild pitch. Anderson homered, and Saucke singled.
"Our offensive approach in that first inning, and really the entire game, was very mature and very professional," O'Connor said.
By the time reliever Tyler Prichard recorded the third out, it was 6-0, and the Hoos added four more runs in the second inning.
"That was the nightmare scenario, the one thing we didn't want to have happen," Tracz said.
"It took us a little while to settle down … The crowd had something to do with it, they definitely did, but Virginia's lineup was the main contributor."
The Patriot League champion Black Knights had no more success at the plate than on the mound. Virginia's pitchers held them to two hits. Edgington, a graduate transfer from Elon, had a perfect game going, with four strikeouts, when O'Connor pulled him after the fifth inning.
"I thought their pitcher did a great job of just not allowing us any momentum at all," Tracz said.
Cullen McKay, Chase Hungate and Jack O'Connor split up the final four innings for Virginia, which led 11-0 when Edgington departed.
"I just felt like we were in the control of the game," Brian O'Connor said, "and it was good to get some of those other pitchers out there. Listen, we'd love to win tomorrow night. We'd love to win the next day and be done with it, but it rarely goes that way. So you've got to have some foresight and think ahead of different scenarios that can happen."
Edgington, a third-team All-ACC selection, threw only 56 pitches against Army and might be available if UVA has to play on Monday.
"I'll be ready whenever my number's called," he said.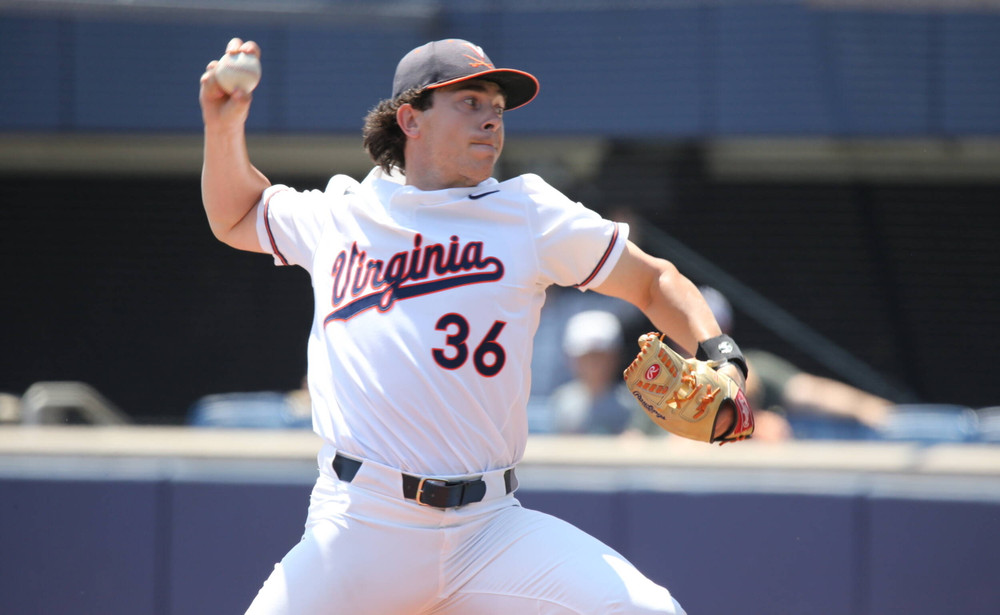 Second baseman Henry Godbout, Virginia's only freshman starter Friday, went 3-for-5 with two RBIs, and Gelof and Teel added two hits apiece.
"Our offense is very talented," Anderson said, "and we feed off of one another, just going up there with the right approach and consistently given the best shot that we have to give the guy behind us a shot at driving in runs. Today was a great example of guys just doing their best and getting out there and competing and having a great approach."
This is the Cavaliers' 17th appearance in the NCAA tournament in O'Connor's 20 seasons as head coach. Virginia has advanced to the College World Series five times during his tenure and won the NCAA championship in 2015. Even so, O'Connor said, an NCAA tournament opener can be a nerve-wracking experience, "and so to be able to jump out like we did, and for the players just to relax and play the game, was really, really important."
Its win Friday gives UVA a 5-2-1 lead over Army in a series that dates back to 1907. During the postgame press conference at UVA's Miller Center, O'Connor saluted the Black Knights in his opening statement.
"It's an honor to compete on the field with Army," O'Connor said. "We had an opportunity the first game of the year to play Navy, and I am just grateful that there's men and women that will serve our country and put themselves in harm's way still in this country and represent our country the right way. Those men that we competed with in the other dugout, they'll go on to be some of the greatest leaders in our country, and we're very, very thankful for them and their service. So I just wanted to start off by saying that it's pretty impressive what they do."
To receive Jeff White's articles by email, click the appropriate box in this link to subscribe.