By Jeff White (jwhite@virginia.edu)
VirginiaSports.com
CHARLOTTESVILLE, Va. — They left Disharoon Park on Saturday night not knowing which team they would face in what might be the final game of this NCAA baseball regional. That hasn't caused any anxious moments for the Virginia Cavaliers.
"You feel great," head coach Brian O'Connor said after his team improved to 2-0 in the double-elimination Charlottesville regional.
The top-seeded Wahoos (47-12) will sit back Sunday afternoon and watch second-seeded East Carolina (46-18) battle third-seeded Oklahoma (32-27) in an elimination game at the Dish. The Hoos will meet the winner at 6 p.m. Sunday.
A victory in that game would send Virginia to a best-of-three NCAA super regional for the second time in three seasons. If the Cavaliers lose Sunday night, there will be a winner-take-all rematch Monday at Disharoon Park.
"Every tournament is different," O'Connor said, "but obviously there's an advantage to being 2-0."
A team coming out of the losers' bracket would have to play five games to win the regional. The Cavaliers will play no more than four games, and that puts less stress on their pitching staff.
Virginia, the No. 7 overall seed in the NCAA tournament, is hitting .335 this season with a lineup that includes such All-ACC selections Griff O'Ferrall, Ethan O'Donnell, Jake Gelof and Kyle Teel, all of whom made the first team, and Ethan Anderson, a third-team selection. The Cavaliers' pitchers weren't as dominant as the offense during the regular season, but you wouldn't know that from watching them this weekend.
In UVA's 15-1 win over fourth-seeded Army on Friday afternoon, right-hander Brian Edgington, a graduate transfer from Elon, had a perfect game going when O'Connor chose to rest him after the fifth inning.
Another right-hander, Nick Parker, followed Edgington's gem with a tour de force of his own Saturday night. Parker, a graduate transfer from Coastal Carolina, scattered five hits, struck out five and walked only one in UVA's 2-1 victory over ECU at sold-out Disharoon Park.
"To think that somebody will go out this time of the year against a great offensive opponent in East Carolina and pitch through the seventh inning, you can't script that," O'Connor said.
At this time last year, the Cavaliers were in Greenville, N.C., playing in an NCAA regional hosted by the Pirates. So was Parker, who pitched eight scoreless innings (and struck out 10 batters) in Coastal's win over East Carolina.
O'Connor and UVA pitching coach Drew Dickinson watched Parker that day, and when he entered the transfer portal after the season, they didn't hesitate to pursue him.
"To do what he did last year in [ECU's] ballpark is tough to do," O'Connor said, "and it showed the grit and the poise that he has to win at this level."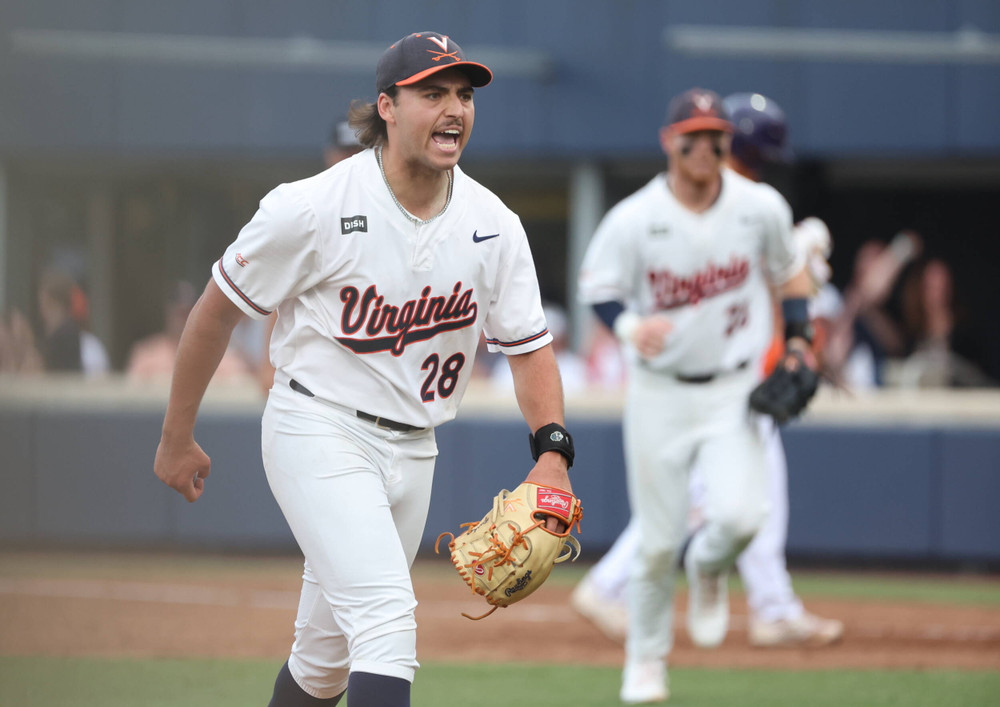 At East Carolina's Clark-LeClair Stadium last year, the Hoos experienced one of the great atmospheres in college baseball. The scene at Disharoon Park has been every bit as memorable this weekend.
"It was packed, very similar to way it was last year [in Greenville]," ECU coach Cliff Godwin said his team's loss Saturday night.
For the Army game, the Hoos drew 5,487 fans, the most ever for a postseason game in Charlottesville. The attendance for the UVA-ECU game Saturday night—5,919—matched the stadium's single-game record. Among those in the crowd were UVA president Jim Ryan and several of O'Connor's fellow head coaches, including Tony Bennett (men's basketball), Joanna Hardin (softball), Kevin Sauer (rowing) and Bowen Sargent (men's golf).
"What a great atmosphere at the Dish tonight," said O'Connor, who's in his 20th season at Virginia. "Our fans showed up, and so did East Carolina's. That's what college athletics is about, two teams going at it on the field. Just a really well-played game. Great pitching and defense on both sides. But to see the atmosphere, the energy in the stadium, was just awesome."
Parker, who improved his record as a Cavalier to 8-0, said it's "easy to get fired up for those kinds of games. That first inning was one of the most electric atmospheres I've ever been in. It was pretty special."
The Cavaliers, who had 18 hits against Army, totaled nine against ECU. Virginia is averaging 9.1 runs per game this season, but East Carolina pitchers didn't allow any big innings Saturday night. In the third, Teel singled home Gelof to make it 1-0, but the Pirates tied the game in the sixth.
"That can get frustrating," O'Connor said, "because we had opportunities to maybe open it up a little bit. But when you're facing high-level pitching, that speaks to their execution of pitches. We had opportunities and just couldn't [capitalize on] them."
The Cavaliers pressed on, however, and finally broke through in the seventh. O'Donnell drew a leadoff walk, stole second and scored on Anderson's single to right. Against Army, Anderson had crushed a two-run home run. His RBI single had none of that power, but it did the job.
"In a tight game that not a lot of runs got scored in, my biggest focus was just trying to put a ball in play that allowed me to get to first base," Anderson said. "Maybe I didn't barrel the ball exactly how I wanted to, but I stayed inside of it and it just happened to find grass."
So it goes sometimes in the NCAA tournament, O'Connor said. "It can be frustrating [not to score more runs], especially when you hammer the ball like we do a lot of times, but against the great high-level pitching that you see this time of the year, runs can be tough to come by."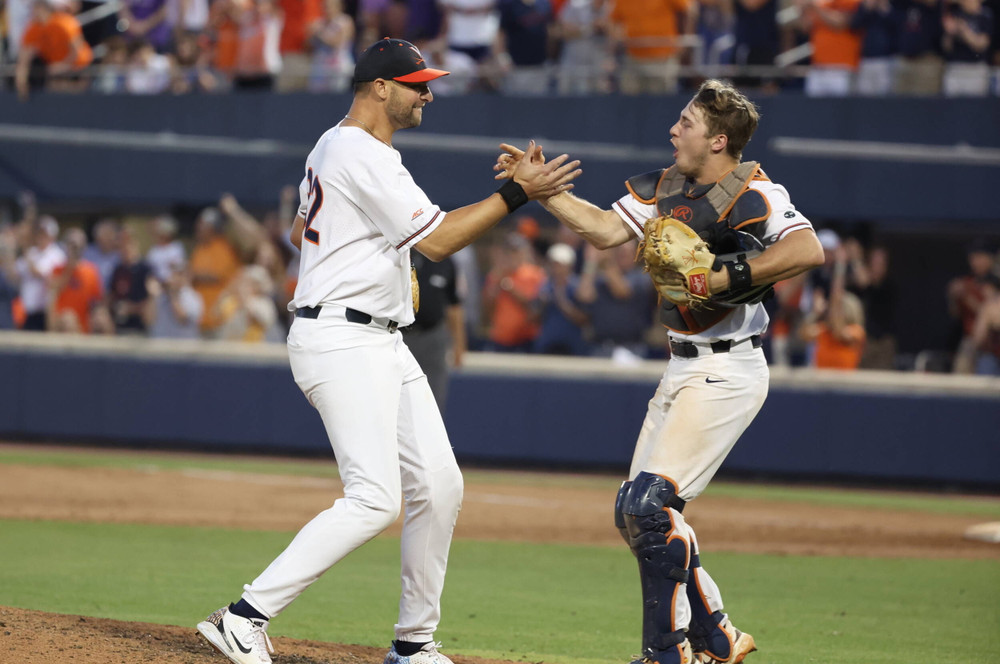 For the Hoos, who remain unbeaten this season against opponents from outside the ACC, sophomore right-fielder Casey Saucke went 3-for-4 to raise his average to .300, and sophomore designated hitter Anthony Stephan went 2-for-4. O'Ferrall, Gelof, Teel and Anderson had one hit apiece.
The story of the game, though, was Virginia's pitching. ECU finished with only five hits, all singles. Junior Jake Berry, a 6-foot-10 left-hander, pitched the final two innings for the Cavaliers and faced the minimum six batters. He struck out two, walked none and allowed no hits.
"Hard-fought game," Godwin said. "UVA pitched great, and we pitched great. They were a little bit better. It's a game of inches …  We hit the ball hard. They hit some balls hard. It was just a pitching and defense day with [the way] the wind was blowing in."
That wind helped the Pirates hold Gelof to a double, instead of his 48th career home run, in the third inning.
"Usually in our ballpark, the wind's not blowing in like that," O'Connor said. "A lot of times it's going out. And the wind, I think, impacts the game of baseball more than anything, whether it's blowing out or blowing in. It's kind of the X-factor."
The Cavaliers benefited from Mother Nature, too. ECU had several well-hit balls that died near the warning track.
"It's always nice," Parker said of having the wind blowing in. "It gives you a little bit more to challenge [batters] with."
During one stretch Saturday night, Parker retired 12 straight batters.
"He's a great college pitcher," O'Connor said, and the Pirates know that all too well.
"He just never throws the pitch that you think you're gonna get, and he makes it hard for you," Godwin said of Parker. "You have to probably execute a hit and run or get a big hit in a situation, which we did [in the sixth]. But we only got one run, and then they've got Berry coming in, and he's got really good stuff as well."
These Hoos have won 23 games by six runs or more.  Such one-sided victories are rarer in the NCAA tournament, when a team's composure is tested.
"Everybody's excited," O'Connor said, "the fans, the players, everyone is, but if you want to have success this time of year, not only do you have to be talented and execute, you've got to show great poise."
To receive Jeff White's articles by email, click the appropriate box in this link to subscribe.