LIGONIER, Penn. – After falling behind 6.5 to 5.5 during Thursday's opening open day of play at the 2023 Arnold Palmer Cup, Team USA put on a huge rally Friday to finish rounds two and three with a 23.5 to 12.5 advantage against the International Team . The UVA duo of Ben James and Amanda Sambach went undefeated to help the Team USA effort.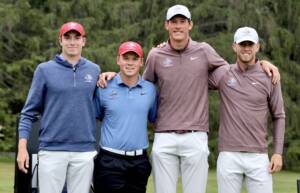 During the morning Foursomes competition at Laurel Valley Golf Club, James and Tennessee's Caleb Surratt won 5&3. With their match even after seven holes, they won three consecutive holes and then holes 14 and 15 to pick up the victory.
Sambach, teaming with UCLA's Zoe Campos, won 2Up in a dramatic comeback. The Team USA duo was 5Down after just 7 holes but rallied to tie the match over the next eight holes. They picked up wins on the final two holes for the win.
"We didn't play our best in the first nine, but we were never out of it," Sambach said. "We were talking all day about how we like to be from behind, so we kept it together and got some putts to drop."
"As soon as we won our first hole, I knew that we could come back from it," Campos said.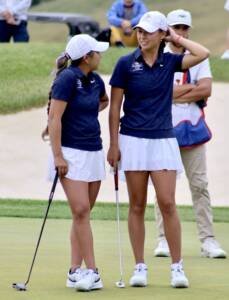 Team USA held a 13-11 lead after the morning round.
In the afternoon's Mixed Foursomes competition, James and Oregon's Ashleigh Park put together a 4&3 win while while Sambach reunited with North Carolina's David For for a 3&1 victory. That couple took the lead on the second hole and never lost a hole the entire match.
Saturday's final day of play will feature the Singles competition. Live scoring is online at Golfstat.com.
The three-day tournament is a Ryder Cup-style tournament featuring the top men's and women's university/college golfers matching the United States against a team of International players.  The Arnold Palmer Cup was co-founded by Arnold Palmer and the Golf Coaches Association of America (GCAA) and began at the Bay Hill Club & Lodge, Orlando, Fla., in 1997.
The Arnold Palmer Cup Champion is the team with the most points at the conclusion of the four rounds of play. If the two sides are tied the holder retains the Cup. Team International won the Arnold Palmer Cup in 2022. Currently the United States leads the all-time series 13-12-1.