CHARLOTTESVILLE, Va. – Virginia men's soccer head coach George Gelnovatch announced the program's incoming class for the 2023 season Friday (June 30), featuring eight incoming freshmen and five transfers.
"We were a top-four overall seed last year and we bring back a strong contingent of that squad," said Gelnovatch. "We certainly had a few positions that we needed to replace and reinforce, and we are confident this class not only fills some of those positional needs but provides us with exceptional depth."
The 13 incoming players will join Max Talley (Memphis, Tenn./Memphis 901) and Joey Batrouni (San Antonio, Texas/Coastal Carolina), a pair of early additions to the Virginia squad who arrived on Grounds in January.
The 2023 signing class includes: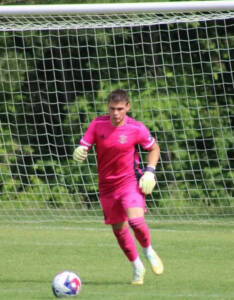 No. 00 Caleb Tunks | Goalkeeper | Freshman
Ht: 6'0"
Wt: 170
Hometown: Kailua-Kona, Hawaii
Club/Previous School: Solar SC (MLS Next)
• Two-time MLS Next All-Star Selection (2022 MLS Next Fest, 2023 National Academy Championships)
• Kept a 5-0 record in penalty shootouts at Solar SC
• Led Solar to MLS Next Playoffs round of sixteen
• U17 Jefferson Cup Champion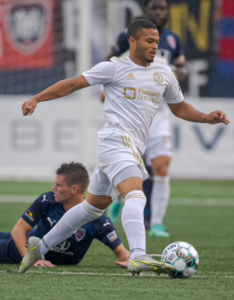 No. 8 Brendan Lambe | Midfield | Freshman
Ht: 5'7"
Wt: 155
Hometown: Apex, North Carolina
Club/Previous School: Atlanta United 2
• Made his professional debut at 15 years old
• Has made 26 total appearances in USL Championship
• First-team experience with Atlanta United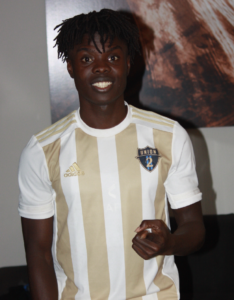 No. 9 Stephen Annor Gyamfi | Forward | Freshman
Ht: 6'0"
Wt: 140
Hometown: Accra, Ghana
Club/Previous School: SIMA
• Scored 12 goals in six games in UPSL (2022)
• Scored six goals in MAST tournament to earn MVP award (2022)
• Top scorer in UPSL with 13 goals in nine games (2020)
• Trained with Canadian national first team
• Participated in trials with Philadelphia Union (MLS Next) and Las Vegas Light FC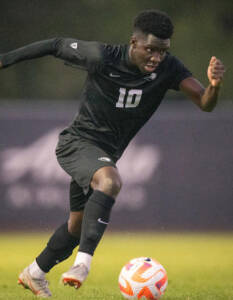 No. 11 Mouhameth Thiam | Midfield | Senior
Hometown: Dakar, Senegal
Club/Previous School: Oregon State
Ht: 5'5"
Wt: 142
• All-Pac-12 First Team in 2022
• Led Oregon State to a Pac-12 title and Elite Eight appearance as the top overall seed in the NCAA Tournament in 2021
• Oregon State's leader in goals (5), assists (4) and points (14) in 2022
• Scored 15 goals, and 13 assists to total 43 points at Oregon State (2020-22)
• Made four appearances in NCAA Tournament matches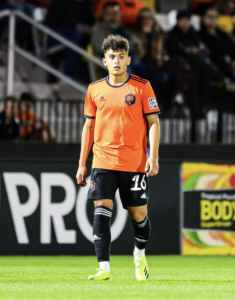 .No. 13 Cesar Cordova | Forward | Freshman
Ht: 5'7"
Wt: 150
Hometown: Houston, Texas
Club/Previous School: Houston Dynamo 2
• Made multiple preseason appearances for Houston Dynamo
• Rated a four-star prospect by TopDrawer Soccer
• Made nine total appearances for Houston Dynamo 2
• Debuted with El Salvador U20s on April 10, 2022 (three total appearances)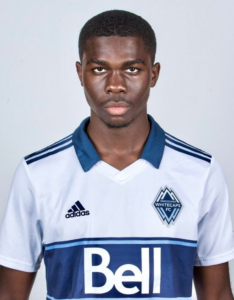 No. 17 Victor Akoum | Defender | Freshman
Ht: 6'3"
Wt: 195
Hometown: Edmonton, Alberta, Canada
Club/Previous School: Vancouver Whitecaps U19
• Played with Vancouver Whitecaps U17 and U19 (2020-2022)
• Member of BTB Academy U23
• Played with Scottish United (Edmonton, Canada)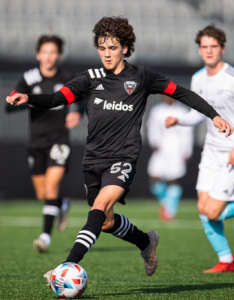 No. 20 Ignacio Alem | Forward | Freshman
Ht: 5'10"
Wt: 162
Hometown: Takoma Park, Maryland
Club/Previous School: D.C. United Academy
• Four-star recruit according to TopDrawer Soccer
• MLS Next All-Star (2023)
• No. 2 prospect in the Mid-Atlantic region according to Top-Drawer Soccer
• Played two seasons with D.C. United Academy
• Trained with United States U17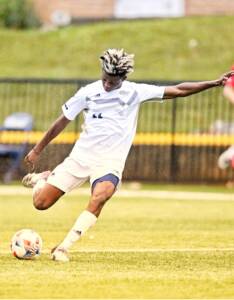 No. 21 Elias Norris | Forward | Graduate
Ht: 5'10"
Wt: 155
Hometown: Bethesda, Maryland
Club/Previous School: Bethesda Soccer Club/George Washington
• Scored 7 goals (15 points total) in fall of 2022 while primarily playing wing back
• Tied for fourth in A-10 conference for goals while tying for the lead in game-winning goals (3)
• NPSL Mid-Atlantic Conference Team of the Year (2022)
• Led George Washington to a runner-up finish at the A-10 Championship
• CSC Academic All-District Selection in 2022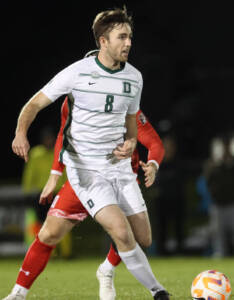 No. 24 Garrett Socas | Midfield | Graduate
Ht: 6'2"
Wt: 172
Hometown: McLean, Va.
Club/Previous School: Bethesda Academy/Dartmouth
• Played two seasons at Dartmouth (2021-22)
• Tallied a goal and two assists in college soccer
• Scored his first career goal in a 3-0 win over Hartford
• Tallied a game-winning assist against Columbia
• Three-year starter for Bethesda Academy
• Captained McLean Hotspur for six years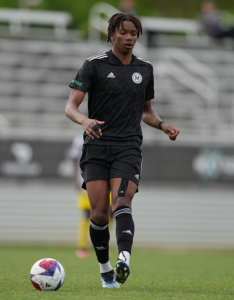 No. 25 Donovan Maryat | Defender | Freshman
Ht: 6'5"
Wt: 192
Hometown: Brooklyn, N.Y.
Club/Previous School: Met Oval MLS Academy
• 2019 NYCSL state champion with Brooklyn Soccer Club
• St. Lucia Men's Camp for Gold Cup Qualifier (June 2023)
• Three-star prospect according to Top Drawer Soccer
• 10th ranked recruit in state of New York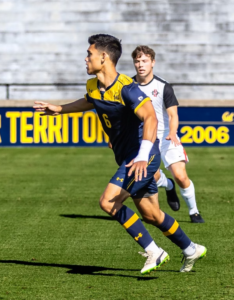 No. 27 Jack Singer | Midfield | Graduate
Ht: 6'1"
Wt: 175
Hometown: San Francisco, Calif.
Club/Previous School: Cal
• Played four seasons for Cal making 50 appearances and 36 starts
• Started 28 of his final 30 matches at Cal
• Tied for team-lead in goals in 2021 (3)
• Scored a brace against UNLV (9/5/21)
• A versatile player logged minutes as a defender, midfielder and forward for Cal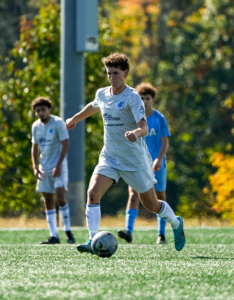 No. 28 Matthew Thissell | Midfield | Freshman
Ht: 5'10"
Wt: 155
Hometown: Ashburn, Va.
Club/Previous School: Bethesda SC Academy
• Scored 15 goals and tallied 13 assist for Bethesda SC last season
• Scored 38 goals across the U17 and U19 seasons playing for VDA in the ENCL and US Development Academy
• Top Drawer Soccer four-star recruit – Ranked third in the Mid-Atlantic region
• United Soccer Coaches All-American selection in 2021 and 2022
• ENCL first-team All-Conference Mid-Atlantic 2021 selection
• Appeared in the ENCL Florida National Selection game in 2022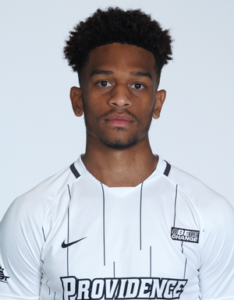 No 33. Austin Rome | Defender | Junior
Ht: 6'3"
Wt: 185
Hometown: Bowie, Md.
Club/Previous School: Providence
• Started five games for Providence logging 324 minutes
• Recorded a pair of shutouts as a member of Providence's back line
• Graduated from DeMatha Catholic High School
• Played for Baltimore Armour U17 USSDA team
• Ranked 35th among defenders in his recruiting class