By Jeff White (jwhite@virginia.edu)
VirginiaSports.com
CHARLOTTESVILLE, Va. — For Sonia LaMonica, the highs greatly outnumbered the lows during her four years on the University of Maryland women's lacrosse team. She totaled 111 goals and 55 assists during her college career, helped Maryland win two NCAA titles and three ACC championships, and earned first-team All-America honors as a senior in 2003.
Not every memory, though, is a happy one for the former Sonia Judd. Her college career ended on May 16, 2003, when the Virginia Cavaliers edged the Terrapins 9-8 in the NCAA semifinals at the Carrier Dome in Syracuse, N.Y.
"You never forget the last game when you were walking off the field," LaMonica said, "and that was against UVA."
Twenty years later, she's now in charge of the program that deprived her of a storybook ending to her Maryland career. UVA hired LaMonica early this month to succeed Julie Myers, who compiled a 349-181 record and never missed the NCAA tournament in 28 seasons as head coach at her alma mater.
About a week after she resigned at UVA last month, Myers was named chief executive officer of One Love, a national non-profit organization that works to end relationship abuse.
"Obviously, Julie's been an icon for a long time, and she's won as a player and an assistant and a head coach [at UVA]," LaMonica said. "I honestly didn't know Julie thoroughly well, but that was one of my first phone calls once this all played out. I'm excited for her in this next journey. I think it's incredible that she's going to be CEO of the One Love Foundation, and what a fitting role for her. I'm excited to honor the past of this program and celebrate the past and to forge a new path forward."
A native of Australia, LaMonica came to UVA from Towson University, where she had a record of 139-91 in 14 seasons as head coach, with seven trips to the NCAA tournament.
Her assistant coaches at Towson included her husband, Mike LaMonica, a former standout on the Maryland men's lacrosse team, and he'll hold a similar position on her staff at UVA. The LaMonicas have three children: sons Luca and Bodhi and daughter Marley.
In Charlottesville, Sonia LaMonica took over a program that's won three NCAA titles (1991, 1993, 2004) but hasn't advanced to the tournament's final four since 2014. LaMonica believes there's no reason the Hoos can't reach the NCAA summit again.
"Look, with lacrosse and Virginia, there's an allure here," she said, "and I think we can pivot a little bit with recruiting and cover a little more ground in some other areas for finding the top talent in the country and beyond, internationally too, and attracting them to Charlottesville.
"This place has everything. It's got the esteemed academics. It's got a vibrant community. It's got, obviously, incredible athletics across the board. It really has so much to sell. I'm excited to be able to really go after the top recruits in the country who are in alignment with our values, and I think that's gonna help catapult us."
LaMonica introduced herself to the Cavaliers' returning players and their incoming recruits on a Zoom call before her hire was announced. Virginia finished 11-7 this spring after losing to Albany in the NCAA tournament's first round.
The Hoos' starting defenders include Devon Whitaker, a rising senior from the Philadelphia area.
"I think it was very exciting," Whitaker said of the Zoom call. "I think both she and husband are very welcoming and they're determined to get to work. Change is hard, but change is also going to be good for our program, and it's going to push us in new ways, and I think that our team is pretty resilient."
Whitaker said she doesn't know anyone who played for LaMonica at Towson, but "I've heard great things about Sonia, and I'm excited about her and her staff coming to work with us. I have a coach from home who knows her pretty well, and I've heard that she's an unbelievable person. I connected with her a few days ago, and we just were talking about our culture, because I think that is a huge strength of our team, and we have these amazing relationships, and I was really happy to hear she was on the same page in building those relationships.
"She's in the midst of reaching out to all the team while also recruiting. So I know it's been a little hectic for her, but she's already trying to create connections, which really goes a long way. I'm really appreciative of that."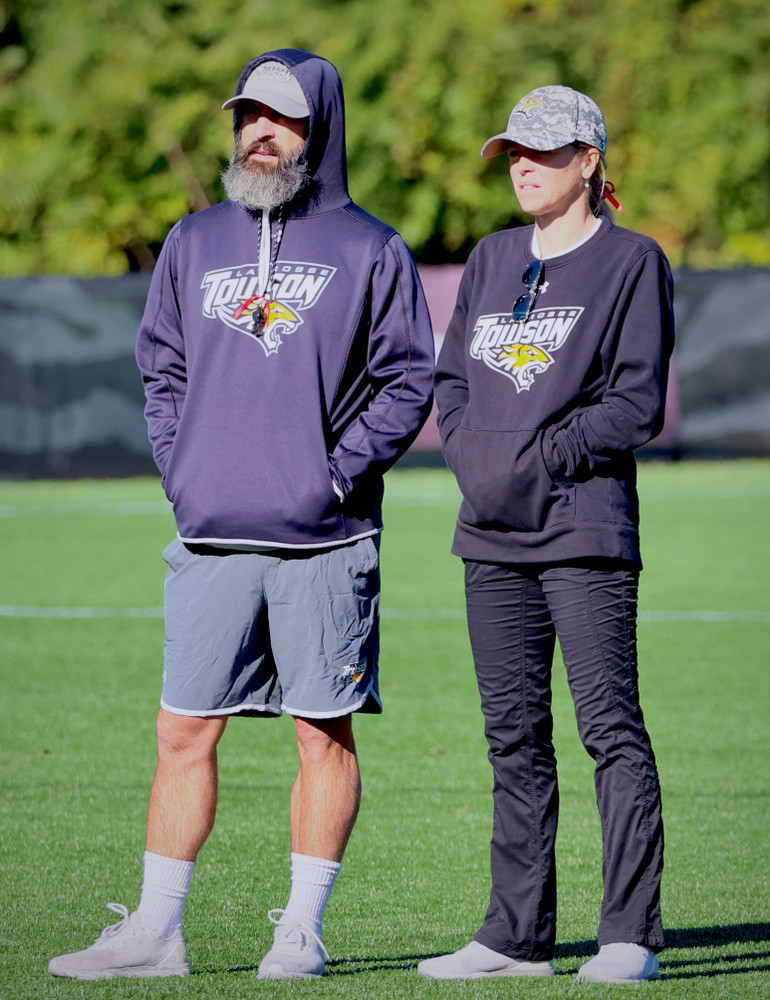 In addition to Towson, LaMonica also has been head coach at Mount St. Mary's and of the Baltimore Brave of the Women's Professional Lacrosse League. She's a former assistant at Towson and the University of Denver.
To her UVA players, LaMonica said, she stressed the importance of building a "winning culture. In my mind, talent matters, but culture is what wins. So we're going to work to build connections. We're going to develop a blue-collar work ethic. We want to be the hardest-working team in the ACC and have a team-first mentality.
"With these anchor points, and then setting those expectations and holding the student-athletes to it, good things will come. A winning culture is a process and it takes time to cultivate, but it really comes down to the people. You've got to have great people whose values are in alignment with those things, and then that's when the magic can follow. I think this program is hungry to be able to compete for ACC championships and for NCAA championships. This is a place that absolutely can do that."
The women's lacrosse office in the McCue Center is down the hall from that of the men's lacrosse program led by head coach Lars Tiffany, who has won two NCAA titles in his seven seasons at Virginia.
"I'm excited to bounce ideas off him and learn from him," said LaMonica, who was honored five times as Colonial Athletic Association coach of the year. "He's just done an incredible job since coming back here."
The two UVA programs have historically been close, forging "bonds of friendship and many marriages together," Tiffany said, and he expects that to continue.
"Julie Myers has enlightened our staff with so much insight into the history of our relationship," Tiffany said, "and we know as the men's team that we are stronger thanks to the collaborative and symbiotic partnership UVA women's lacrosse members have trusted us with. Our men's staff highly anticipates sharing the responsibility of creating two great teams with Sonia and her crew."
LaMonica, who did not know Tiffany before taking the job, said it's "key that you have a great working relationship with your men's program. It's a brotherhood and sisterhood. That was part of why I was at Towson for so long. There were great working relationships."
Tiffany recently added former Duke great Kevin Cassese to his staff. Cassese and Mike LaMonica played together on the United States team that in 1999 won the Under-19 world championships in Australia.
"The lacrosse community is small," said Sonia LaMonica, whose record against UVA as a Maryland player was 6-2.
In Australia, the sport is not especially popular, but lacrosse has gained a foothold in several parts of the country. "There's so much pride and it's a tight-knit community, same as you find here in the States, just on a much smaller scale," LaMonica said.
She was introduced to the sport when she was 11 and was "intrigued by it," LaMonica said.
Maryland's star players over the years have included several Australians, Sarah Forbes, Sascha Newmarch, Hannah Nielsen and Jen Adams, among them. "So there's a rich little pipeline," said LaMonica, and that put her on the radar of Cindy Timchal, then the Terps' head coach.
"I was just fortunate to be a young kid who loved to play, loved to run, loved to compete," LaMonica said, "and next thing I knew I was getting a phone call [from the Terps]: 'Would you like to come over?' I mean, what are the odds? It's amazing what doors the sport can open if you just go for it."
LaMonica, who helped Australia win the gold medal at the 2005 world championships, plans to expand the Cavaliers' recruiting footprint.
"Yes, that I think is a huge piece," LaMonica said, "because we're seeing talent coming out of non-traditional areas. So there's a lot of excitement in the growth [of the sport] from a recruiting standpoint, and that's definitely an area that I think we're going to benefit from by making sure that we are covering the ground and finding talent in all areas. We'll continue to recruit in the in the strong hotbeds, but we're also going to be looking in many other areas for that talent that fits the model and the vision here."
Her program figures to benefit from the new Olympic Sports Complex, on which ground was broken early last month. The project, which is scheduled to be completed in the summer of 2025, includes a renovation of the McCue Center, and it will allow UVA's field hockey, cross country, track & field, lacrosse, rowing and soccer programs to move into new locker rooms. They've been using trailers at the Training Grounds since the end of the 2017-18 school year.
"So it is an exciting time, and we're looking forward to bringing in top recruits," LaMonica said. "I think if we get them onto Grounds, it's going to be an easy sell."
She amended that statement a moment later. "It's not going to be easy. It's going to take a lot of hard work and grit, but I do think [the Olympic Sports Complex is] a necessary enhancement that has probably been missing while other ACC and Big Ten schools have been building facilities. It shows the investment in this athletics department for [Olympic] sports."
LaMonica is still filling out her staff, but her assistants will include Kerrigan Miller, who worked with her at Towson the past two seasons. Miller played at the University of Southern California before transferring to University of North Carolina.
In January, the Hoos announced their eight signees for 2023-24, and LaMonica likes the recruiting class. The Cavaliers allowed at least 15 goals in six of their final 12 games this season—they gave up 21 to Syracuse and 25 to Boston College—and LaMonica believes the incoming freshmen will help shore up the defense.
It's too early to say what Virginia's lineup will look like next season. For now, LaMonica said, she and her staff are "just chipping away, one thing at a time. We're going to build the culture and we're going to squeeze the most potential out of what we're working with and we'll figure it out."
To receive Jeff White's articles by email, click the appropriate box in this link to subscribe.