By Jeff White (jwhite@virginia.edu)
VirginiaSports.com
CHARLOTTESVILLE, Va. — In the nearly two decades she's led the University of Virginia field hockey program, Michele Madison has coached numerous players from the Netherlands, where the sport is immensely popular. Among those Dutch players, however, Jans Croon stands alone.
Croon, who's heading into her third year at UVA, straddles two countries. She was born in the Netherlands and lived there until she was 13, when she moved to the United States with her mother and stepfather, who's American.
"It was supposed to be just a year, and a year in Los Angeles didn't sound too bad," recalled Croon recalled, whose first name is pronounced Yahns. "And then we just kind of ended up sticking around for another seven years."
As a result, Madison noted, Croon is "very much still Dutch and she's very much American. So there's a twist with her background."
Before moving to the U.S. as a teenager, Croon had some familiarity with this country. She'd attended kindergarten in Los Angeles, and during that year she started learning English. Still, she said, when she returned to California as a 13-year-old, "I didn't know how to write, I didn't know any grammar, and I definitely wasn't fluent at the time. But I just kind of went to middle school, and you pick it up so fast. I just kind of followed what my classmates were doing, and it worked out."
NCAA field hockey is a fall sport, but Croon has had a busy offseason too. She's spent some of her summer in Europe—her father and most of her extended family live in the Netherlands—and some of it in the States, where she and other members of the United States' Under-21 national team recently competed in a tournament in Virginia Beach.
Back in April, four players who'll be on the Cavaliers' roster this fall—Croon, Madison Orsi, Daniel Mendez-Trendler and Mia Abello—helped the United States' U-21 team win the gold medal at the Junior Pan American Championship in Barbados.
Croon, who has dual citizenship, collected another gold medal last month, this one as a member of Team USA at the inaugural Hockey5s Pan American Cup in Jamaica. Hockey 5s is a version of the sport introduced by the International Hockey Federation (FIH) in 2014. In Hockey 5s, each side has four players and a goalkeeper, and boards that surround the perimeter of the field keep the ball in play.
That Croon's star is rising with USA Field Hockey doesn't surprise Madison. The 5-foot-6 Croon, who usually plays back for the Wahoos, is as versatile as she is intelligent on the field.
"We always have this thing we say to each other: It's just hockey," Madison said. "She doesn't care where she is. Just play hockey wherever you are on the field. So she's very versatile, very mature, and very clear in her intentions and what she wants in field hockey."
As a young field hockey player in the Netherlands, Croon said, she "was definitely nothing special at all. I played for a big club, but not one that played in the highest leagues. It was just kind of something all the girls around me did."
When she arrived in L.A., she found her opportunities in the sport limited. There were no field hockey clubs near her home in Manhattan Beach.
"So my mom said, 'This is tough, but why don't you branch out into beach volleyball, because that's a lot more accessible here by the beach?' " Croon said. "So when I tried that out, it was really fun, but I'm definitely not tall enough or good enough at that sport."
Eventually, Croon's mom learned of a field hockey club, Moorpark, that was about a 90-minute drive from their house. "So she decided to drive me up to practice," Croon said, "and she still says that I just looked so happy coming off of the field. I was kind of in my element, and so I decided to join.
"It was a pretty big commitment also for my family, having to drive me there three, four times a week. But my high school didn't have field hockey, so that was definitely very different. No one knew at my school what field hockey was. When I said I played field hockey, they were like, 'What's that? I've never heard of that.' I was kind of in disbelief at the beginning, I think, because it's such a big sport [in Holland]."
With field hockey not an option at her high school in Manhattan Beach, Mira Costa, Croon began playing for a boys team, the Ventura County Red Devils, in the fall.
"It was really fun and definitely a good experience for me," Croon said. "It also just moves at a faster pace, so I think I gained a lot from that."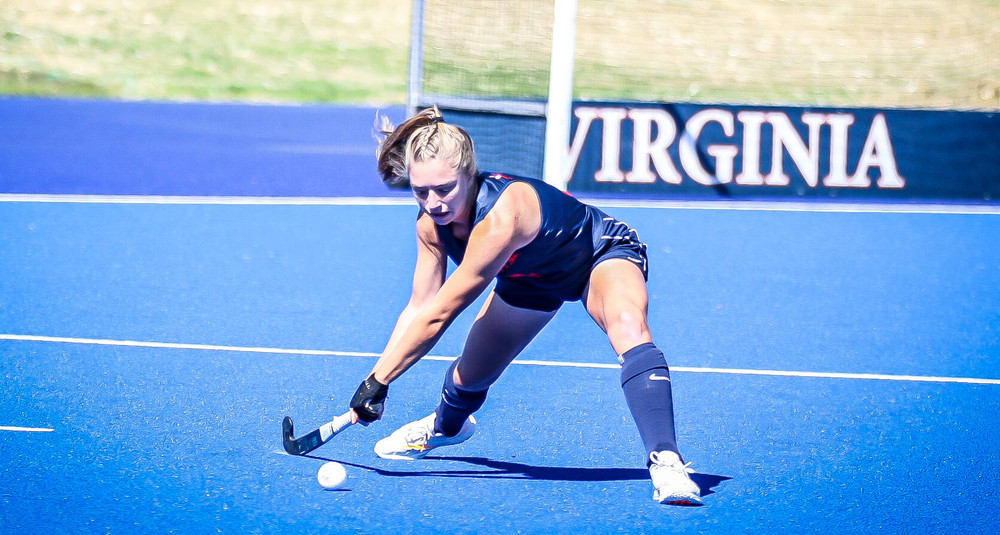 For a variety of reasons, her family moved to San Diego before Croon's 12th-grade year, and she enrolled at Torrey Pines High, which has a field hockey program. As a 10th-grader, Croon had committed to Stanford, but the school announced in July 2020 that it was cutting 11 varsity programs, including field hockey.
"So in the summer going into my senior year, I had to restart my recruiting process," Croon said.
She reached out to Virginia's associate head coach, Ole Keusgen, who had coached Croon on a U.S. youth national team, and the interest was mutual. She signed with UVA in November 2020.
Stanford decided in May 2021 to keep the programs it had planned to cut, but Croon says she's never second-guessed her decision to attend UVA.
"I think in hindsight, it's easy to say that this is where I should have been all along," Croon said. "Realistically speaking, I'm sure I would have had an amazing time at many places where I could have gone, but I think I can definitely see the pros of being at the University of Virginia compared to other schools, and I've just had a really good time both on the field hockey team and also academically. I'm really happy with what I'm studying and where that can hopefully take me and also socially, I'm having a really good time."
She's majoring in global security and justice.
"It's a really broad major," Croon said, "which is why I love it, because I can go in about a million different directions, I think. There's a lot of things related to international relations, and I'm really interested in those things. But I would like to pursue a master's degree in Europe somewhere at some point."
On the field, she's started all 40 of the games in which she's appeared during her two seasons at UVA.
"She's one of the leaders on the team, and she takes her role seriously," Madison said. "She takes hockey seriously. But she definitely has fun. It's not serious to the point where it's no fun. She just enjoys it so much."
Croon's teammates at UVA in the fall will include four players from the Netherlands: Anneloes Knol, Laura Janssen, Noa Boterman and incoming freshman Nilou Lempers.
"It's been so much fun having some fellow Dutch girls on the team," said Croon, who usually visits the Netherlands twice a year. "I think it's been really good for my Dutch language, because just talking to my parents might not keep me up to date with all the current vocabulary going around. Also, I did move away [from Holland] at a time when a lot of people, I think, make new friends. They find their friends around the age of 13, when they start going to high school, so it's been really nice to be good friends with girls my age from the Netherlands, and I definitely also see many of them when I'm [back in Holland]."
She's on track to play for the United States' U-21 team at the Junior World Cup, Nov. 29 to Dec. 10 in Santiago, Chile, and she hopes to make the U.S. senior team one day.
That's a realistic goal for Croon, Madison said. "The national team is in such a transition the openings are there for her to break in."
For now, Croon said, her plan "is to just stick to the program and continue playing and see where it takes me."
To receive Jeff White's articles by email, click the appropriate box in this link to subscribe.