By Jeff White (jwhite@virginia.edu)
VirginiaSports.com
CHARLOTTESVILLE, Va. — Coming out of high school, Leo Afonso turned down a contract offer from a United Soccer League team, choosing instead to enroll at the University of Virginia. His family played a role in that decision.
"His dad's got a lot of influence on him," UVA head coach George Gelnovatch said, "and his dad basically said, 'If you're not getting an MLS contract, you're going to school.' "
And so Afonso arrived on Grounds in the summer of 2020. He wasn't dreaming of playing four years of college soccer, but here he is.
Afonso's senior season starts Aug. 24, when UVA hosts Iona at Klöckner Stadium. The Cavaliers are in their 28th year under Gelnovatch, who's had numerous players turn pro with eligibility remaining during his tenure. A 5-foot-11 forward who's an accomplished goal-scorer, Afonso figured he'd add his name to the list.
"I think George always knew that that was always my dream and my goal," Afonso said, "and if I had the right opportunity. I would have taken it. But nothing popped up for me, so I just decided the smart thing for me was to stay in school and get my degree."
He's majoring in foreign affairs, with a minor in entrepreneurship, and he's closing in on his bachelor's degree. Afonso is a veteran of Inter Miami's academy, and the Major League Soccer club could sign him to a homegrown contract after the college season. If Inter Miami chooses not to do so, Afonso will be eligible for the next MLS draft.
Inter Miami, whose owners include David Beckham, added Lionel Messi to its roster this season, and to play in the same organization as one of the game's legends would thrill Afonso, who in 2014 moved with his family from his native Brazil to Boca Raton, Fla.
Still, he said, "I'm very open to wherever. I feel like it's kind of like when I was looking at colleges. I was open to go wherever the best opportunity was for me. I feel like now it's the same thing. Wherever the best opportunity is for me [professionally], I'll go."
When he arrived at UVA, Afonso was coming off a groin injury that had sidelined him for an extended period. He started six games as a freshman and scored two goals, but not until 2021 did he break out, totaling a team-high 18 points on eight goals and two assists that fall.
Afonso led the team in points again last season—18 points on seven goals and four assists—and was named to the All-ACC first team. But his 2022 play did not propel him into a pro career, however much he might have hoped it would.
"In my opinion, I think coming into last fall he was really focused on doing really well and going on to be an MLS pro," Gelnovatch said. "When that did not materialize, when he came back for the start of the second semester in January, I don't think he was in a great place. I've seen that happen so many times to guys, and it puts you in a really funky place. You're here because you're have to be, and it's winter and you're training outside and you were counting on being drafted and all of the sudden you're back here, going through the routine of [offseason training]."
Moreover, Afonso was dealing with a back injury last semester, "so you pile that on top of the disappointment of not getting that contract," Gelnovatch said. "He was close. He's a guy that [professional clubs] are looking at. It didn't happen."
Knowing Afonso's frame of mind when the Hoos started training this year, the coaching staff took a different approach with him.
"He didn't play much this spring," Gelnovatch said. "He trained probably two-thirds of the spring and only played in two of our games this spring, I thought it was a good idea to give him a little bit of a break. Some of it was his back, and some of it was me just saying, 'Listen, let's just take a deep breath here.'
"I had a good meeting with him after the spring about the plan from April to December. He's coming into his last year, he's on track to graduate, and I told him, 'You're going to have a very good team returning, you're on the cusp of where you want to be, and let's work together and put you in the best light to do that.' And he has showed up.
"What's impressive is his response. He looks great physically, as good as he's ever looked. He has no issues with his back, and from a leadership standpoint, it's early, but he's in a really good place."
Afonso went home to South Florida in early May and began training with Inter Miami, mostly with its second team but periodically with its first team. He followed a strict schedule.
"Sunday is my day off with the family," Afonso said, "and then Monday through Saturday I train twice a day, every day. That's all I do. So I would train at [Inter] Miami in the morning. Then I would come home to do a summer [online] class, 1 to 3:15, and then I would go to the gym after the class."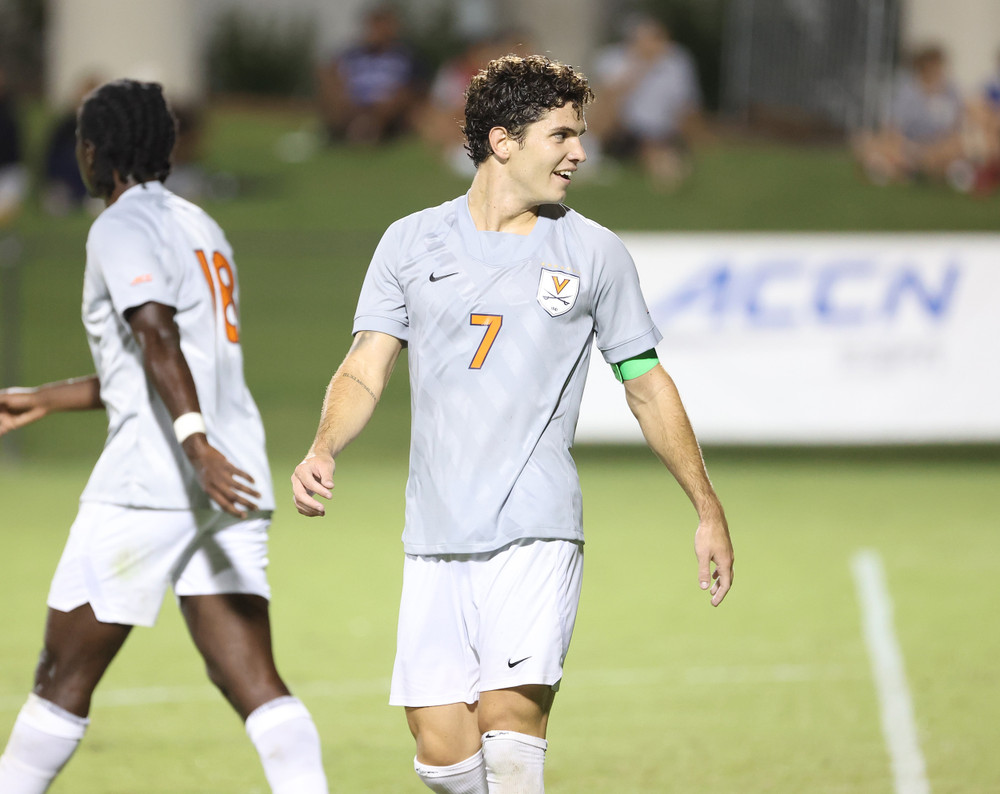 Before pursuing a pro career, Afonso wants to help Virginia, which has won seven NCAA titles, return to the College Cup. In 2022, the Hoos advanced to the NCAA tournament for the first time since 2019, when they lost in the College Cup final, but it was not a satisfying experience for Afonso and his teammates.
No. 4 seed UVA earned a first-round bye in the NCAA tournament but was ousted in the second round. In a penalty-kick shootout at Klöckner Stadium, Marshall eliminated Virginia. Eleven days earlier, in the ACC semifinals, the Cavaliers had lost to Syracuse in similar fashion.
In each of those games, UVA held a one-goal lead well into the second half. Afonso said he hopes the Hoos, who return eight starters from last year's team, have learned from those painful experiences.
"It takes that extra play, it takes that little detail to make sure that we don't concede and don't get out of the tournament early," Afonso said. "I felt like we should have done way, way better [in the NCAAs] than we did. But I feel like every year that I've been here we keep growing and growing and growing. So I hope this year is the one."
His game has evolved since he arrived at UVA, but Afonso knows he must continue growing if he and the team are to reach their objectives.
"I think when I came, my ambition was, I just wanted to score goals," Afonso said. "I didn't really care about everything else. As a forward that's your main job, but you have to be well-rounded and have other qualities and attributes to your game. That makes you a better player and will get you more goals."
Afonso took 69 shots last season, more than twice as many as Philip Horton, who was second on the team with 31. Gelnovatch, who was an All-America forward for head coach Bruce Arena at UVA, wants to see Afonso improve his decision-making with the ball.
"He's getting blocked too often," Gelnovatch said, "and he's shooting off-balance when he could pass. He's in a good position in the last 25 yards of the field and he's dribbling, dribbling, dribbling. People are trying to close you down and you're off-balance to shoot, but it's a great time to pass."
Afonso improved in that area in the spring, Gelnovatch said, and the coaches were encouraged by what they saw from No. 7 when the Cavaliers began training this week.
"He looked like he was in that mode of understanding the decision-making piece of things," said Gelnovatch, who ranks fifth in both career points (118) and career goals (49) at Virginia. "He wants to score so bad, and goal-scorers have to be selfish. I get it. But you can consistently make wrong decisions and it affects the team.
"When he's not getting the ball off his foot and there's somebody open to slip it to for a really good chance, it's frustrating, not only for the coaches but for the team. So these are things that we're working on, and I think he's made progress. When I say he's in a good place, that's part of it. He's maturing."
Off the field, Afonso has had a wide-ranging college experience. He arrived at UVA in the middle of the COVID-19 pandemic, and "first year it was dorm, training, dorm. That was it," he said. "So it was very weird. Second year, it was a little bit more back to normal, but not really back to normal.
"Third year was an amazing experience. I just met so many people. Everything was so different, and I started enjoyed being here a lot more than compared to first year."
Foreign affairs was a logical choice of major for a young man with ties to several countries. Afonso is fluent in Portuguese, Spanish and English, "and my mom speaks Italian, so I'm trying to learn a little Italian too," he said. "I think having that language background will be good for me in my career after soccer."
NOTE: The Cavaliers will play three exhibition games, all at Klöckner Stadium. The first is Saturday at 7 p.m. against Patrick & Henry Community College. UVA hosts Villanova on Tuesday (7 p.m.) and Duquesne on Aug. 19 (6 p.m.).
To receive Jeff White's articles by email, click the appropriate box in this link to subscribe.