By Jeff White (jwhite@virginia.edu)
VirginiaSports.com
CHARLOTTESVILLE, Va. — She hasn't been a University of Virginia student for long, and she's still finding her way around town. But Milan Gomillion has already sampled the fare at one local institution: Bodo's Bagels.
"That's really good," Gomillion said. "I know that's a classic here. Everybody says, 'You have to go there.' I'm still trying to figure my way around, but so far, it's been great. I like the community. Here it's more like a smaller town."
Gomillion grew up near the big city. She's from Capitol Heights, Md., right outside Washington, D.C., and she spent two years on the vast campus of the University of Maryland before transferring to UVA in June. Upon arriving in Charlottesville, she started training with the Virginia volleyball team, for which she'll be an important member this fall.
A 5-foot-6 libero, Gomillion was twice named Big Ten Freshman of the Week in 2021, and she led Maryland in total digs (480) in 2022. Gomillion recorded a career-high 31 digs against Michigan last season. Liberos are back-row defensive specialists.
"She's played at the highest level, in the Big Ten, and was easily one of the top three liberos in that conference," said Shannon Wells, who's in her third year as UVA's head coach. "So I knew that she would definitely be able to make a really big impact in our program."
Wells came to UVA from the University of Florida, where she spent seven seasons on head coach Mary Wise's staff, the final four as associate head coach. Playing for the Metro Volleyball Club in her early teens, Gomillion attracted the Gators' attention.
"She was somebody that always stuck out to me," Wells said. "So I've known her game for almost six years, and then obviously we got the chance to play Maryland and see up close the things that she can do. So I was very familiar with her and the club that she came from as well, and now I've gotten to know her as a person too, which has been amazing."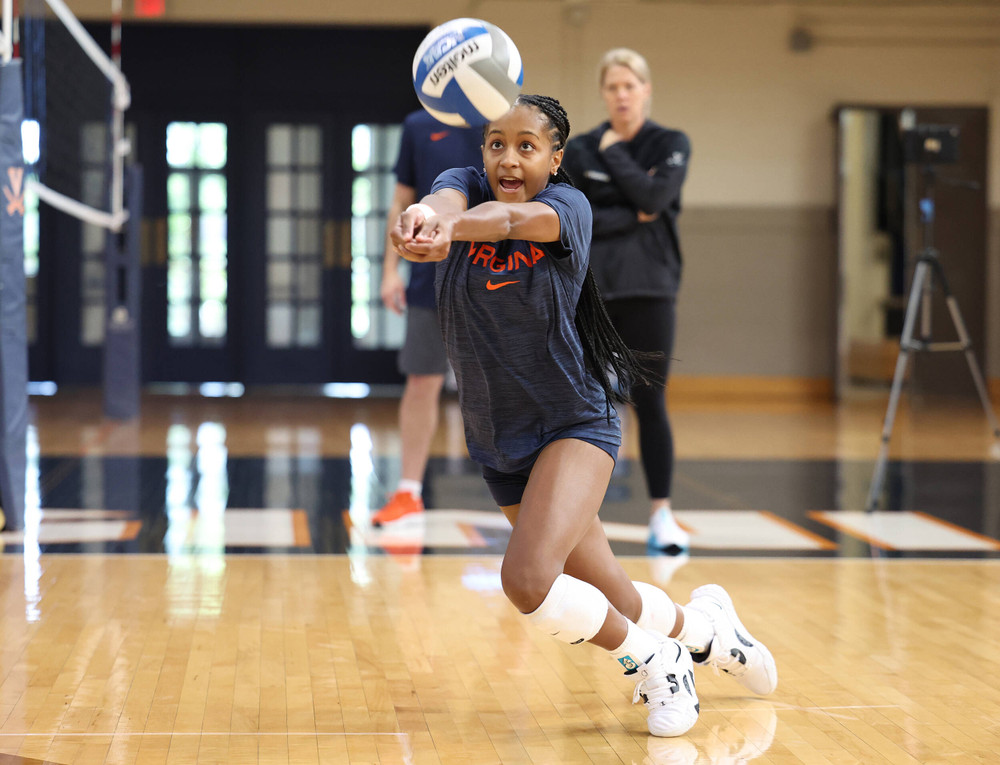 Gomillion remembers when the Wahoos and the Terrapins were ACC rivals. That relationship changed in the summer of 2014, when Maryland joined the Big Ten, but the programs met in non-conference play each of the past two seasons.
In College Park, Md., the Terps defeated the Cavaliers 3-1 in August 2021. In the rematch last September at Memorial Gym, Maryland defeated Virginia 3-0.
During those matches, Gomillion said, it never occurred to her that she might one day wear the Hoos' blue and orange, but she's excited about her new surroundings. When she visited UVA in the spring, "I was just blown away," she said.
She played a prominent role for Maryland as a freshman and sophomore, but Gomillion opted to enter the transfer portal at the end of last season.
"I think, overall, I wanted to take my game to the next level," Gomillion said, "and I wanted a coaching staff that really poured into me and saw the vision and pushed me to be the best player I can be. And I was big on culture. I wanted to be pushed, not just by the coaches but by the athletes on the court, people that can hold me accountable, on and off the court too. It's just as important in the classroom as it is on the court. So I think that was the reason why. I'm big on culture."
Her strong play for the Terps notwithstanding, Gomillion did not hear from many schools after entering the portal, and she was still looking for a new home when winter turned to spring.
"I honestly thought I wasn't going to play volleyball again," Gomillion recalled. "I was saying, 'What if this is just it, and I'm just a regular student?' Because it wasn't going how I thought it was going to go. But I think that's the beautiful thing about my story. Not everything happens instantly. But I just put my trust in God, and he worked behind the scenes and did his thing. He didn't just give it to me straight away.
"My perspective on volleyball completely changed over the course of those four or five months, just being in the portal. I know how blessed and grateful I am to have the opportunity to do these things at a high level, and I don't take it for granted. I was in [the portal] for a while, and it did get hard. There were times that I did cry. But I just remembered my mom kept saying, 'Be patient, be patient, be patient.' "
The transfer portal is flooded with players, Wells noted, and college coaches have to determine how to best to allocate scholarships.
"Are you going to find a six-rotation outside [hitter] that can kill balls?" Wells said. "Are you going to find a middle that can get you two or three points a set? And I think the libero is one of those positions that's really undervalued, even to us. At that time, when she went in the portal, we weren't looking for that position, to be honest. We had other needs that we felt were higher on the priority list.
"But things change, which always happens with teams. We'd kind of gotten to the end of the spring and had some opportunities to enhance our roster, and we went to the portal to find the best available player, and Milan was still in that group. We gave her a call, and for us it was a no-brainer. She's from a great club, Metro, that we want to continue to recruit from and bring the top talent from. And then getting to know her, she's just a rock star of a human and a teammate, and we're just really excited that she ended up choosing UVA."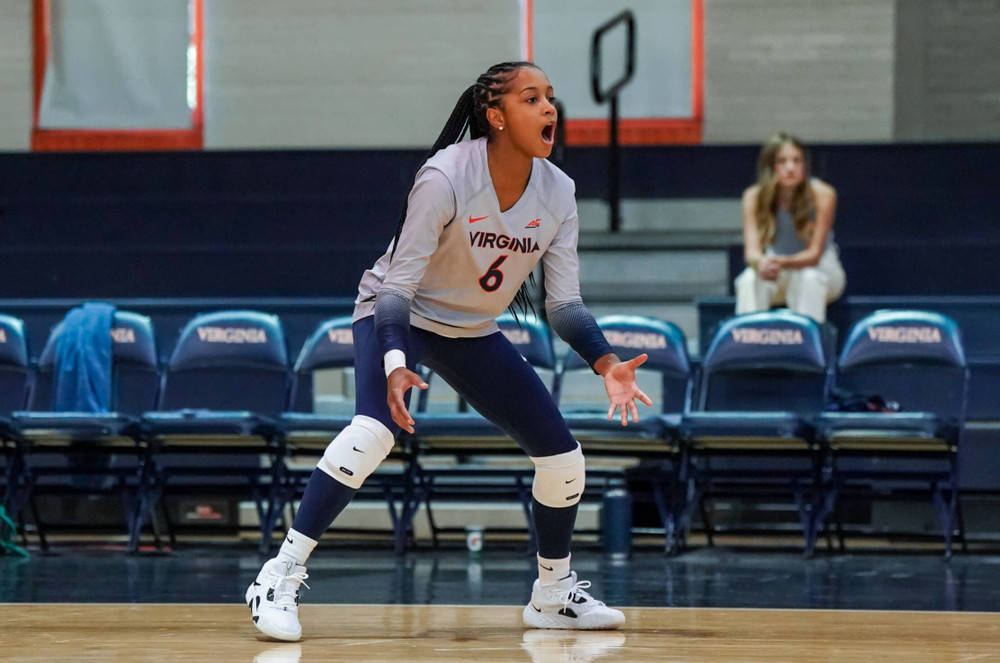 As a girl, Gomillion tried several sports, including field hockey, lacrosse and basketball, before deciding to focus on volleyball. She loved the competitiveness the sport required, Gomillion said, "and how each set you start from zero, as opposed to other sports, like basketball for instance, where just keep going, going, going. So that's what I think drew me to it, and it's a team sport, too. I like playing with other people, as opposed to individual sports."
At first, she didn't realize there would be scholarship opportunities for players of her stature. "I thought it was all about the hitters, all about the blockers, the big guys in the front," Gomillion said. "I was like, 'There's no way a lot of people get recruited, especially my position.' But then as I started my recruiting process, I was talking to different schools and I felt valued as my back-row position."
Gomillion attended Annapolis Area Christian School in the ninth and 10th grades. She was home-schooled for her final two years of high school. At UVA, she'll pursue a bachelor's degree in youth & social innovation in the School of Education and Human Development.
For years, Gomillion saw herself working as an early childhood special education teacher, but her career goals have changed. She's now interested in becoming a social worker.
"I like giving back," said Gomillion, who's volunteered with Special Olympics. "I've always been the type of person that likes helping other people, whether it's hands on or behind the scenes."
Gomillion is rooming with another transfer, Ciera "CiCi" Hecht (Texas A&M). Gomillion played against libero Madison Morey years ago in club volleyball but otherwise didn't know anyone in the UVA program before arriving on Grounds in June. Still, she's not shying away from leadership responsibilities.
"One of our sayings on the team is that no matter if you're a newcomer or first year, second year, third year, no matter what, we all have different perspectives, different knowledge to add," Gomillion said, "so we should all feel comfortable coaching each other and giving feedback. So I feel comfortable giving feedback, especially because my role at Maryland was a leadership role."
The Cavaliers, who play an exhibition Saturday against JMU in Harrisonburg, open the season Aug. 25 against Rider at Mem Gym. Virginia hasn't posted a winning record since 2015, and Gomillion is eager to help engineer a turnaround.
"Absolutely," she said, "and Shannon was very transparent about their strengths and their weaknesses and the growth that the program needs to build throughout the years, and I think that is what sold me, because I'm a competitive person. I like to win. I like to compete at the end of the day."
To receive Jeff White's articles by email, click the appropriate box in this link to subscribe.