By Jeff White (jwhite@virginia.edu)
VirginiaSports.com
CHARLOTTESVILLE, Va. — Classes and volleyball dominate her waking hours, leaving Abby Tadder little time for anything else during the school year. Still, she'd like to have fewer holes in her schedule.
"Right now I have a little too much free time during the first week of school," said Tadder, an economics major who's a standout middle blocker on the University of Virginia volleyball team. "I've been going a little crazy. I know school is going to get busy, and I know volleyball is going to get busy, but I like to be super involved."
Tadder, who's minoring in general business, belongs to Delta Gamma sorority, and she had a fellowship with UVA's Contemplative Sciences Center during the 2022-23 academic year. When she's home in California, Tadder helps coach with the club she played for.
"I always tell Abby that she probably needs to calm down a little bit, that she can't do it all, and then she consistently proves me wrong," Virginia head volleyball coach Shannon Wells said, laughing. "I just worry about managing her stress load more than anything else, but she's just so determined to be successful in all aspects of life, and she's got an incredible work ethic, which I think is pretty unique, and just a drive to be great. There's nothing that kid won't do and can't do. I feel like we're blessed to have her in our program, and she's someone that I really think is a great model for who we want to be and how we want to represent as UVA volleyball players."
Tadder grew up in San Diego, blissfully unaware of UVA. She remembers receiving a questionnaire from the Cavaliers' coaching staff.
"I was going through my emails with my parents," Tadder said, "and I was like, 'Oh, Virginia. Never heard of that. I guess it's just another school, and I'll keep it on my radar.' But my parents were like, 'That's such a great school. You have to talk to them.' And then I came out here, did camp, and I loved it."
During her official visit to UVA, Tadder texted her mom from Charlottesville. "I was like, 'This is the place for me. I just love it so much.' "
Grace Turner, one of Tadder's teammates at Virginia in 2021 and '22, now plays professionally for a club in Seville, Spain. She remembers Tadder's visit to UVA.
"I knew she was from San Diego," Turner said, "and the thought of coming to UVA was a bit scary because of the distance. But when I talked to her about why she would want to be part of the program, she was appreciative of the academic excellence that UVA had to offer. Now, Abby is an incredibly brilliant woman and works exceptionally hard to earn good grades, so when she talked about her drive and desire to succeed at such an institution like UVA, I knew she'd fit in well. She was also so goofy and bubbly that her personality in itself would be a perfect match."
Tadder signed with Virginia in November 2020. She was a senior at Point Loma High School then, and Wells was associate head coach at the University of Florida. In the spring of 2021, however, the head job at UVA unexpectedly came open, and Wells was hired. Reassured by the players already in the Virginia program, Tadder stayed the course, as did two other members of her recruiting class: Ashley Le and Brooklyn Borum.
"We took a chance," Tadder said, and for that Wells remains grateful.
As a freshman in 2021, the 6-foot-2 Tadder started 25 matches and finished second on the team in total blocks and fifth in kills. As a sophomore, she started 27 matches and played in all 115 sets. She led the Wahoos in total blocks and was second on the team in kills (244) and hitting percentage (.333).
Tadder has elevated her performance again this season. Through two matches, she leads the Hoos in kills (27) and hitting percentage (.447).
"I think she was very motivated at the end of the [2022] season to take her game to a really different level, and we're really supportive of that," Wells said.
In February, Tadder participated in a prestigious USA Volleyball event in Colorado Springs, Colo. USA Volleyball used the event, open to current college players and recent college graduates, to help select the U.S. women's national team and the U.S. women's collegiate national team.
Wells, who served as one of USA Volleyball's evaluators, said Tadder wasn't happy with her performance at the event, and she's used that "as extra motivation. And so she's just put time and energy into all aspects of her game."
In Colorado Springs, Tadder said, she was "competing against the best of the best, so I just knew it was going to be a learning experience and an opportunity to play with great athletes. I didn't play how I really wanted to play, I guess. It was a little frustrating not executing how I wanted. But afterwards, Shannon and I went through it and she was like, 'You're right there. You just need to limit your errors.' So my full focus in the spring was just limiting my errors and making good opportunities for myself. This past weekend, I really saw the benefit of really focusing on that."
Tadder ranks among the ACC's top players. Opponents know the Cavaliers will look to No. 3 in big moments, Wells said, and so "I'm really challenging her to understand that role and put her in situations at practice where she sees what other teams are going to do to try to stop her and get her used to carrying the stress of that, but also from a skill perspective being able to manage that and having the tools to be successful."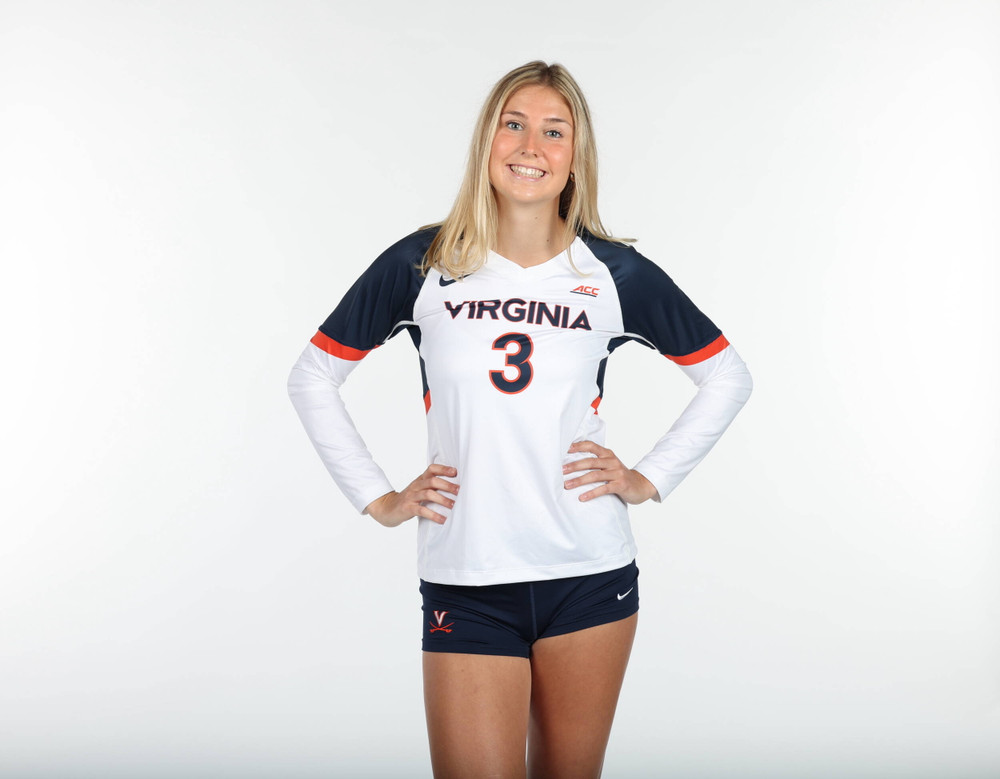 Next up for UVA (1-1) are two matches this weekend at the Big Apple Tournament in New York City. Virginia meets Quinnipiac on Friday and Columbia on Saturday. The Hoos' roster includes seven newcomers, and Tadder and Le are among the returning players who have moved into leadership roles this year.
"They've been through the ACC for a couple years," Wells said, "and not much is going to be surprising to see them as far as talent or a gym or cities that we visit. They know the routine, so we're really relying on their voice and their leadership right now with the newcomers, just making sure they understand the culture and what we do and how we go about things."
Tadder said she's enjoyed mentoring UVA's freshman middle blockers, Lily Gervase and Nala Cornegy. "Taking them under my wing and getting them up to speed as fast as I can has been pretty fun. I'm just building the program for after I leave, which I think is really cool."
Turner played a similar role when Tadder arrived on Grounds in the summer of 2021. "I had the pleasure of hosting her during preseason," Turner said. "Every year between the middle to end of preseason and moving into dorms, the first-years stay with upperclassmen, because the dorms aren't open yet."
Tadder later returned the favor, hosting teammates Turner, Josi Williams and Simone Dominique when they traveled to California during spring break in 2022.
"She was so excited to share her home with us and gave us a nice tour of San Diego," Turner said. "Her family was just lovely, her dogs were the cutest, and Abby was an absolutely amazing host. She was so quick to ask us to come visit her when we knew time with her family alone was valuable to her. That really only shows the kind of person Abby is. She cares so deeply about people and has the best way of making those around her feel so special."
Tadder has a twin sister, Grace, who attends the University of Florida, where she plays club beach volleyball. Grace and their parents dropped off Abby in Charlottesville in July 2021, and the twins didn't see each other in person again until that October, when Virginia played at Florida State.
Their mother took a video of their reunion in Tallahassee, and "it's one of my favorite moments," Abby said, "because we were just so happy to see each other. It's very nice to have her on this side of the country, because we're on the same time zone. Grace has gotten to come up here a few times and watch me play, and in the spring we she came up here and we hung out. We didn't have as much volleyball, so she could just experience UVA, and I've been down [to Florida] a few times too."
After Tadder graduates from UVA, she might play one season of beach volleyball at a West Coast school. "We'll see," she said. For now, she's focused on helping the Cavaliers, who improved significantly from 2021 to '22, take another step forward.
"Even in practice, you can tell that there's a difference," Tadder said. "We're able to focus on a lot more specific things instead of just the basic ideas, I guess, so we're able to dive deeper, and even the returners are learning something new every single day. Compared to last year, our back row is giving us so many opportunities. I think they did a great job [last] weekend, and that's one of the reasons why I was able to hit so many balls. So I think that's just going to put us in a great position against all these ACC teams. I'm excited. I don't really know exactly where the team is going to go, but I think it's going to be a lot farther than last year."
To receive Jeff White's articles by email, click the appropriate box in this link to subscribe.