By Jeff White (jwhite@virginia.edu)
VirginiaSports.com
CHARLOTTESVILLE, Va. — In the close-knit world of college lacrosse, University of Virginia stars Connor Shellenberger and Cole Kastner qualify as household names. The average fan, however, might need help from Google to brush up on Mitchell Whalen's background.
That doesn't diminish No. 43's importance in the Cavaliers' program. Along with Shellenberger and Kastner, All-Americans at attackman and defenseman, respectively, Whalen is one of Virginia's captains for the 2024 season, as selected by the team's players.
"Mitch Whalen will be this year's version of David Smith and Grayson Sallade," UVA head coach Lars Tiffany said, "a guy who will speak to me truthfully and painfully at times and tell me things that maybe I don't want to hear. He's got the strength and backbone to do that."
Whalen, a 6-foot-1, 175-pound long-stick midfielder, lettered three times in lacrosse at Buford High School in Georgia, but he drew no interest from Virginia, or any other Division I program. "I was not really recruited at all anywhere," he said.
An outstanding student, Whalen applied to UVA. After he was accepted he sent an email to the Wahoos' coaching staff, saying he was interested in trying out for the team. Tiffany responded and invited Whalen to do so.
Whalen was also interested in the University of Michigan, but after visiting UVA and meeting with Tiffany, he said, "I was like, 'I'd be dumb to pass this up.' So I kind of knew immediately then that I was going to come to school here. Whether I made the team or not, I knew it was the right fit for me, but the opportunity to try out kind of sealed the deal."
Whalen auditioned in the fall of 2019, and the coaching staff came away impressed.
"The traditional prototype of the athlete who makes Virginia men's lacrosse as a walk-on is an exceptional athlete, and Mitch Whalen absolutely fits that prototype," Tiffany said.
"The concept is that you weren't recruited out of high school, and most of the time that's because you weren't necessarily playing lacrosse at a high level yet, and despite your athleticism, you didn't garner the attention of Division I lacrosse coaches. But you show up for tryouts, and there's an aha moment for the coaching staff: This man is just as fast, if not faster, than the majority of our men. Can we teach him lacrosse? Can he learn the game? And that was Mitch Whalen's path. He needed to get his stick skills to a different level, and he's done that over a couple years. He needs to understand slide schemes, and he's gotten better."
Like short-stick defensive midfielder Noah Chizmar, who's also carved out an important role at Virginia after walking on to the team, Whalen is known for his fearlessness and willingness to sacrifice his body on the field.
"Those two will just not back down," Tiffany said.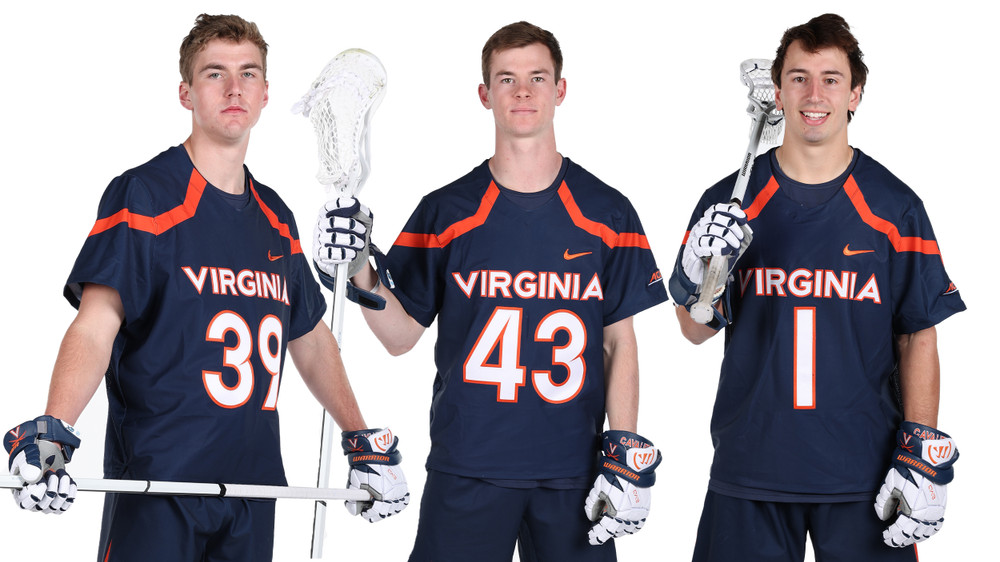 Not until June did Whalen commit to returning to UVA for a fifth year. He graduated in May from the McIntire School of Commerce, where his concentrations were finance and information technology, and had a job lined up in investment banking.
"He was going," Tiffany said. "He just one day hit the brakes completely and turned around, and so here we are today thrilled that Whalen literally stopped his plans."
Whalen, who's pursuing a master's degree in systems engineering, said he was excited to work with the people at the investment-banking firm, "but I wasn't necessarily ecstatic about the job, which is one of the reasons it made it easy to come back here."
The Cavaliers selected captains for this academic year not long after they ended their 2023 season with an overtime loss to Notre Dame in the NCAA semifinals. "At that point I was considering coming back, but that kind of sealed the deal," Whalen said. "I was like, 'This is a pretty cool opportunity.' "
Losing to Notre Dame, which went on to defeat Duke for the NCAA title, was "absolutely frustrating" for the Hoos, Whalen said. "We know we had the potential to do what our main goal was, which was to win it all. So there's definitely a hunger and desire to kind of run that back and go for it all this time."
That was not, however, the main reason he decided to return for a fifth year, said Whalen, who's on scholarship for the first time this academic year. The opportunity to be with his teammates again for one last season was too good to pass up, he said, and he also wanted to uphold the standards set by previous captains at UVA.
"That was kind of the driving force," Whalen said.
Whalen said he didn't expect to be chosen a captain. Tiffany didn't see that coming either. But once he started counting the ballots, Tiffany said, he was surprised to see Whalen was "getting a bunch of votes."
Slow, steady progress has been the hallmark of Whalen's lacrosse career.  "My first year in high school, I wasn't an all-star, either," he said. "I was on JV my freshman year, and JV at a program that wasn't that good. But it all honesty, it was the best thing for me. One, I switched to [a long stick], so I got a lot of reps, and instead of sitting the bench on varsity, I was actually getting to play and got better."
Buford is about 40 miles northeast of Atlanta. Lacrosse's popularity in Georgia is growing, Whalen said, but the caliber of play "wasn't anything like what you'd see up in Baltimore or Long Island or anything like that."
As a freshman in 2020, a season cut short by the COVID-19 pandemic, Whalen appeared in only two of Virginia's six games. "I was behind Jared Conners, Will Rock, a bunch of really good players, and I was like, 'I don't deserve to be out there.' It wasn't hard for me to see that. But I was like, 'I've been here before, and I'll just keep working.' "
His role grew up in 2021, when he played in eight games for a team that won the NCAA title, and again in 2022, when he played in all of UVA's 16 games. Against Layafette that season, he scored his first goal as a Cavalier.
"Some things opened up that junior year," Whalen said, "and I just kind of kept working from there."
He took another step forward during the 2023 season, and his lacrosse skills continue to catch up with his athleticism. "He is an impactful LSM in the middle of the field, flying in from the faceoff wings in the hunt for loose balls," Tiffany said. "He is also an active on-ball disrupter, using his speed to stay step-for-step with the dodger and throwing effective checks without slowing down."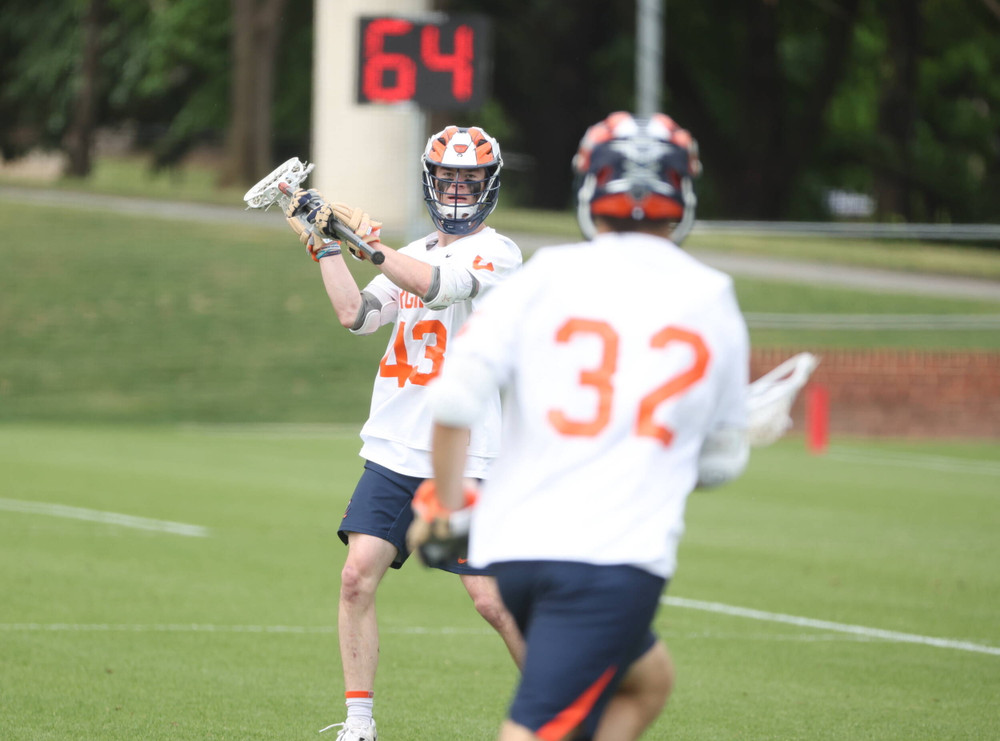 Whalen ran cross country for two years and swam for four years at Buford High. "It wasn't always easy, but I liked it," he said of swimming. "It was really good for staying in shape. My school was a huge football school, and I loved football, but I was even skinnier then than I am now, and it just wasn't really working out. I broke my arm and kind of said, 'All right, this probably isn't for me.' "
At UVA, members of the men's lacrosse team compete each offseason in an Ironman competition that includes a variety of events, the 40-yard dash, 300-yard run, broad jump and bench press among them. Whalen won the Ironnman in his sophomore and junior years but finished behind Xander Dickson in 2022-23. "So I'm hoping to get back on top," Whalen said, smiling.
He prepped for his final year at UVA with an extended stay this summer in Melbourne, Australia, where he and teammate Ricky Miezan played for the Altona Lacrosse Club.
Several years ago, Whalen said, the club had emailed Tiffany to see if any Cavaliers would be interested in playing for Altona in the summer. "I always thought it'd be a cool idea to do after I graduated, before I started working," Whalen said, and in 2022 he and two of his UVA teammates—Sallade and Jack Simmons—started planning for a stay in Australia.
"And then for different reasons Jack and Grayson dropped out," Whalen said, "but when Ricky joined [Virginia last winter] he was very interested right away. So we put it together pretty quickly and then went down there."
In addition to playing for Altona, Whalen said, he and Miezan worked with some of the club's younger players, "so it was cool for us to get out there and coach them and for them to see a little bit higher level of talent."
The two Cavaliers stayed in Melbourne with host families that were close, so "we were hanging out together with each other's family all the time," Whalen said.
It was a memorable experience that gave Whalen a glimpse of life in another culture. The lacrosse in Australia was "not the highest caliber," Whalen said, but that was fine.
"We're competitive people, but it wasn't as competitive," he said. "There was no real high stakes. It fun just to kind of relax and enjoy playing."
To receive Jeff White's articles by email, click the appropriate box in this link to subscribe.