CHARLOTTESVILLE, Va. – The Virginia volleyball team (6-2) return to Memorial Gymnasium this weekend (Sept. 15-16) to host the Jefferson Cup Invitational, a four-team winner's bracket format tournament. The Cavaliers wrap up their non-conference schedule as they host Norfolk State (1-4) on Friday (Sept. 15) at 7 p.m. before challenging either George Washington (2-7) or Wofford (7-2) on Saturday (Sept. 16) at either noon or 2:30 p.m.
All matches hosted at Memorial Gymnasium are free to the public.
---
BROADCAST INFORMATION

Both of Virginia's matches will be streamed on ACC Network Extra (ACCNX) through the ESPN app, which is available through participating TV providers that carry ACC Network.
Live stats will also be available for both matches and can be accessed through the volleyball schedule page on VirginiaSports.com
PARKING INFORMATION
Fans planning to attend Virginia volleyball matches this season are encouraged to park in the Culbreth, Central Grounds or Emmet/Ivy parking garages utilizing the ParkMobile app.
For more information regarding hourly parking locations and payments, visit virginia.edu/parkmobile.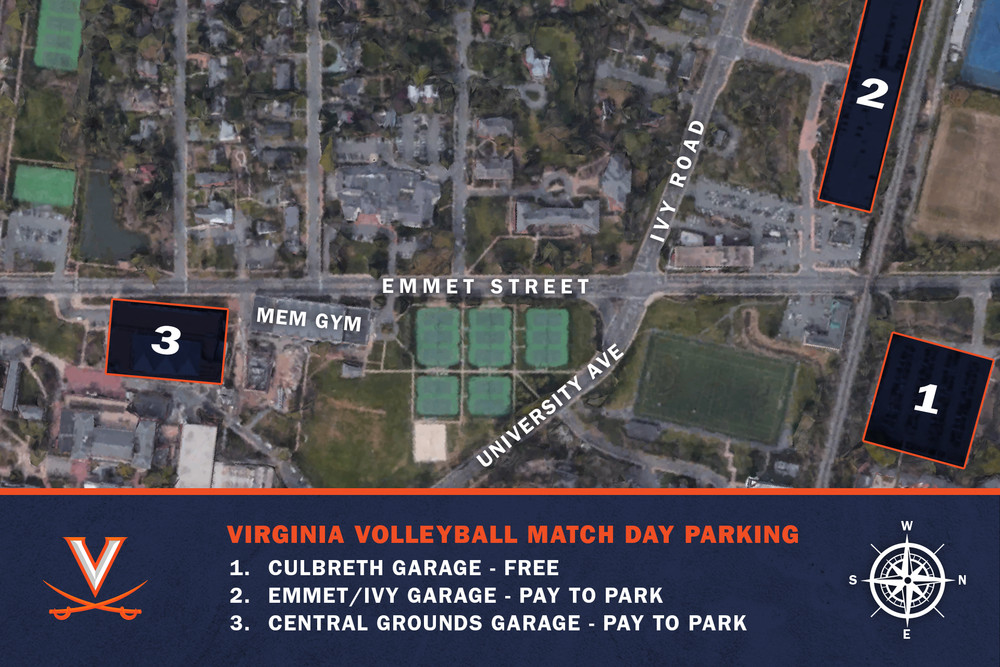 SEASON OVERVIEW
This year marks the 45th season of Virginia Volleyball, which held its inaugural season in 1979.
In 44 complete seasons, UVA is 668-751 (.471)
The Cavaliers are set to host 14 home matches in 2023.
For the first time in history, Virginia will face Rider (Aug. 25) and Quinnipiac (Sept. 1).
Head coach Shannon Wells is in her third season at the helm.
SERIES HISTORY
Virginia opens the Jefferson Cup Invitational against Norfolk State on Friday, the second time the two programs will meet. UVA leads the all-time series 1-0.
The Hoos will face either George Washington or Wofford on Saturday. Virginia trails the all-time series 6-10 against the Revolutionaries, while a matchup featuring the Terriers would mark the first meeting between the two sides.
LAST TIME OUT
The Cavaliers return home from the DMV Invitational having gone 2-1, picking up a sweep over Howard (25-15, 25-21, 25-21) and a thrilling 3-1 win over UMBC (27-25, 21-25, 25-19, 28-26) while falling to Coastal Carolina 0-3 (20-25, 17-25, 22-25).
The Virginia offense was firing on all cylinders against the Bison, as the team finished with a .410 hitting percentage as a team, the first time UVA has finished a match hitting over .400 since Boston College on 11/26/14 (.453).
Libero Milan Gomillion had a standout game against the Chanticleers, recording 27 digs, tying the most by a UVA player in a three-set match in program history.
Middle blocker Abby Tadder recorded her first career double-double against UMBC (13 kills, 12 blocks). Outside hitter Chloe Wilson also recorded a career high in blocks (nine) against the Retrievers.