By Jeff White (jwhite@virginia.edu)
VirginiaSports.com
CHARLOTTESVILLE, Va. — In the recruiting calendar for NCAA volleyball, June 15 is the first day college coaches can contact prospective recruits. On the night of June 14, 2021, Lauryn Bowie received a call from her club coach, Dave Franklin, who was checking to see if she was ready for the madness the next day would bring.
Bowie, then a rising junior at Westerville South High School in Ohio, was skeptical. She told him she expected to hear from some small schools, but that was about it. Franklin knew better.
"He was like, 'You need to be prepared. It's going to be insane for you,' " Bowie recalled this week.
Sure enough, she awoke the next morning to a barrage of messages, and "that's when it clicked for me, that I can actually take this to the level that I've always wanted to take it to," Bowie said. "Before then I always just thought I'd end up at a smaller school, somewhere in Ohio or bordering states, but I never thought that I'd be Division I, Power Five material."
Among those who contacted the 6-foot-2 Bowie was University of Virginia head coach Shannon Wells. They set up a FaceTime call on which Bowie's mother joined them, as she did on all of her daughter's recruiting calls.
"My mom sat with me in my room," Bowie said, "because I was kind of nervous at first to do that by myself. But I vividly remember getting off the phone with Shannon and being like, 'I'm going to Virginia.' I just had a great connection with her, and I felt that our conversation came so easy when I first called her."
Calls with Power Five coaches could be "really nerve-wracking," Bowie said. "It can be hard to make conversation with them. But it was really easy with Shannon."
About two months after she first spoke to Wells, Bowie visited UVA. She committed to the Wahoos before heading home to Westerville, a suburb of Columbus. Two years later, she's 10 matches into her freshman season and has already established herself as one of the Cavaliers' cornerstones.
Only junior middle blocker Abby Tadder (120) has more kills than Bowie (116) for Virginia (7-3), which opens ACC play Friday night at North Carolina (6-3).
After watching her play last spring, Wells became convinced Bowie would have an immediate impact at UVA. "Little did I know how big of an impact it would be, but I thought for sure she was going to have a chance to get on the court right away."
Not only is Bowie talented, Wells said, she's "got the right mindset. She's got the right motivation and determination. Obviously, she's an athlete and she's got a great arm. There's so many good volleyball tools, but she's also the right kid and a great teammate and such a great role model for other young African-American women and girls that want to play this sport. I think she's going to be somebody that we're going to start relying on in the spring as a captain and a leader, and we anticipate a really good future for her."
Bowie played right side before arriving at UVA, and the plan was for her to remain at that position this season and then shift in the spring to outside hitter, on the left side. But after watching Bowie progress during the preseason, "we just felt like her arm could score us a lot more points [at outside hitter]. On the left side we could get her the ball a lot more," Wells said.
"You never really know the pressure a first-year can handle, but Lauryn, I think, is mature, and she's confident in who she is, and she wants to be really good. She's motivated to be great for her teammates, and that made it very easy for us to be like, 'I think this kid can handle this move right now.' "
Learning a new position "was hard at first, I'm not gonna lie," Bowie said. "Outside and right side, they're both pin positions, so some things are pretty similar, but I feel like outside is just such a bigger role on the team, and our system is so advanced. It's extremely tactical and specific, which I really do like, and getting into that system and figuring it out was definitely challenging at first. I'm still working through some of that, but I'm definitely starting to get more used to the position and comfortable with it."
Bowie has four siblings, all older sisters. Bowie's mother had played volleyball growing up, and her daughters followed suit, with one exception.
"I did dance when I was younger," Bowie said, "and I always refused to play volleyball, because I was like, 'I don't want to be like everyone else. I hate volleyball.' "
She smiled. "But here I am."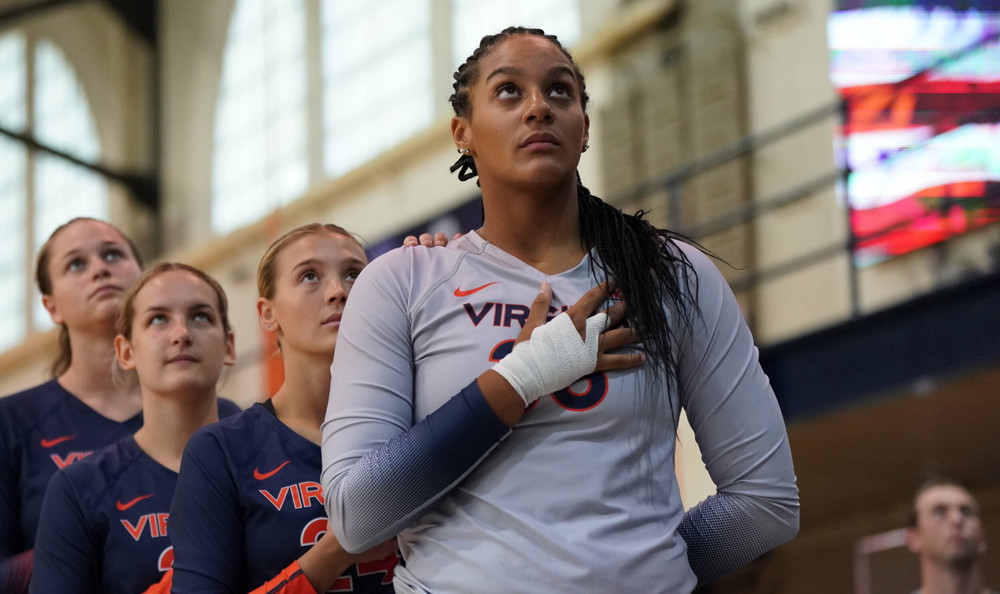 As a seventh-grader, Bowie gave in and tried the sport, attending a volleyball camp at Westerville South High. "The head coach there was like, 'You need to play volleyball. I don't know what you're thinking, but you need to play volleyball,' " Bowie said. "That kind of just convinced me. At that age, I was getting tired of dance and dance competitions, so her bringing me into volleyball just kind of got it started for me."
Her sisters attended Ohio State University, but Bowie was determined to follow a different path in college. "I just knew that I wanted to get out of Ohio and experience something new," she said.
Her family's reaction? "My sisters are my best friends," Bowie said, "and I know they were so proud of me. But I think a little part of them was like, 'Don't leave, you're our baby sister,' and that's also how I felt. But they're so proud of me. We text every day and they're super, super supportive of it."
At UVA, Bowie joined a program that's made only two NCAA tournament appearances (1998 and '99). This is Wells' third season with the Hoos, and they're progressing slowly but steadily under her leadership. Virginia's roster includes seven players who were elsewhere last season—freshmen Meredith Reeg, Lily Gervase, Nala Cornegy and Bowie among them—and there was little time in preseason to integrate the newcomers.
"Everything that we're doing right now is just continuing to build," Wells said. "We've got a long way to go before we reach our potential, but this is a team that's going to continue to get better and better each week."
Bowie could have chosen a school that's enjoyed more recent success in volleyball, but she wanted the challenge of helping revitalize the Cavaliers' program.
"That was probably the main reason I came here.," she said. "From the get-go, Shannon told me we're rebuilding UVA volleyball. In the long run, like 10 years later, I'd like to look back and know I helped build UVA volleyball. Here we have to be gritty, we have to be blue collar and work hard to build something bigger than ourselves, and that was way more appealing than [joining a proven winner]."
Bowie, who lives with Cornegy, said the team's first-years are exceptionally close. "I can go to them for anything," she said. "When I got told I was moving to outside, I texted in our first-year group chat and was like, 'I'm so scared. I can't do this.' Those girls have had my back since day one."
So do the Hoos' older players, Bowie said. "I love the culture of our team. We act it every single day, whether that's going to class or hanging out with each other. Everything is so genuine here, and that's my favorite part."
To receive Jeff White's articles by email, click the appropriate box in this link to subscribe.