By Jeff White (jwhite@virginia.edu)
VirginiaSports.com
CHARLOTTESVILLE, Va. — First comes the goal, then the backflip. That's become Stephen Annor's trademark, and University of Virginia soccer fans look forward to seeing many more such celebrations from him.
Annor, a freshman forward from Accra, Ghana, the capital of that West African nation, plays with unbridled joy, and he's been a welcome addition to the UVA men's program.
"He's super talented. We love him," Virginia head coach George Gelnovatch said. "He works hard. He presses. He's not just a guy who comes alive when you have the ball. He works really hard defensively. The guys love him. He's a pretty humble guy. He's also pretty confident and talks about himself scoring goals, but he's not a jerk."
Annor, whose full name is Stephen Annor Gyamfi, leads Virginia with five goals and 10 points. Senior forward Leo Afonso, who's missed the past three games with a sprained ankle, is next with six points (two goals, two assists).
Afonso, who led the Wahoos in points in 2021 and '22, said playing with Annor has "been great. He's willing to work and he's willing to learn, and you see him on the field and he always has a smile on his face. He's a good kid."
No. 9 is also an exceptional athlete, as evidenced by his signature celebration. Annor said he and his friends in Accra began practicing backflips when they were young. "We went to the beach and we saw a man doing backflips," he said, "and we liked it and we started trying."
Annor's fifth goal, on a header in the 66th minute, proved to be the game-winner Tuesday night in Virginia's 1-0 victory over East Tennessee State at Klöckner Stadium.
"He's tremendous in the air," said Gelnovatch, whose Cavaliers (5-3-1 overall, 1-2 ACC) are home again Friday night, when they host No. 8 Louisville (6-1-1, 1-1-1) at 7 o'clock.
Growing up in Accra, Annor also ran track, but soccer was the sport in which he shined brightest. The head of the varsity boys team at the Soccer Institute of Montverde Academy, on a recruiting trip, saw Annor play and offered him a scholarship. Annor left Ghana in December 2019 and headed to Montverde, Fla., about 25 miles west of Orlando.
As a SIMA boarding student, he took classes, played high-level soccer and attracted the attention of numerous Division I college coaches, including Gelnovatch. UVA, however, was late to join the pursuit of Annor, who'd already taken four official visits and had scheduled a trip to UCLA for his final visit last winter.
"So we have a Zoom with him, and I get a clear sense he's interested," Gelnovatch said. "Then we had another Zoom with him, and I plainly said, 'Look, Stephen, I want to come out and visit with you, but I don't want to come out there if Virginia is not a place you're seriously considering. I know you have your fifth visit scheduled, and I know you're not going to be able to take a visit [to Virginia].' "
Annor assured Gelnovatch and associate head coach Adam Perron that he was genuinely interested in UVA, and so they flew to Florida to meet him in early January. The meeting went well, Gelnovatch said, and "we made a great connection."
Two weeks later, Gelnovatch said, he returned to Montverde to see Annor again, "and this time when I leave, I'm 90-percent sure we're going to get this guy. He takes his visit the next week to UCLA, but tells me before he goes, 'Don't worry, Coach.' Sometimes that doesn't mean much, but he takes his visit, comes back and two days later commits to Virginia."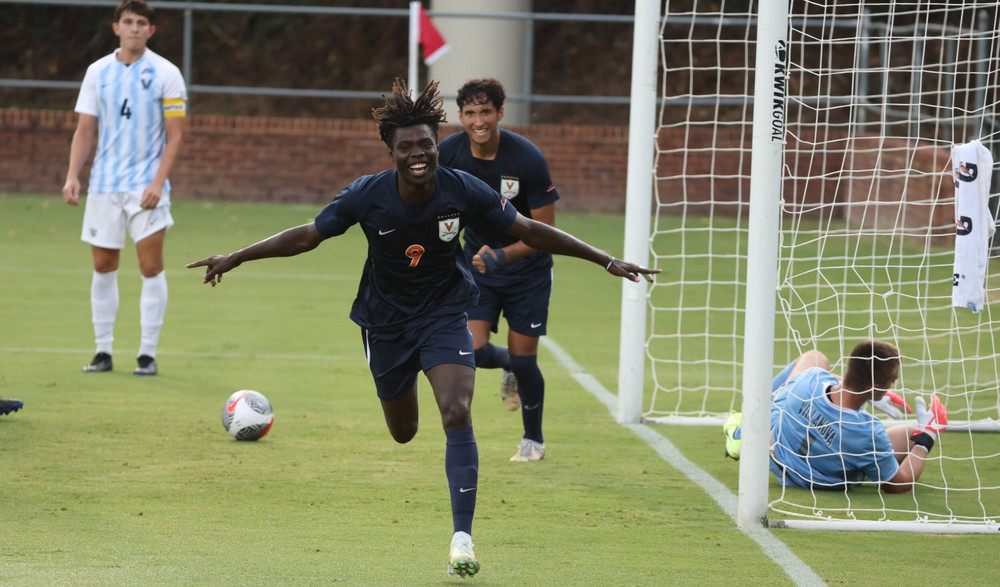 Annor had learned about the storied history of the UVA men's soccer program, which has won seven NCAA titles, but he signed without having visited Grounds. "We just made a connection," Gelnovatch said.
He had scholarship offers from numerous schools, Annor said, "but before choosing a college I had to choose a college where I'm going to feel at home, I'm going to be happy, a college no one is going to force me to go to. So that made me choose UVA, and being here made me feel at home. No one made me come, so I'm always happy in the locker room. I'm happy playing. Our first preseason game. I remember I told George, 'I'm home.' "
His first home, of course, is in Ghana, but he hasn't been back there since coming to the United States in late 2019. Annor misses his mother and his sister and talks to them regularly, but he believes his decision to leave Ghana will pay dividends one day. His goal is to play soccer professionally.
"It's hard leaving your family behind when you are a kid," said Annor, who plans to fly home to Ghana for a visit after the 2022-23 school year ends. "I came to the States when I was 16, so it was hard for me. But I saw it as a sacrifice. You have to leave your parent to go get something you want to get in the future."
Coming out of high school, Annor said, he knew he wasn't ready to turn pro. "So going to college to prepare myself to go pro, that was all my plan."
He misses his mom's cooking, especially her fufu and waakye, two traditional Ghanian dishes. "The only American food I would say I really, really love and I'm going to eat every single time I see it is hot dog," Annor said, smiling. "I love hot dogs."
He's enjoying his UVA experience. "For me, college life is simple," Annor said, "what you do, what you obey. When my coach tells me we have a 10 o'clock curfew, I follow 10 o'clock curfew. I'm in my room. I'm sleeping. I'm doing all the necessary things I need to do to get better in class and get better on the field. That's college life for me."
At 6-foot, 140 pounds, Annor won't be confused with former UVA forward Daryl Dike, who weighed about 220 pounds in his final college season, "but he's strong," Gelnovatch said. "There was one play in the Notre Dame game where Stephen goes shoulder to shoulder with one of their center backs, a big, thick, strong guy, and gets the better of him inside the box to keep the ball."
Notre Dame ended up defeating Virginia 3-1 last Friday night in South Bend, Ind., and that's a game Annor would like to have back. In the 59th minute, the score was 2-1 when Kome Ubogu sent a pass across the face of the goal. Alone at the back post, Annor somehow failed to finish into an empty goal.
"Oh, no! Nightmares for a week about that one," said the announcer calling the game for ACC Network.
Annor fell to the turf in disbelief, as did teammate Mouhameth Thiam. On the UVA sideline, "I actually fell to my knees, too," Gelnovatch said. "I hadn't seen anything like that in a while."
As frustrating as such mistakes may be, they're part of the game. "I can cut him a break, because I've been there," said Gelnovatch, who was an All-America forward at Virginia.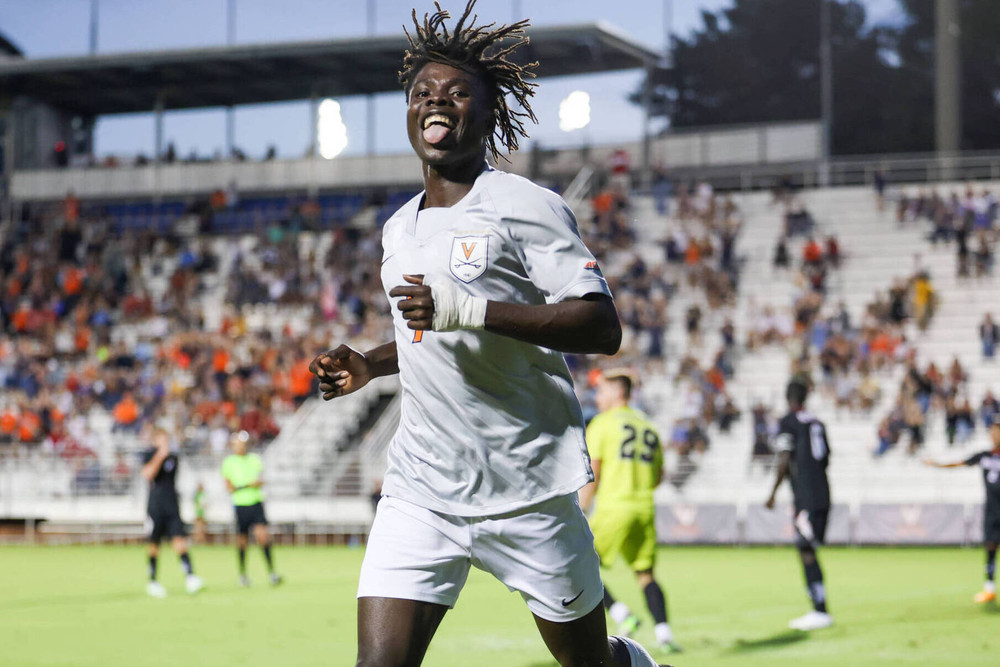 Early in the season, Annor played on the wing, but he's more comfortable as a center forward, and for Virginia's Sept. 12 game at James Madison, Gelnovatch switched from a 4-3-3 formation to a 3-5-2.
"Stephen and Leo were the two forwards, instead of Stephen being a wide attacking player," Gelnovatch said. "He was more of a traditional forward, which is what he is. He scored in the first five minutes [against JMU], and he's just much more comfortable there.
"I thought in the JMU game it was very interesting, those two. They can both press like crazy and they're both super dangerous, and it was the beginning of getting a closer look at what that's going to be like the rest of the year, and of course Leo got hurt."
In the final seconds of a game in which Afonso suffered a high-ankle sprain, the Cavaliers gave up a goal and had to settle for a 1-1 tie with JMU. Four nights later, Annor scored two goals—the second on a header—to lead Virginia to a 3-1 win over NC State at Klöckner Stadium. For those performances, he was honored as ACC Offensive Player of the Week.
Annor, who rooms with teammate Victor Akoum, a freshman from Canada, said he's learned a lot from Afonso, and their on-field reunion appears imminent, which is good news for the Hoos. Afonso said he's resumed running and hopes to return to action next week.
In his three-plus seasons at UVA, Afonso has scored 19 goals. He's never, however, attempted a celebratory backflip. With some help from Annor, perhaps that will change.
"He always says, 'You teach me this, you teach me that,' " Afonso said, laughing, "so I said, 'How about you teach me how to backflip?' "
To receive Jeff White's articles by email, click the appropriate box in this link to subscribe.