CHARLOTTESVILLE, Va. – The Virginia volleyball team (7-5, 0-2 ACC) return to Memorial Gymnasium this weekend to host ACC opponents Syracuse (2-10, 0-2 ACC) on Friday (Sept. 29) at 7 p.m. and Boston College (11-5, 0-2 ACC) on Sunday (Oct. 1) at 1 p.m.
All matches hosted at Memorial Gymnasium are free to the public.
---
BROADCAST INFORMATION

Both of Virginia's matches will be streamed on ACC Network Extra (ACCNX) through the ESPN app, which is available through participating TV providers that carry ACC Network.
Live stats will also be available for both matches and can be accessed through the volleyball schedule page on VirginiaSports.com
PARKING INFORMATION
Fans planning to attend Virginia volleyball matches this season are encouraged to park in the Culbreth, Central Grounds or Emmet/Ivy parking garages utilizing the ParkMobile app.
For more information regarding hourly parking locations and payments, visit virginia.edu/parkmobile.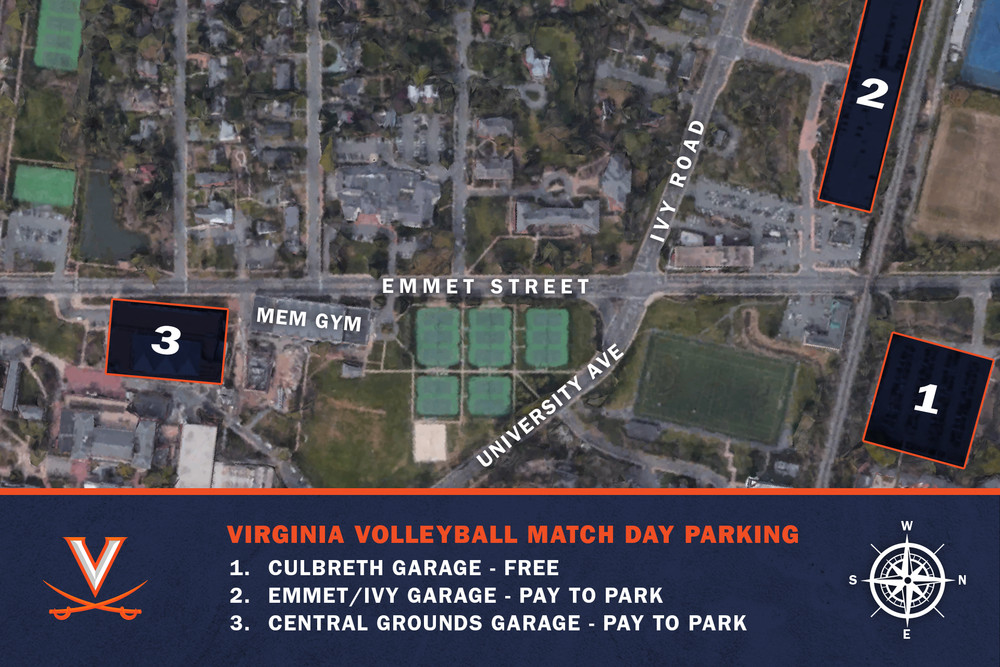 SEASON OVERVIEW
This year marks the 45th season of Virginia Volleyball, which held its inaugural season in 1979.
In 44 complete seasons, UVA is 669-754 (.470)
The Cavaliers are set to host 14 home matches in 2023.
Head coach Shannon Wells is in her third season at the helm.
SERIES HISTORY
Virginia trails the all-time series against Syracuse 3-11, and have fell in the last nine competitions against the Orange. The Hoos have not tallied a win over Syracuse since before the university joined the ACC, having last won in Sept. 2003.
The Cavaliers hold a 19-9 advantage over Boston College, but have feel in the last three matchups against the Eagles.
LAST TIME OUT
Virginia opened ACC play on Tobacco Road last weekend, falling to North Carolina 3-0 on Friday (Sept. 22) and getting swept by Duke on Sunday (Sept. 24).
The Cavalier offense struggled to find a groove on their road trip, hitting under .100 in both contests.
Middle blocker Abby Tadder led the Hoos in each match, recording 10 kills and three blocks against the Tar Heels and seven kills and three blocks against the Blue Devils. Setter Ashley Le notched her fifth and sixth double-double on the season registering 24 assists and 12 digs against UNC and 19 assists and 12 digs against Duke.