CHARLOTTESVILLE, Va. – The Virginia volleyball team (8-6, 1-3 ACC) are back in action at Memorial Gymnasium this weekend to host ACC opponents Clemson (10-6, 1-3 ACC) on Friday (Oct. 6) at 7 p.m. and Georgia Tech (13-1, 4-0 ACC) on Sunday (Oct. 8) at 1 p.m.
All matches hosted at Memorial Gymnasium are free to the public.
---
BROADCAST INFORMATION

Both of Virginia's matches will be streamed on ACC Network Extra (ACCNX) through the ESPN app, which is available through participating TV providers that carry ACC Network.
Live stats will also be available for both matches and can be accessed through the volleyball schedule page on VirginiaSports.com
PARKING INFORMATION
Fans planning to attend Virginia volleyball matches this season are encouraged to park in the Culbreth, Central Grounds or Emmet/Ivy parking garages utilizing the ParkMobile app.
For more information regarding hourly parking locations and payments, visit virginia.edu/parkmobile.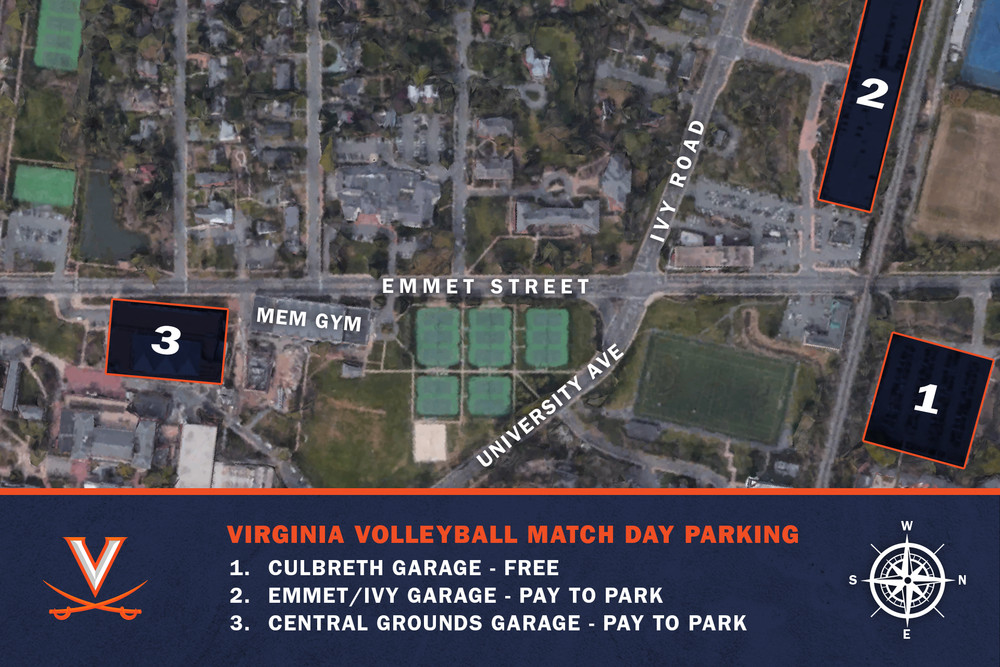 SEASON OVERVIEW
This year marks the 45th season of Virginia Volleyball, which held its inaugural season in 1979.
In 44 complete seasons, UVA is 670-755 (.470)
The Cavaliers are set to host 14 home matches in 2023.
Head coach Shannon Wells is in her third season at the helm.
SERIES HISTORY
Virginia trail the all-time series against Clemson 23-45, and have fell to the Tigers in the last three competitions.
Georgia Tech leads the all-time series over Virginia 22-41 and have taken the last six matches. The matchup with the Yellow Jackets will mark the first competition of the season the Hoos will face a ranked opponent.
LAST TIME OUT
Virginia split its pair of home contests against Syracuse (W, 3-1) on Sept. 29 and Boston College (L, 1-3) on Oct. 1.
The win over the Orange marked the first win in 20 years for the Cavaliers, snapping a nine match win streak. Abby Tadder finished the match with 11 kills and a match-high nine blocks. Tadder crossed the 500 career kill mark and now sits at 505 total kills.
The Hoos fell to Boston College in four sets, not being able to settle in an offensive groove, hitting only .103 in the match. Setters Ashley Le and Regan Trueblood each finished with double-digit assists, with 20 and 15, respectively.