"This year's graduating class of 2024 will be the final one that can take advantage of that blanket waiver and we are hopeful that we can provide the same opportunity for a couple of female players currently in their final year of their undergraduate program, whether here at UVA, or at another college in the United States." - Head Coach Mark Allen
Virginia women's squash player Maria Moya is somewhere completely unexpected. She is physically seated in a lounge at the McArthur Squash Center, her home court for these past five years, but it is the fact that she is still there, or was ever there at all, that is the unexpected part.
Moya graduated from UVA in May with a B.A. in psychology but is now enrolled in the master's in commerce at the McIntire School of Commerce at the University of Virginia. In 2019, The Economist ranked the school's management program as the top in the U.S. and sixth in the world.
"COVID took a year for me," Moya said. "My first semester in my mind was like 'this is only gonna last four years and I'm gonna be back home', but once I was a third year, I was feeling that I was not ready to leave. And so when the opportunity to earn a master's came, it was the right opportunity for me at that moment. And right now it feels like a good decision."
The COVID-19 pandemic completely eliminated the women's team's 2020-21 season. Though the team practiced throughout the year, they did not play a single match. There were only a handful of official matches played by any teams that year, giving all collegiate squash players the opportunity to seek a fifth year of education with their bonus athletic eligibility.
"Navigating the COVID season was tremendously difficult for both players and coaches alike," said Moya's head coach Mark Allen. "Now that we are a couple of years on the other side of it, there have been a few silver linings, the biggest of which is the opportunity it has presented to bring some of our strongest players back for a fifth year on the team."
Moya joins a list of other players who have earned their master's with their fifth year of eligibility including All-American Emma Jinks and junior Pan Am bronze medalist Sydney Maxwell.
"All three players were shortchanged by COVID, but thanks to the blanket waiver, as well as some flexibility with our scholarship funding, they have been able to get their missed year back," Allen said.
For the squash teams, so far it has just been current team members who have elected to stay for a fifth year, but across the Virginia athletics community, dozens of student-athletes have played at UVA for the first time as graduate students. Edoardo Graziani, who was Penn's No. 1 singles player for the past four years on the men's tennis team, is among those who are Cavaliers in 2023-24.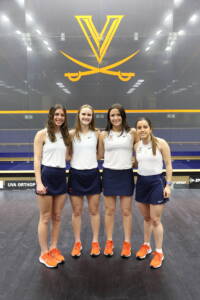 "This year's graduating class of 2024 will be the final one that can take advantage of that blanket waiver and we are hopeful that we can provide the same opportunity for a couple of female players currently in their final year of their undergraduate program, whether here at UVA, or at another college in the United States," Allen said.
For Moya, being in grad school was not something she expected when she first arrived on Grounds.
"My first semester, it was really hard even to talk with people because my English was not that great," Moya said. "I used to record some classes and go back to my dorm room and listen to them in slow motion. I think that made me a lot more resilient. I used to get so frustrated because when I was in high school, I used to get really good grades. But now every day is challenging because it's different to study in a different language. I feel that a lot of athletes go through a hard time and I think it's just that athlete mentality that helps you to go through all of it."
Moya grew up in Ambato, Ecuador, an industrial hub of 100,000 people in a central Andean valley located in the middle of the country. As a young child, she did not have dreams or goals of leaving her home to pursue either an education or athletic goals. She was just following in the footsteps of her older brother.
"I started playing when I was six years old when I saw my big brother playing," Moya reflected. "I was also playing soccer and basketball but I was too short, so I decided to continue with squash."
She did more than merely "continue" with the sport. Though it was not a huge sport in her hometown or country, her school had squash courts she could play on, and grow her game. South America also has international competitions that promote the sport, so she kept playing and getting better. She began representing Ecuador in international play at 12 years old and has done so every year since.
"When I was 12. I qualified for the Under-19 Pan-Am Games," Moya said. "I would see my friends every year at tournaments, which I enjoyed, but it was also a measurement for me to see where I was at."
Seeing friends was nice, but she had one very specific goal for herself.
"I always wanted a gold medal," she said. "That was a goal for me all the time."
The year before coming to UVA, she reached that goal, winning gold at the 2019 U19 Pan American Games while also pocketing a silver in mixed doubles.
"It felt like a relief," she said of winning the gold. "But at the same time, it was proof to me that I was able to do that because sometimes I was doubting myself and thinking that everyone was training more than me and that everyone had better coaches In the end, it was a good perk for me that I found out I could do it."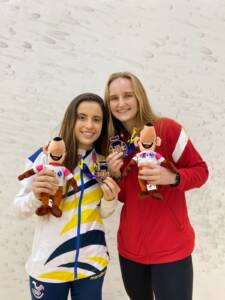 It was the year before that her life took an unexpected turn. She was competing at the Canadian Junior Open and won the U19 title. The winning was not unexpected but the flood of emails after the victory was.
"I started receiving emails from colleges and universities in the U.S. I was like, 'Okay, this is an opportunity'. But I was so scared to take a step."
Allen was one of the people emailing. Soon Moya was in Charlottesville on an official visit.
"Mark was very straightforward with what he wanted for me," Moya said. "I think that made me feel secure. But also when I was walking around the grounds, I felt very safe. I didn't feel that in my life because Ecuador is not that safe. So I really liked that I was able to walk alone, do all this stuff by myself."
Moya arrived on Grounds and began conquering her classes, as well as taking the next steps forward with her squash. The program, which was still in its infancy as a varsity program when she arrived, also was going through growing pains and moving into unexpected territory.
"When I came here my first year, it was so different from what it is now. I think that now the team is more competitive, and all the players take it seriously and work outside. When I came here, they were going from a club team to a varsity team we all talked about how our culture needed to change. I think that right now that base is very solid. When players come, they already figured out that everyone takes it seriously and everyone wants to get better at it."
Since her arrival, the team cracked the top 10 of the national rankings every season, picking up their highest-ever ranking by finishing at No. 4 last year.
Moya continues to grow as an individual player as well. Later this month, she heads not to the Junior Pan Ams but to the 2023 Pan American Games in Santiago, Chile.
"It's my first Pan-Am Games," she excitedly said. "All the sports compete at the same time. We won't be at the Opening Ceremonies, but I will be part of the Closing Ceremonies. It's a unique experience for any squash athlete because we're not an Olympic sport, so it's the most similar Games that we can have."
Ironically, competing at one of the highest levels of her sport on an international stage might be the least unexpected part of her journey.