By Jeff White (jwhite@virginia.edu)
VirginiaSports.com
CHARLOTTESVILLE, Va. — As the first-ever volleyball match at John Paul Jones Arena neared its conclusion Sunday afternoon, the record crowd did its part to will the home team to victory.
"Let's go, Hoos! Let's go, Hoos! Let's go, Hoos!"
With Virginia leading 8-7 in the fifth and final set, fans stood and raised that chant, and their support had the desired effect on head coach Shannon Wells' team. With the volume inside JPJ continuing to climb, the Cavaliers closed out a dramatic come-from-behind victory over Virginia Tech.
After dropping the first two sets to the Hokies, each one by a score of 25-20, UVA stormed back to dominate the next three: 25-15, 25-15 and, finally, 15-11.
"I think the whole team was on the same page," junior Abby Tadder said. "We wanted to hit 'em where it hurts and just keep on going, because we wanted to win."
Wells was thrilled with the victory, her program's third straight in the series, but she could have done without all the tension and drama, however entertaining that made it for the crowd of 3,162, the largest ever to witness a UVA volleyball match in Charlottesville.
"I did not wear my five-set shoes today," Wells said, smiling, "but what else do you expect? You got two gritty teams battling."
The Hoos usually play their home games at venerable Memorial Gymnasium, and the vibe at JPJ was markedly different.
"When we ran out [out of the tunnel] I kept looking around," said Tadder, one of Virginia's standout middle blockers, along with graduate student Veresia Yon. "It was crazy. At Mem, you don't really have to look up, you just look out, and here I was looking up and they were just people everywhere, which is so awesome."
The crowd included many of the volleyball players' fellow student-athletes, with men's basketball, softball, football and women's basketball among the other sports represented in the stands at JPJ.
"Of course, we always get a lot of fans [for matches] with Virginia Tech," Tadder said, "but just to have that bigger space was incredible."
Yon said: "Seeing all the people that came out to support us was really heartwarming."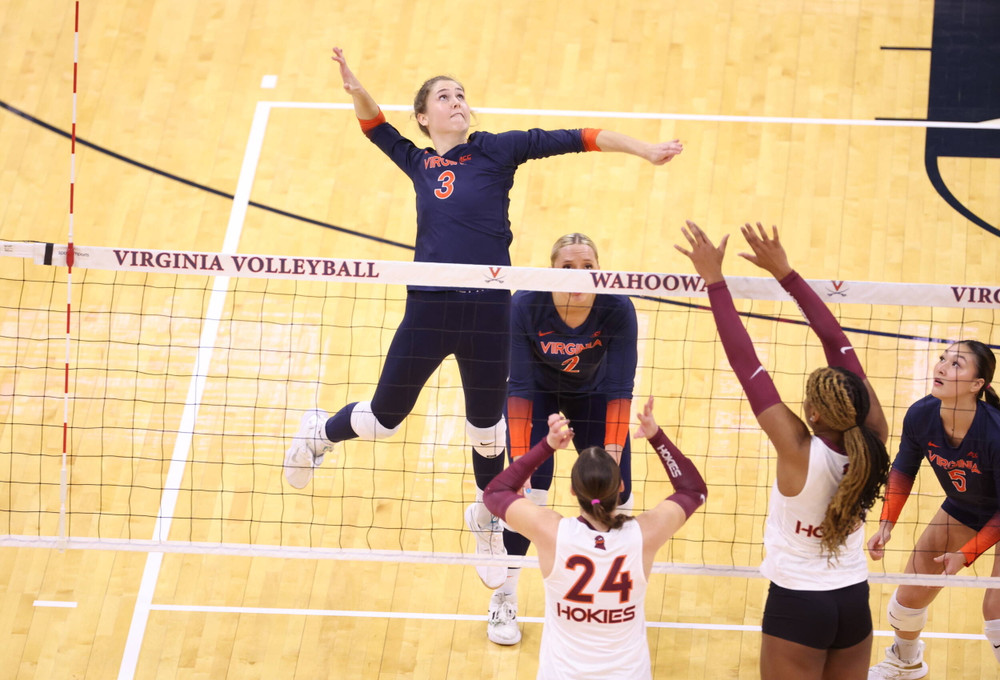 The Cavalier Band stoked the crowd as the teams warmed up, but once the match started, the Hoos fell flat. They led only three times in the first set—at 1-0, 3-2 and 6-5—and never led in the second.
Before the third set, the Hoos gathered around their bench and regrouped and reset.
"I hope you guys are ready to go five sets," Wells told her team.
"We weren't trying to be real emotional about it," she said. "There were some things that we weren't doing that we've been working on at practice. And so we just talked about that. What's one thing that we can do from an offensive standpoint, what's one thing that we can do from a defensive standpoint, and can we really just build upon those? And when you score a lot of points in a row, which we were doing [in the final three sets], it gets the crowd involved."
Yon said: "I think after the second set, we just kind of flipped a switch."
The coaches weren't the only ones who addressed the team before the third set.
"Abigail kind of stepped out of her comfort zone and gave everyone a pep talk," said Yon, who joined Tadder and Wells at the postgame press conference. "We needed to get the motor running, because we were kind of going in the wrong direction. So I think Abigail's little speech was definitely something that we needed at the moment, and hearing it from a teammate is something that we can all respect."
Tadder opened the third set with a kill, and the comeback was on. The third and fourth sets were one-sided; the fifth was tighter. The Hokies took a 7-6 lead, but a Yon kill tied the score, and then a kill by freshman outside hitter Lauryn Bowie put the Hoos ahead for good.
Fittingly enough, Tadder clinched the victory with her 18th kill, which matched her career high.
"I always want the ball, but I think in sets three, four and five, I was like, 'Get me the ball,' " said Tadder, who credited the sets of Ashley Le and Regan Trueblood, who finished with 24 and 20 assists, respectively.
"So shout out to Ashley and Regan for just trusting me and the team trusting me," Tadder said. "The passing was awesome."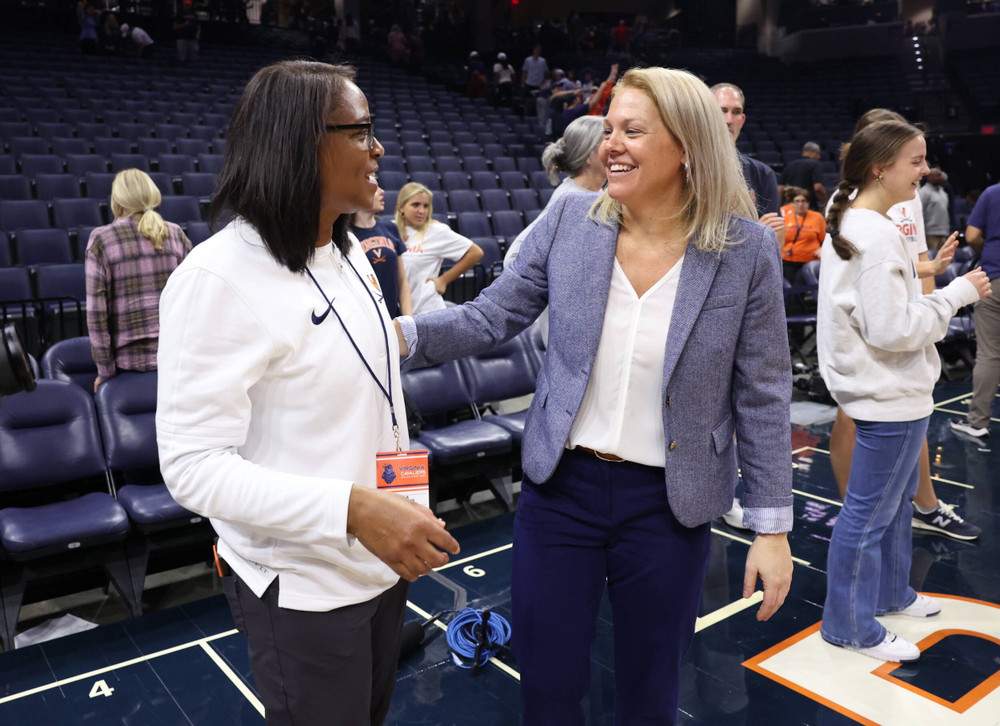 Yon, who began her college career at the University of West Florida, a Division II school, is in her second year at UVA. She totaled 12 kills Sunday and led the Cavaliers with a .550 hitting percentage. (Tadder was second at .441.)
Tactics vary from program to program, but middle blockers playing leading roles in UVA's attack. For the season, Tadder leads the team with 219 kills and Yon is second with 177.
"I've always been a middle hitter coach," Wells said. "Some people recruit middle blockers, I recruit middle hitters."
This has been a challenging season for the Cavaliers, who ended an eight-match losing streak Sunday, but Wells sees brighter days ahead for her program.
"I'm so thankful for the Charlottesville community coming out and supporting our program," Wells said. "It hasn't been the year that we wanted, but to know that they have our backs really means something for us."
The Hoos won both of their regular-season matches with the Hokies in 2022, and they'll have a chance to repeat that feat this fall. In the regular-season finale for both teams, UVA (9-13 overall, 2-10) will meet Virginia Tech (12-11, 2-10) at Cassell Coliseum on Nov. 25.
Before heading to Blacksburg, the Cavaliers will play five more matches, including three at Mem Gym, and they'd like nothing better than to build on Sunday's win, which assured them at least a half-point in the Commonwealth Clash competition between the two longtime rivals.
Wells opened the news conference by thanking everyone, including athletics director Carla Williams, who helped make the historic occasion possible.
"All I asked was that this felt like a first-class event," Wells said, "and I think you guys can all agree that it definitely was … We're excited that this is a big stepping stone for us."
To receive Jeff White's articles by email, click the appropriate box in this link to subscribe.