By Jeff White (jwhite@virginia.edu)
VirginiaSports.com
CHARLOTTESVILLE, Va. — A new season starts in less than a week for the University of Virginia men's basketball team, which hosts Tarleton State at John Paul Jones Arena on Monday night.
The UVA women's team opens the season two nights later, also at JPJ, against Maryland Eastern Shore. If opening night is a tradition in college hoops, so is media day. Head coaches Amaka Agugua-Hamilton and Tony Bennett held news conferences and their players were available for interviews Monday afternoon at JPJ.
Both teams have undergone significant changes since the end of last season, the women's first under Agugua-Hamilton and the men's 14th under Bennett.
To their eight returning players, the Cavalier women added six newcomers: freshmen Olivia McGhee, Kymora Johnson and Edessa Noyan, and transfers Jillian Brown (Northwestern), Taylor Lauterbach (Kansas State) and Paris Clark (Arizona).
The UVA men lost five of their top seven scorers from a team that earned a share of the ACC regular-season title and a No. 4 seed in the NCAA tournament. Their roster includes six new scholarship players: transfers Jordan Minor (Merrimack), Andrew Rohde (St. Thomas) and Jake Groves (Oklahoma); and freshmen Blake Buchanan, Elijah Gertrude and Anthony Robinson.
Only three players who averaged at least 10 minutes per game for Bennett's team in 2022-23 are back: senior guard Reece Beekman, sophomore guard Isaac McKneely and sophomore forward Ryan Dunn.
When the new-look team convened at JPJ in June to begin summer workouts, "I didn't really know what to expect," McKneely said Monday. "I knew we had some really good guys, but I didn't know how we'd gel together. But I think the chemistry is there. Ever since June, we've been working hard to make it work, and offensively and defensively I think we're really connected. And I think we're gonna be a really good team."
The Wahoos have had two closed scrimmages this month: the first against reigning NCAA champion Connecticut at JPJ and the second against Maryland in College Park.
In each one, Bennett said Monday, the Hoos "struggled early in the first halves and then played better in the second halves, which I guess is what you'd want … You saw them play really hard throughout and fix some things, and so I thought that was good."
The Cavaliers' collective inexperience showed at times, Bennett said, in the form of what he called "freshman moments," and they played without guard Dante Harris in College Park. Harris, who impressed against UConn, has been dealing with a shoulder injury, Bennett said, "but we're hopeful that he should be OK."
Bennett likes the challenges that preseason scrimmages present. His players like the scrimmages, too, though perhaps for other reasons.
"Right before our first scrimmage, I was like, 'Man, I'm just ready to play somebody new,' " McKneely said, smiling. "We've been going at each other since June, just playing against the same people every day. It's really exciting when you get to play somebody new and just see where we're at."
At least four of the newcomers will be part of Virginia's rotation this season: Groves, Rohde, Buchanan and Minor. Bliss, a point guard who graduated from high school a year early in order to enroll at UVA, is expected to redshirt this season, and the 6-foot-10 Robinson might do the same. Gertrude, a 6-foot-4 guard, tore his anterior cruciate ligament last November.
He's been cleared for full participation, and he's flashed his superior athleticism in practice. Still, Bennett, Gertrude missed "a whole year of playing. He's got to get his timing back and build the knee up."
Bliss, Robinson and Gertrude all "have shown some stretches where you're like, 'That's what we're looking for,' " Bennett said, "and as they continue to improve, that's going to be able to help us." What roles they'll have this season has yet to be determined, but Bennett has talked to each of them about the importance of playing "the long game."
In the meantime, Bennett said, it's "our job to pour into them, to develop them, whether they're playing a lot, a little, whether it's a redshirt year and all that stuff, and just trying our best to keep them in this program."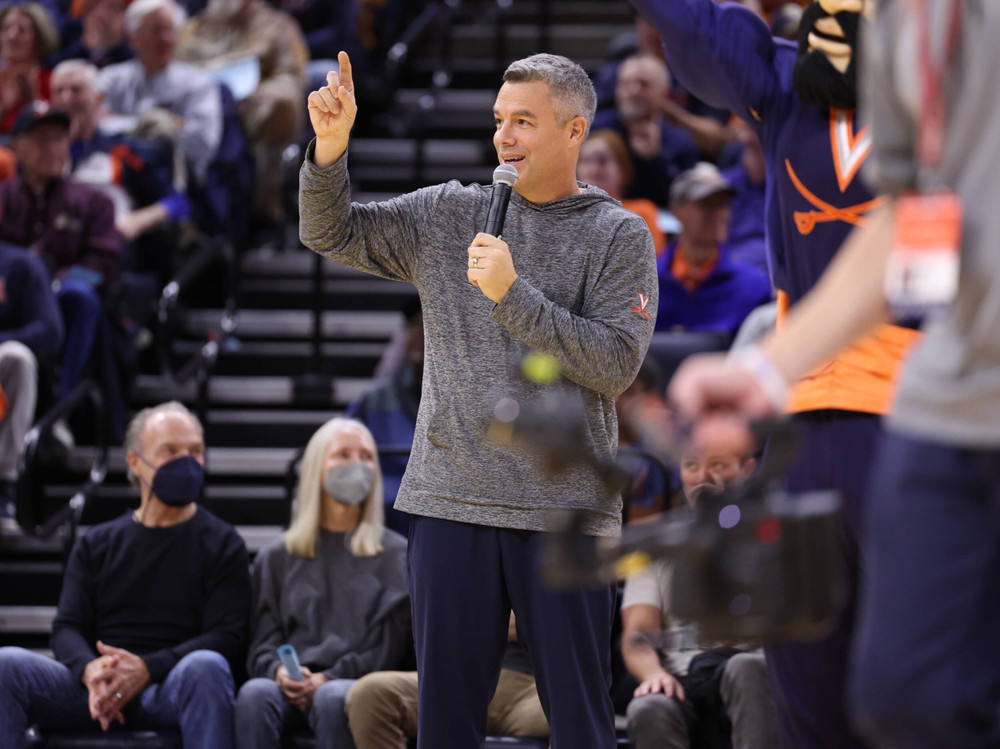 Of the freshmen, the 6-foot-11 Buchanan is likely to have the biggest impact this season. At 225 pounds, he's still lean, but "he's naturally competitive and physical and tough," Bennett said. "He plays really hard. If there's a loose ball, he's on it. If there's a ball up on the rim, he's attacking for offensive rebounds. So he plays a real aggressive, hard-playing way, and he had a good scrimmage in his first one against UConn. Against Maryland, he probably wasn't as effective, but he shows some things in practice. And again, he's quick-footed, he's mobile. And he thinks quick. You guys have heard me talk all the years I've been here that guys that are continuous, that can anticipate and think quick and have some toughness, usually they're gonna be darn good defensive players, and he's already showing that."
Assistant coach Isaiah Wilkins, who was honored as ACC Defensive Player of the Year during his UVA career, loves Buchanan's approach to the game, Bennett said. "That's how Isaiah played. If you remember Isaiah, he was in two places at once, on the floor, picking up charges, loose [balls], offensive rebounds. So I think [Buchanan] has those things that we'll need. And because we are less experienced in the in the frontcourt, I think there'll be some opportunities for him."
The 6-foot-8, 242-pound Minor has more bulk than Buchanan, and he'll see time at center, too. Minor was the Northeast Conference's co-player of the year in 2022-23 for Merrimack.
"He was a relentless offensive rebounder, he played really hard and he was physical," Bennett said, "and he's just mature [physically] and mature the way he acts, the way he conducts himself."
The Cavaliers' leader is Beekman, who was the ACC Defensive Player of the Year in 2022-23, when he led the conference in assist-to-turnover ratio (3.36) and ranked second in steals and third in assists.
Their most intriguing player might be the 6-foot-8, 216-pound Dunn. He arrived at UVA as an unheralded prospect but earned playing time with his "incredible energy and defensive activity," Bennett said.
Dunn's offensive game remains a work in progress, but he's "gotten stronger, he's improved, and he's just got to keep working," Bennett said. "He's kind of newer to the game too."
No matter how Dunn plays at the other end of the court, "I told him, 'You've got to be a defensive monster for us,' " Bennett said. "He's got to use that athleticism and quickness, and he's going to have to help us on the glass in a big way, because we don't have as much size and physicality."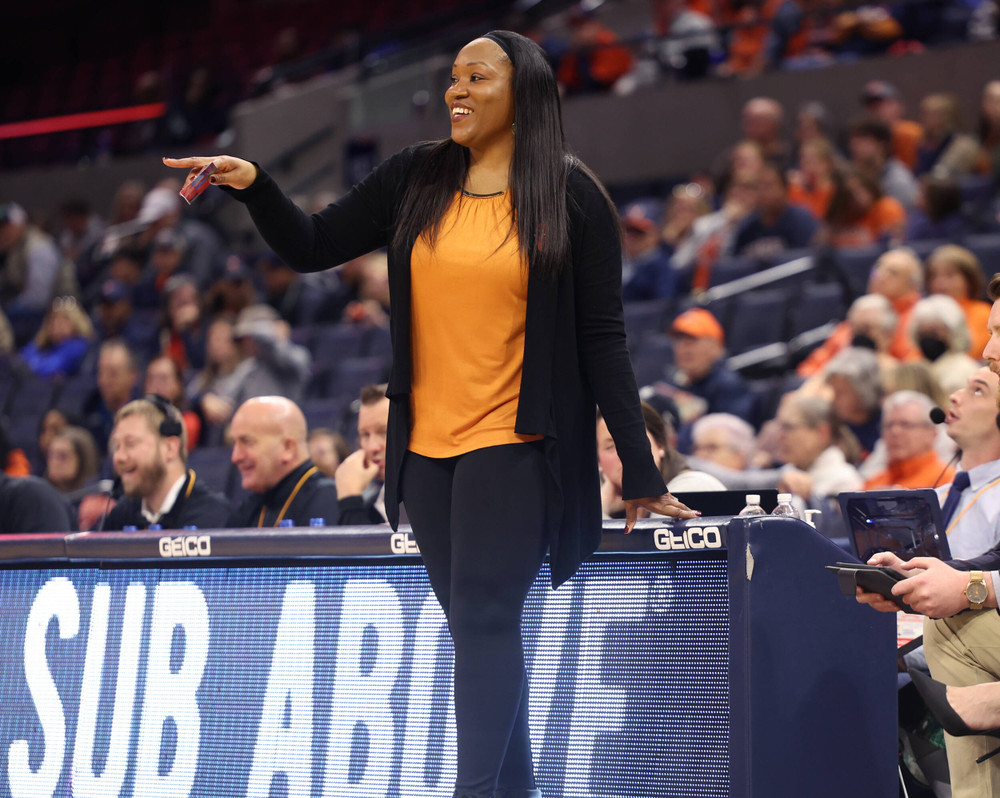 Agugua-Hamilton heads into her second season with a strong core of returning players, including second-team All-ACC selection Camryn Taylor, Sam Brunelle, London Clarkson, Kaydan Lawson, Alexia Smith, Cady Pauley and Yonta Vaughn. Mir McLean, one of the ACC's top rebounders, is back, too, but she's still recovering from the knee injury she suffered in early January against NC State, and her status for the season remains uncertain.
McLean isn't the only Cavalier working her way back to full health. Brunelle and Lawson had offseason surgeries, and Clark sprained her ankle recently.
"It's nothing crazy," Agugua-Hamilton said of Clark's injury. "She'll be back in a couple of weeks. But we're starting the season and she might miss the first couple games. So that messes up the rotation a little bit, but I think hopefully by the end of [November], we'll have just about everybody back."
For now, Agugua-Hamilton said, the Hoos must have a "next-woman-up mentality. If somebody goes down, fortunately, we have more bodies this year than we did last year, so people have got to step up. I'm just happy that none of them are season-ending injuries at this point. So you just weather the storm until you get the full 14 back, but I do like our depth, and I think we have a lot of talent where people can step up."
Injuries and attrition hammered the Hoos in 2022-23. By season's end only eight players were available, including Lawson, whose knee problems would require surgery, and that led Virginia to decline an invitation to play in the Women's National Invitation Tournament.
Even so, the Cavaliers' positives far outweighed the negatives last season. UVA finished 15-15 overall, ending a string of four straight losing seasons, and drew enthusiastic crowds at JPJ. Sales of 2023-24 season tickets have been strong for the Cavalier women, and that's due in part to the presence of three local players on the roster.
Brunelle is from Greene County, McGhee from Louisa County, and Johnson from Charlottesville.
"They understand what it means to put that Virginia on your chest," Agugua-Hamilton said. "I say that a lot, but there's some power to that and they know where this program has been, they understand where we're trying to get it to go and where we are currently going. And they take a lot of pride in that. It doesn't mean that other people that are from out of state don't take pride or the same kind of pride. It's just different when it's your hometown and you grew up here. I'm really happy for them. They're gonna be a part of the legacy of bringing us back to the glory days where we used to be."
UVA, which hosts Pitt-Johnstown in an exhibition game Thursday night, played Georgetown in a closed scrimmage Saturday at JPJ.
"It was just great to play somebody else and see where we are," Agugua-Hamilton said. "Our defense is pretty elite. I love where our defense is right now. I think that we've got so many guards that can really wreak havoc one-on-one guarding somebody, and our bigs are versatile and they can do some things there. So defensively, I like where we are. We're playing the type of defense that I want to play.
"Offensively, we're still getting better. We've got to just learn each other, learn the system even more—we've got a lot of new people—but we can score. We've got scorers, we have talent."
Those scorers include Johnson, a 5-foot-7 guard who was a McDonald's All-American last season at nearby St. Anne's-Belfield.
"She's just different," Agugua-Hamilton said. "She's a three-level scorer. She's kind of a little bit beyond her years. It's almost like she's been here before. She's just one of those first-years that gets it."
Johnson grew up rooting for UVA, and she was a ball girl during women's games at JPJ. And now her debut as a Cavalier is about a week away.
"I can't even put it into words," Johnson said. "I'm so excited. I feel like I've we've been putting in the work for so long. I've been here since June. I've been itching to play. It's finally here."
To receive Jeff White's articles by email, click the appropriate box in this link to subscribe.