NEW HAVEN, Conn. – The No. 6 Virginia women's squash team (2-0, 1-0 MASC) picked up a 5-4 road win at No. 7 Yale (0-1, 0-0 Ivy) on Saturday (Nov. 11) at the Brady Squash Center in New Haven, Conn.
This was the Cavaliers' first-ever victory against the Bulldogs.
Junior Maureen Foley got the Cavaliers started with a 3-0 victory at position five. Yale won at positions two and eight to take a 2-1 lead, but seniors Olivia Walsh and Meagan Best followed with 3-0 victories at positions four and one to put UVA ahead 3-2. Grad student Maria Moya put UVA on the brink with a 4-2 win at three, but Yale countered with points from courts six and seven in rapid succession to tie the match.
Freshman Nili Sprecher took the court with the match tied 4-4. She defeated Aanika Tiwray 11-5, 11-3, 11-5 to secure the victory for the Cavaliers.
FROM HEAD COACH MARK ALLEN
"A wonderful all-round performance from the women today. That's the first time our women's team has beaten Yale. We talk a lot about having self-belief and every single player, 1 through 9, had that today. The girls that lost, lost playing hard and to the best of their ability, maintaining the fight up until the very final shot of their matches. And our five wins were in convincing fashion, all by a 3-0 scoreline. That included the last match too when poised at 4-all, Nili played aggressive, but perfectly controlled squash, and with ice running through her veins from start to finish. Really impressive stuff for a first year. And really impressive stuff from the entire team."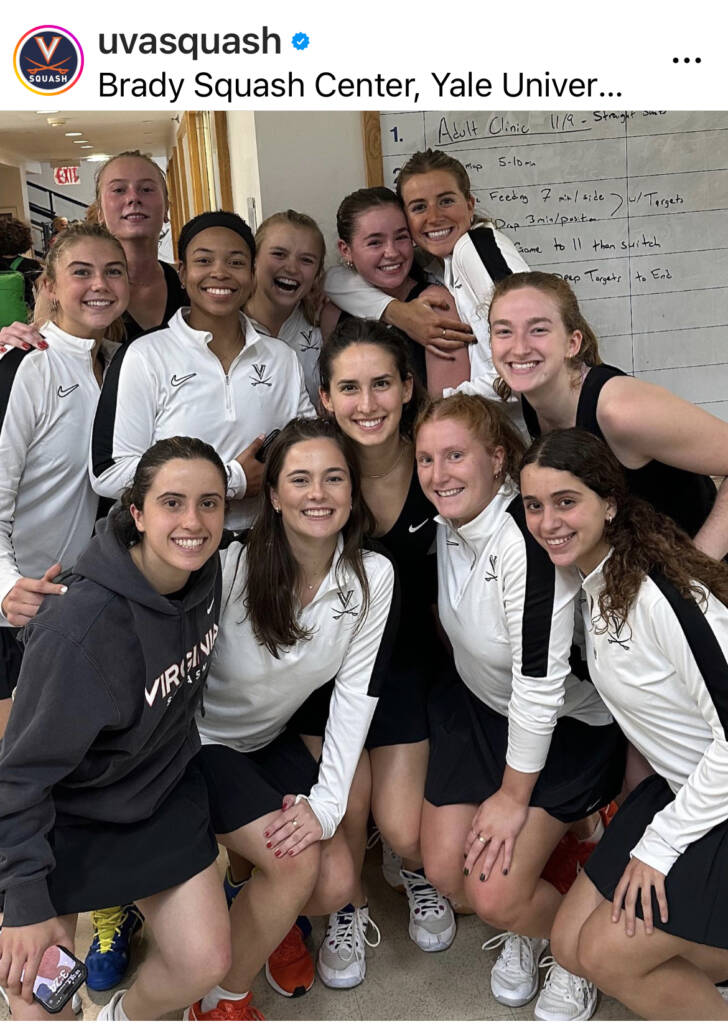 CAVALIER NOTES
Virginia was 0-4 against Yale coming into the match
Virginia's five wins were all by 3-0 scores
UP NEXT
The Cavaliers close out the weekend by playing at No. 10 Columbia on Sunday, Nov. 12 at 12 p.m.
Live court streams and live scoring will be available for Sunday's match
#6 Virginia 5, #7 Yale 4
1 | Meagan Best (VA) def. Elisabeth Ross (YALE) 11-4, 11-3, 11-6
2 | Sneha Sivakumar (YALE) def. Lina Tammam (VA) 11-7, 11-8, 11-7
3 | Maria Moya (VA) def. Christy Lau (YALE) 11-8, 12-10, 11-7
4 | Olivia Walsh (VA) def. Meghna Sreedhar (YALE) 11-6, 11-3, 11-4
5 |  Maureen Foley (VA) def. Layla Johnson (YALE) 11-7, 11-7, 11-4
6 | Lindsay Westerfield (YALE) def. Clare Minnis (VA) 8-11, 11-5, 11-3, 7-11, 11-6
7 | Rashi Goverdhanam (YALE) def. Eliza Mills (VA) 11-5, 12-10, 7-11, 13-11
8 | Joy Qu (YALE) def. Caroline Pellegrino (VA) 11-9, 10-12, 13-15, 11-3, 11-8
9 | Nili Sprecher (VA) def. Aanika Tiwary (YALE) 11-5, 11-3, 11-5