By Jeff White (jwhite@virginia.edu)
VirginiaSports.com
CHARLOTTESVILLE, Va. —In the fall of 2019, Laura Janssen was too inexperienced to know any better. She was in her first semester at the University of Virginia, and when the Cavalier field hockey team ended the season with a trip to the NCAA semifinals, Janssen figured she'd be back in the final four regularly.
"You think you do it every year," Janssen said this week before a Virginia practice at Turf Field. "You think you're gonna make it as far. You think you're gonna win a national championship every single year, and obviously that's what you train for."
The reality, of course, is that postseason victories are hard to come by, a lesson Janssen learned along the way. In 2020-21, the Wahoos didn't make the NCAA tournament. In the fall of 2021 and again in '22, the Hoos reached the NCAAs but were ousted in the first round.
That's made this season especially satisfying for Janssen and classmate Adele Iacobucci, the only players in the program who were also on the roster in 2019. For the first time since that season, Virginia is back in the NCAA final four.
At noon Friday, UVA (14-6) meets top-seeded North Carolina (16-3) at Karen Shelton Stadium in Chapel Hill, N.C. No. 2 seed Northwestern (20-1) faces No. 3 seed Duke (18-4) at 3 p.m. The semifinal winners will play for the NCAA title at 1:30 p.m. Sunday in Chapel Hill.
Iacobucci, a midfielder, has played in 103 games for the Hoos, a program record, and Janssen, a striker, has appeared in 102.
Janssen said she's stressed to her younger teammates that they can't be satisfied with simply reaching the final four. "I tell the first-years all the time that this is a special moment," she said.
Growing up in the Netherlands, Janssen said, she played for a club that regularly competed for championships, and "I didn't realize how much effort, time and work it takes to make it to the final four here. And first year I just enjoyed it, experienced it and did not realize how much you can actually control what's gonna happen, to a certain extent."
The Cavaliers are 0-5 all-time in the NCAA semifinals. In 2019, they fell 2-1 to Princeton in Winston-Salem, N.C.
"I don't remember that much from the game," said Janssen, who has six goals and five assists this season. "I just remember we lost, so I'm keeping that in mind when we play again on Friday. I don't want to have that feeling again."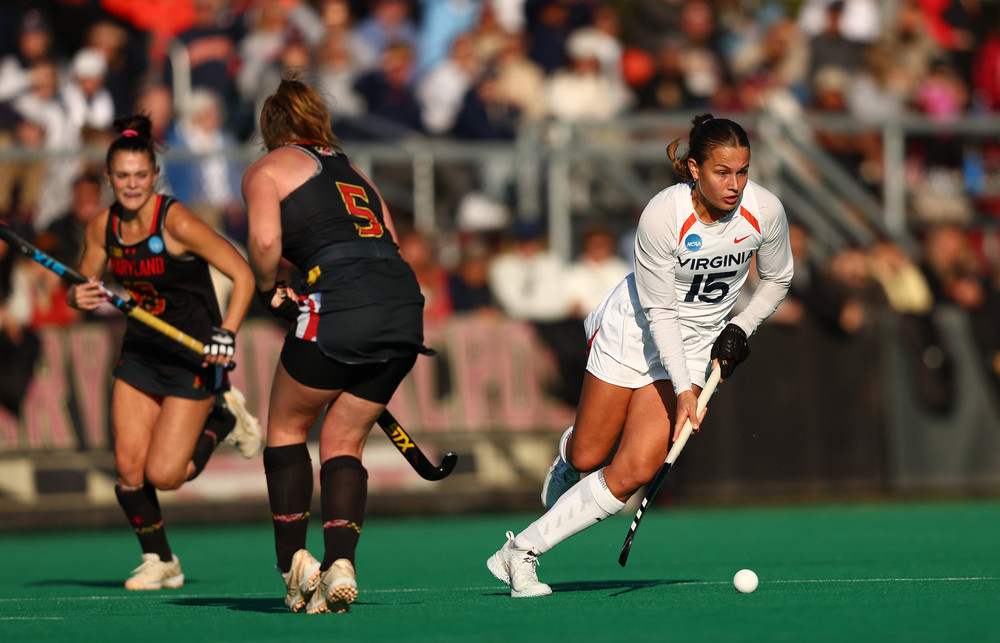 This will be the Hoos' third game with the Tar Heels in less than a month. In their regular-season clash, Oct. 20 at Turf Field, UVA erased a two-goal deficit and stunned UNC 3-2 to end a 12-game losing streak in the series.
"That was honestly one of my biggest goals: to beat UNC," Janssen said. "So we already did it once, and I'd be down to do it twice."
Twelve days after that upset, the longtime rivals met again at Turf Field, this time in the ACC semifinals, where Carolina prevailed 3-2. There will be no home-field advantage for the Hoos in their third matchup with UNC, but they're conceding nothing.
"We're the most confident this year I've ever been playing them," Janssen said. "They're a really good team, but so are we."
The Tar Heels, in their first season under head coach Erin Matson, bounced back from their loss to Virginia to win the ACC championship, and they've outscored their two opponents in the NCAA tournament (William & Mary and Harvard) by a combined 10-3.
"It's a tough one, no doubt about it," Ole Keusgen, UVA's acting head coach, said of his team's semifinal matchup. "It's an easy scouting job, but it's also a horrible scouting job because they're the No. 1 team for a reason. They're a great team, but we just played them twice within two weeks. So they know us, we know them. So it comes down to small details … because pretty much there are no secrets anymore at that point. So we gotta get out there and compete hard."
Keusgen is in his ninth year on the Cavaliers' coaching staff. He began the season as associate head coach but was named acting head coach late last month when UVA announced that Michele Madison would be on leave for the rest of the season.
"He's doing a great job," Janssen said. "We all love him and we love working with him, and honestly it wasn't too much of a change."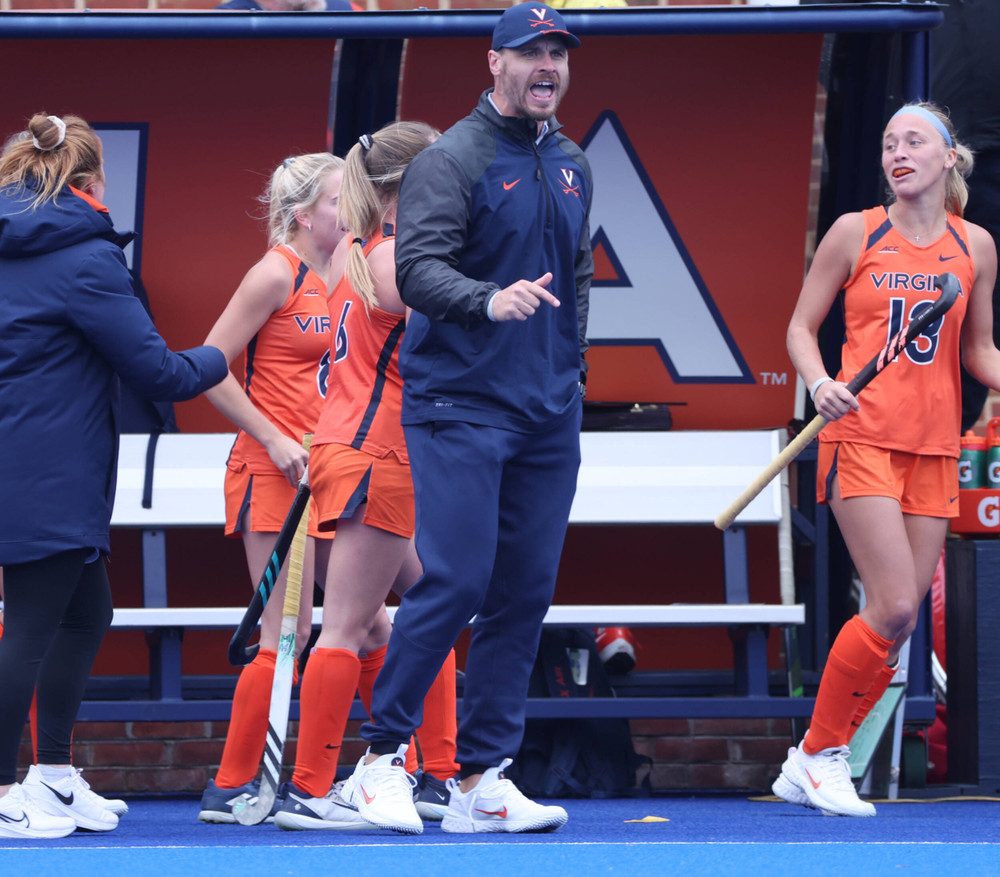 Virginia advanced to the final four with an emphatic victory in College Park, Md. Against No. 4 seed Maryland in the NCAA quarterfinals, UVA won 4-0 last weekend.
Amid the celebration that followed that game, Keusgen delivered a message to his team: We're not done yet. "It was a quarterfinal, nothing more," he said Tuesday. "It was a great win, but it's not the end of the road. It's that simple."
To knock off the Heels again, Keusgen said, the Hoos "need to keep doing what we have been doing, and that's taking care of the little details."
Virginia's comeback wins over North Carolina and, in the ACC quarterfinals, Syracuse underscore his team's resilience, Keusgen said. "Coming back from two down against the No. 1 team, you don't do that every day. But that's something that didn't surprise us. We always have that spirit. Sometimes we don't play well, but that doesn't mean that we don't have that spirit, all we need. Even when we're down by one goal, or two goals, it's just like one positive outcome [occurs] and we kind of like catch fire."
UNC is seeking its second straight NCAA title and fifth in six seasons. Virginia is looking to advance to the championship game for the first time.
To reach that goal, Janssen said, the Hoos will have to be locked in "every single second on the field. Every ball matters, and all we can bring is hard work, competitiveness and just togetherness as a team."
To receive Jeff White's articles by email, click the appropriate box in this link to subscribe.