Virginia Cavaliers Official Athletic Site
Alex Tappen
Lower Gwynedd, Pa.
Hometown
Wissahickon
High School / Club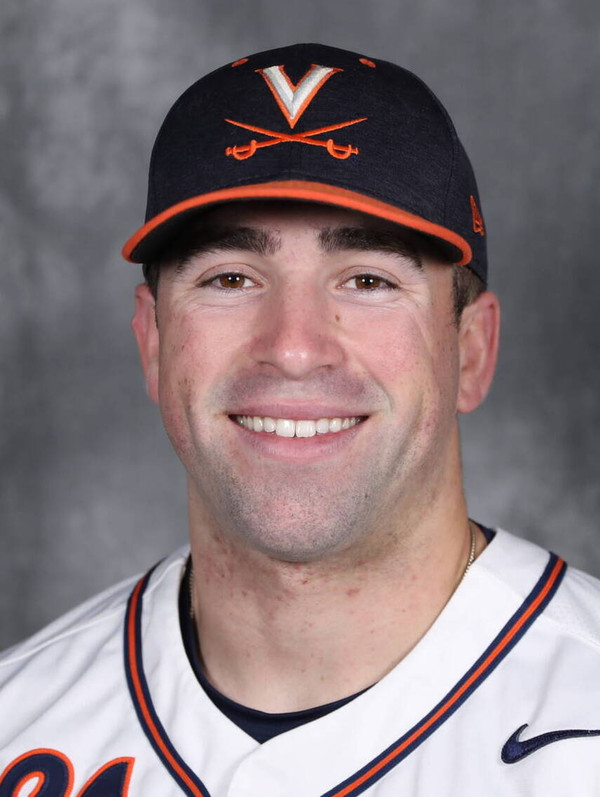 Alex Tappen Pronunciation
2021
• Started 32 of the 55 games in which he appeared (19 in RF, 11 in LF & 2 at 1B)
• Was 33-for-144 (.229) with 10 doubles, six homers and 24 RBI
• 16 of his 33 hits went for extra bases including a career-high six home runs
• Led the team with four pinch hits (all XBH), including a game-tying home run against Wake Forest on May 15.
• Put together a 15-game hit streak, the longest of anyone on the team, from April 30-June 13 despite not starting in five of the games. UVA went 11-4 during the streak.
• All six of his homers on the year came in an 11-game stretch, including long balls in back-to-back games on May 28 & 29 and again on June 12 & 13. Five of the six homers came in either ACC or NCAA postseason play.
• Went 4-for-8 with two home runs, two runs scored and three RBI in two starts at the ACC Tournament. Homered against Notre Dame on May 28 and against Duke on May 29.
• Hit a three-run home run in the eighth inning of game two of the Super Regional against Dallas Baptist, an eventual 4-0 UVA victory
• Went 1-for-2 with a solo home run in NCAA Regional elimination game against South Carolina on June 6.
• Had a go-ahead single in the bottom of the seventh of the NCAA Regional final game against ODU on June 8, an eventual 4-3 extra-inning victory for UVA.
• Recorded his lone outfield assist of the season on April 6 against William & Mary and cut the go-ahead runner down at home plate in the 10th inning
• Listed on the ACC Academic Honor Roll
Summer 2021 – Played 14 games for the Kalamazoo Growlers of the Northwoods League alongside UVA teammate Jake Gelof … went 13-for-55 (.239) with five doubles, a home run and seven RBI … hit safely in last five games of the season including a 3-for-5 effort against the Traverse City Pit Spitters on Aug. 11 in which he homered and scored two runs.
2020
• Started all five games in which he appeared (3 in RF, 1 at DH & 1 at 1B)
• Missed 13 games due to injury
• Went 4-for-17 (.235) with a double and an RBI
• Had a hit in four of the five games and reached base in all five games
2019
• Started 34 of the 46 games in which he appeared, all 34 starts came in right field
• Batted .228 (29-for-127) with five doubles, three home runs and 23 RBI
• Went 2-for-5 with two runs scored, a home run and four-RBI in the nightcap of a doubleheader against Florida State (April 20)
• Collected three hits, including two doubles while driving in three runs against Norfolk State on April 10
2018
• One of three players to start in all 54 games, only player to start all at same position (RF)
• Listed on the ACC Academic Honor Roll
• Batted .262 with 13 doubles (2nd most on team), four home runs and 36 RBI
• Credited with three outfield assists (vs. EKU- 2/24; at Duke- 3/9; – vs Clemson – 4/27) second most on the club
• Hit the team's lone grand slam of the season in a 12-4 win over Radford on April 11. Finished the night 2-for-5 with 5 RBI
• Tied the game in the ninth inning with a two-out RBI double in an eventual series clinching win at Louisville on April 22
• Went 3-for-4 with a HR, triple and 3 RBI in series clincher vs. Georgia Tech on May 14
• Hit a two-run HR at Wake Forest (5/18) as part of a 2-for-5, 3 RBI effort at the plate
• Put together a 10-game hit streak from May 1-22 that included five multi-hit efforts
• Recorded 15 multi-hit games and nine, multi-RBI games, both tied for the second most on the team
WISSAHICKON HIGH SCHOOL
• 2017 Perfect Game Honorable Mention All-American
• Three-time First-Team All-American Conference honoree at third base
• Named team captain his junior and senior years
• Third-Team All-American Conference pick at DH his freshman year (Suburban One League)
• Two-time First-Team All-Southeastern PA selection
• Third-team All-Southeastern PA
• 2017 Perfect Game First Team All-Region
• Coached by John Bernhardt
• Also played four years of basketball (forward) and three years on soccer team (forward); was basketball team captain his junior year
PERSONAL
• An Economics major
• Recipient of the 2021-2022 T. David Fitz-Gibbon Baseball Scholarship
• Son of Roger and Kathy Tappen
• Has one older sister, Taylor-Morgan, and one younger brother, Jackson
• Grandfather, Harry Tappen, played baseball and football at Thiel College (1959-62)