CHARLOTTESVILLE, Va. – Led by first team All-ACC selections Jake Gelof and Alex Tappen, a total of five Cavaliers were recognized by the league on Monday (May 23). Starting pitcher Brian Gursky garnered second team honors while first years Griff O'Ferrall and Casey Saucke were listed on the all-freshman team.
All-ACC Notes
Gelof, Tappen and Gursky each collected all-conference honors for the first time in their careers.
It marked the first time since 2017, UVA placed two players on the first team.
32 UVA pitchers have garnered All-ACC honors since 2004, the most in the league.
Since 2015, multiple Cavaliers have been a part the All-Freshman team three times (2015, 2018, 2022).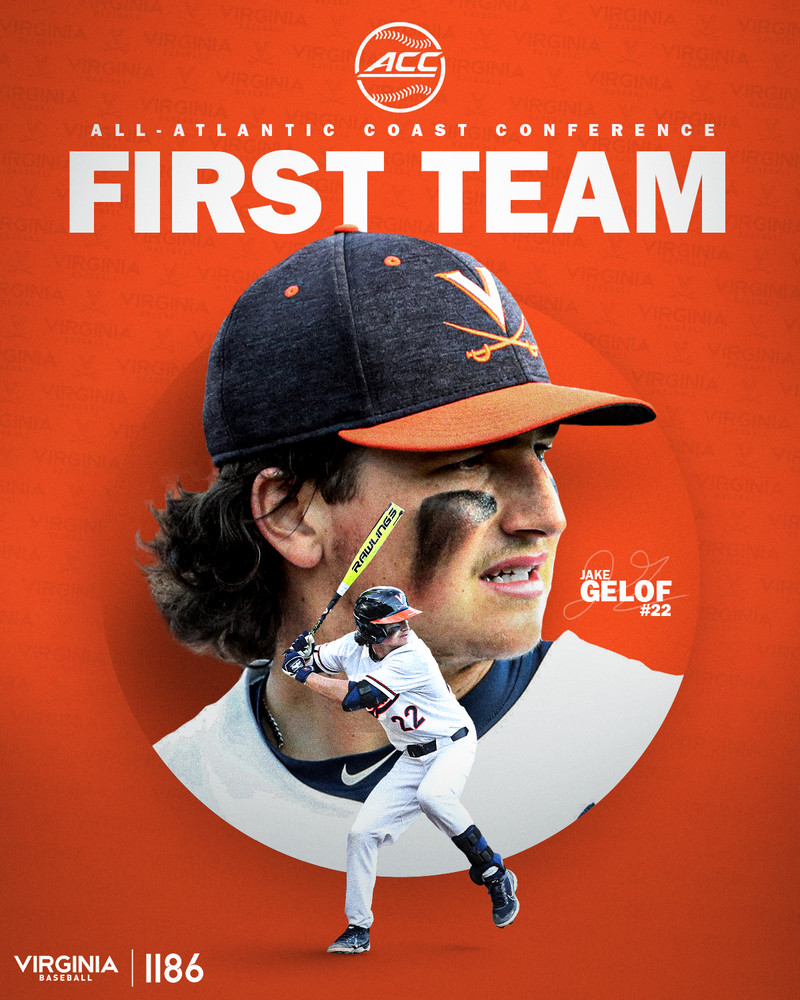 Gelof finished his historic regular season by leading the team in almost every offensive category. In 53 games, he batted .376 (73-for-194) with 15 doubles, two triples, 19 home runs and 74 RBI. He ranks in the top-10 nationally in RBI (4th) and slugging percentage (9th – .768). His .376 batting average is the fifth highest in the ACC. Gelof is three home runs shy and three RBI shy of matching UVA single-season records. He was named ACC Player of the Week and NCBWA co-National Player of the Week on Feb. 28 after going 9-for-10 with four home runs and 15 RBI. Gelof was named the D1Baseball Midseason Player of the Year and is a semifinalist for the Dick Howser Trophy.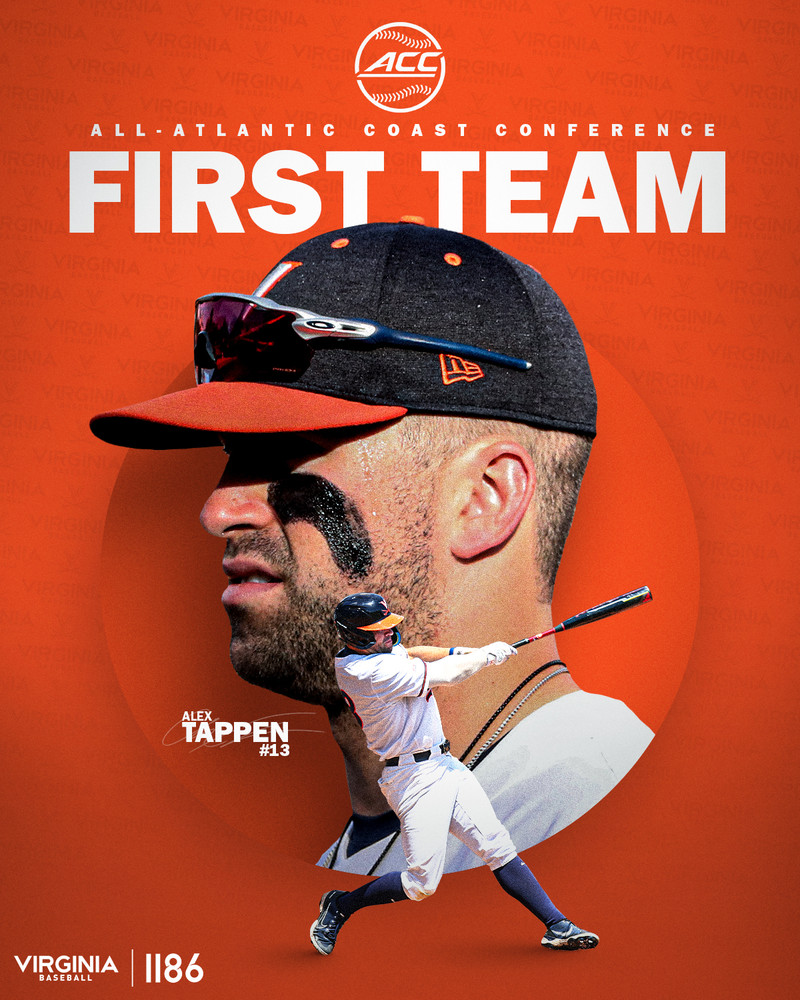 Tappen has enjoyed a breakout season in his fifth year at UVA, establishing career highs in hits (72), runs (46), home runs (13), RBI (70) and total bases (126). In the regular season finale at Louisville he was credited with his 70th RBI, becoming just the third Cavalier in program history to record 70 or more RBI in a season. In 30 conference games this season, he batted .370 (44-for-119) with six doubles, a triple, nine homers and 42 RBI. No one drove in more runs in league play than Tappen and his 44 hits against ACC opponents were the third most in the conference.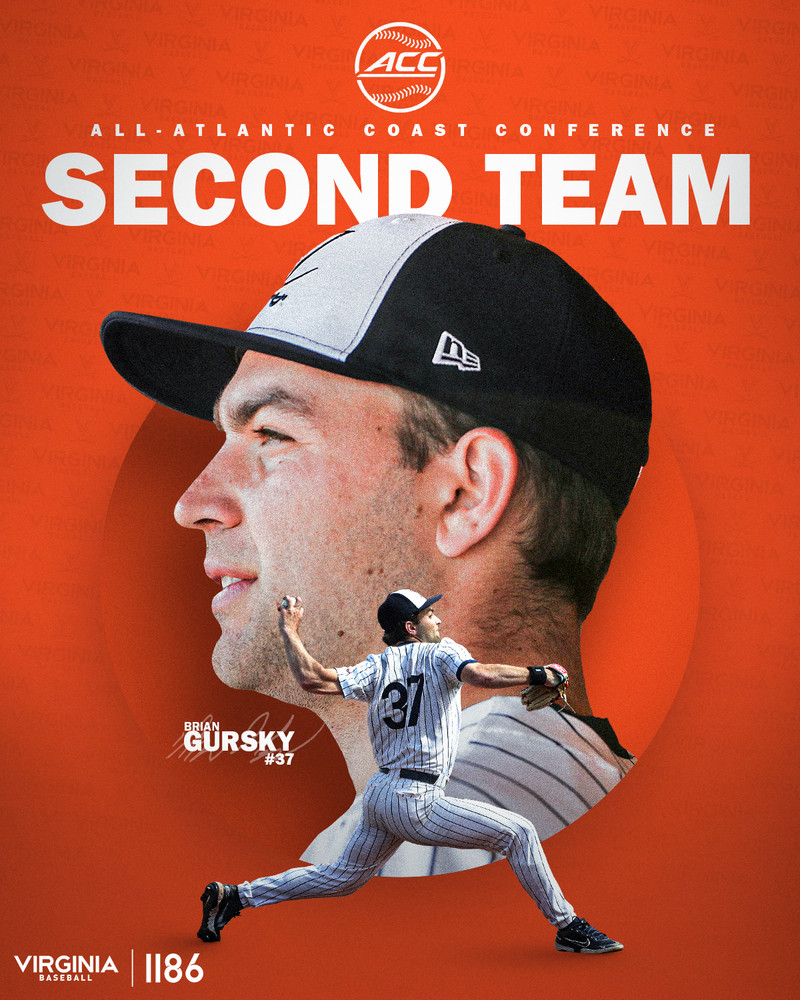 A graduate transfer from USC, Gursky put together the best season of his career. The lefthander posted the league's ninth-lowest ERA (3.32) in 12 starts for the Cavaliers this season. He went 7-1, his lone loss coming in the final weekend of the year. Gursky has accumulated 78 strikeouts in 62.1 innings pitched and struck out a career-high 10 batters in his final start of the regular season at Louisville. UVA is 10-2 in games in which he starts this season.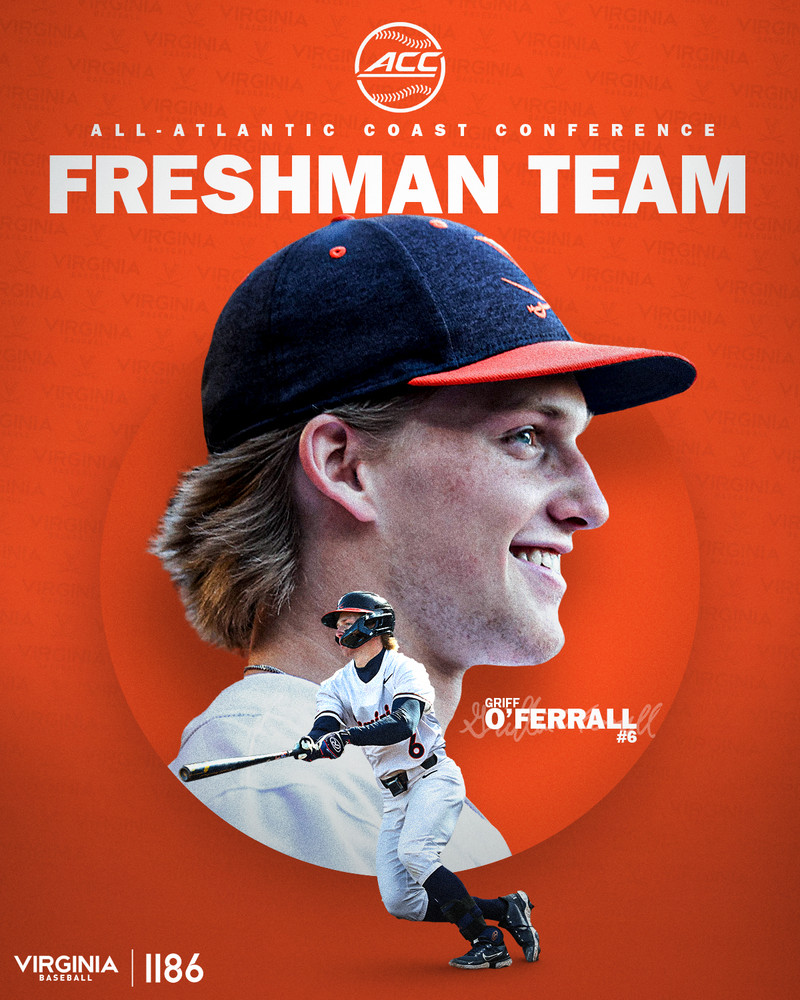 O'Ferrall, who became only the fourth true freshman to start on opening day at shortstop for Virginia since 2004, started every game at batted lead-off on one of the nation's most potent offenses. He batted .324 (67-for-207) with 55 runs scored, five doubles, two home runs and 39 RBI. He leads the Cavaliers and ranks fifth in the ACC in stolen bases with 17. O'Ferrall enters the postseason as the ACC's fourth toughest batter to strikeout, fanning once every nine at bats.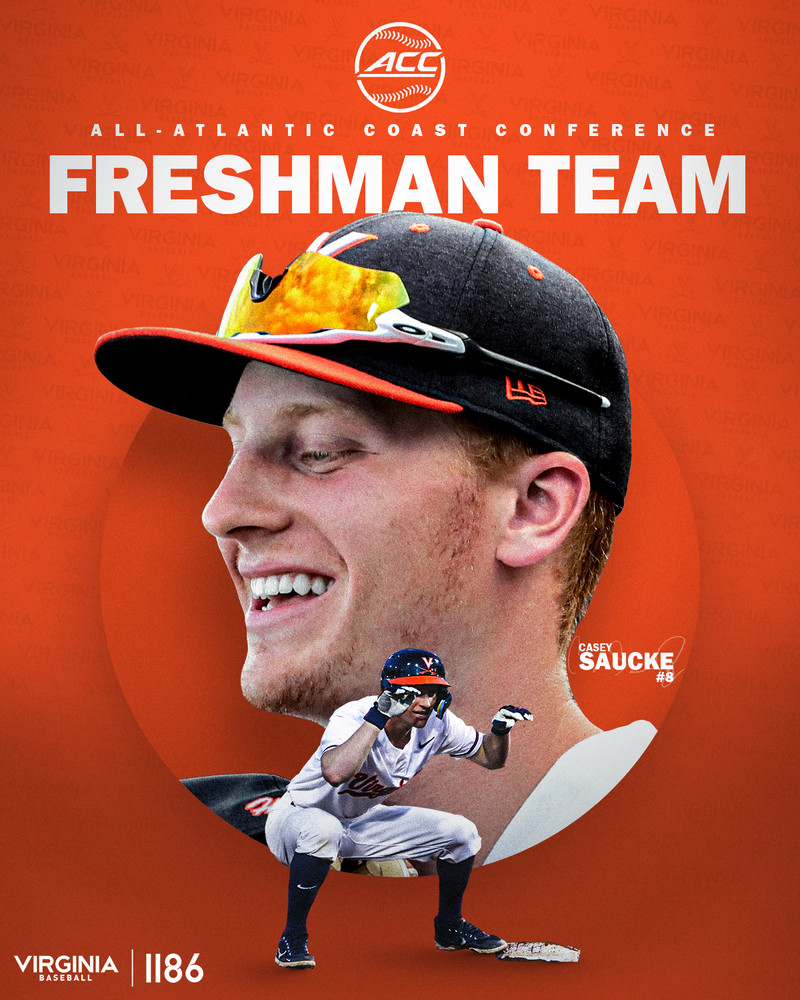 Saucke began his collegiate career with a hit in his first 21 games, the second longest single season hitting streak of any UVA player since 2000. Primarily serving as the team's right fielder, Saucke posted the team's second-highest batting average (.360) and the third-highest of any freshman in the league. He started 43 games for the Cavaliers, collected seven home runs and 43 RBI
2022 ACC Baseball Awards & All-Conference Teams
Player of the Year – Max Wagner, Clemson, So., 3B
Defensive Player of the Year – Levi Usher, Louisville, Sr., OF
Pitcher of the Year – Rhett Lowder, Wake Forest, So., SP
Freshman of the Year – Tommy White, NC State, Fr., DH
Coach of the Year – John Szefc, Virginia Tech
All-ACC First Team
Max Wagner, Clemson, So., 3B
Parker Messick, Florida State, So., SP
Kevin Parada, Georgia Tech, So., C
Andrew Jenkins, Georgia Tech, So., 1B
Chandler Simpson, Georgia Tech, So., 2B
Carson Palmquist, Miami, So., SP
Andrew Walters, Miami, So., RP
Tommy White, NC State, Fr., DH
John Michael Bertrand, Notre Dame, Gr., SP
Jake Gelof, Virginia, So., 3B
Alex Tappen, Virginia, Gr., OF
Gavin Cross, Virginia Tech, So., OF
Drue Hackenberg, Virginia Tech, Fr., SP
Jack Hurley, Virginia Tech, So., OF
Tanner Schobel, Virginia Tech, SS
Rhett Lowder, Wake Forest, So., SP
All-ACC Second Team
Luke Gold, Boston College, Jr., 2B
Bryce Hubbart, Florida State, So., SP
Tim Borden II, Georgia Tech, So., DH
Tres Gonzalez, Georgia Tech, So., OF
Jared Poland, Louisville, Sr., SP
Michael Prosecky, Louisville, Jr., RP
Dalton Rushing, Louisville, Jr., C
Levi Usher, Louisville, Sr., OF
Jacob Burke, Miami, So., OF
CJ Kayfus, Miami, So., 1B
Yohandy Morales, Miami, So., 3B
Danny Serretti, North Carolina, Jr., SS
LuJames Groover, NC State, So., 1B
Matt Gilbertson, Pitt, Sr., SP
Brian Gursky, Virginia, Gr., SP
Cade Hunter, Virginia Tech, So., C
All-ACC Third Team
Mack Anglin, Clemson, R-So., SP
Blake Wright, Clemson, So., 2B
Stephen Reid, Georgia Tech, So., OF
Christian Knapczyk, Louisville, So., SS
Cameron Masterman, Louisville, R-Sr., OF
Ben Metzinger, Louisville, Sr., 3B
Jack Payton, Louisville, So., DH
Vance Honeycutt, North Carolina, Fr., OF
Angel Zarate, North Carolina, Jr., OF
Devonte Brown, NC State, Sr., OF
Chris Villaman, NC State, So., RP
Ryan Cole, Notre Dame, Gr., OF
Billy Corcoran, Pitt, Jr., SP
Nick Biddison, Virginia Tech, Jr., OF
Griffin Green, Virginia Tech, So., SP
Nick Kurtz, Wake Forest, Fr., 1B
Brendan Tinsman, Wake Forest, R-Jr., C
*17 players on the third team due to a tie in the voting
All-Freshman Team
Alex Mooney, Duke, SS
Jaime Ferrer, Florida State, OF
Logan Beard, Louisville, 2B
Karson Ligon, Miami, SP
Vance Honeycutt, North Carolina, OF
Tommy White, NC State, DH
Griff O'Ferrall, Virginia, SS
Casey Saucke, Virginia, OF
Carson DeMartini, Virginia Tech, 3B
Drue Hackenberg, Virginia Tech, SP
Tommy Hawke, Wake Forest, OF
Nick Kurtz, Wake Forest, 1B