Virginia Cavaliers Official Athletic Site
Brian Edgington
Hatboro-Horsham
High School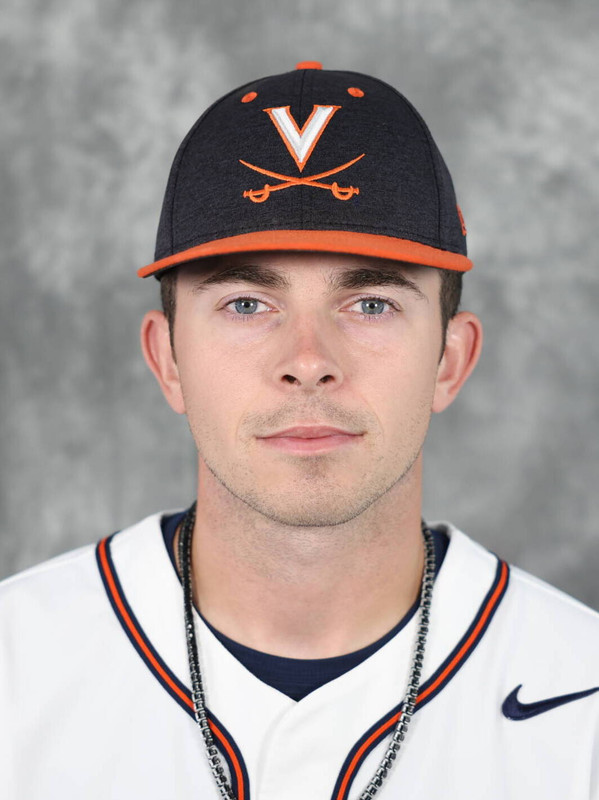 Brian Edgington Pronunciation
2023
• A Third Team All-ACC selection.
• One of 12 Cavaliers on ACC Academic Team and included on the ACC Academic Honor Roll
• Named the ACC Pitcher of the Week on May 15 after he pitched six scoreless innings and struck out eight to help UVA complete an ACC series sweep of Louisville.
• Ranked No. 94 on D1Baseball.com's Top 100 Impact Transfers prior to the 2023 season
PRIOR TO VIRGINIA (ELON)
2022
• Second Team All-CAA selection
• Started all 15 games in which he appeared, tied for the most starts of any CAA pitcher.
• Served as the staff's Friday night starter
• Went 6-4 with a 3.56 ERA in 86 innings pitched while striking out 86 batters.
• His 86 strikeouts were the second most in the CAA and his 3.56 ERA ranked ninth in the league.
• Pitched seven innings, allowed no runs and struck out a season-high 11 batters against Army on March 19. The opposing starting pitcher was current UVA teammate Connelly Early.
• Pitched a seven-inning complete game where he allowed one run on five hits and struck out five against Delaware on May 8.
2021
• 2021 Coach's Award (Team Award)
• CAA Pitcher of the Week (April 13, 2021)
• Had a 4-3 record and a 4.08 ERA with one complete game and two saves through 16 appearances and 13 starts.
• He was second on the team with 66 strikeouts and allowed 41 runs (32 earned) on 76 hits and 16 walks over 70.2 innings.
• Finished seventh in the CAA in both strikeout-to-walk ratio (4.12) andwalks allowed per nine innings (2.04). He was also 13th in the league in saves
• Picked up the save as he and teammate Spencer Bauer held No. 8 ECU to one run to help the Phoenix to a 2-1 upset of the Pirates on March 27. He tossed four innings
of four-hit ball while issuing one walk with six strikeouts.
• Earned his second save of the year at UNCW on April 3 after striking out both Seahawks batters he faced.
• Recorded a complete game shutout against W&M on
April 11 to complete the CAA series sweep of the Tribe. Collected a season-high 12 strikeouts, scattered three hits and didn't walk anyone. He retired 18 of the final 20 batters he faced and finished the game facing four batters more than the minimum.
• Held UNCW to one earned run on four hits and two walks through an 8.0-inning start on April 23 in Wilmington, N.C. He finished with eight strikeouts in the no decision.
2020
• Went 0-0 with a 5.14 ERA in six games and one start. He was responsible for nine runs (eight earned) on 21 hits and six walks and struck out 15 opposing batters in 14.0 innings.
• Made his first appearance as a Phoenix with 2.0 scoreless innings vs. Delaware State on Feb. 15. He issued one walk
and tallied four punch outs.
• Tossed 4.0 innings at N.C. A&T, allowing three runs (two earned) on five hits and a walk while fanning a season-high five batters.
• Made his first start as a Phoenix at No. 19 ECU on March 10. He tied his season-high with five strikeouts and set a new high with 5.0 innings pitched. He held the Pirates to one run on seven hits and one walk.
MERCER COUNTY COMMUNITY COLLEGE
2019
• Made seven starts and appeared in eight games for the Vikings, posting a 4-2 record with a 3.13 ERA. He surrendered 14 runs, 11 of them earned, on 34 hits and four walks.
• Tallied 34 strikeouts (9.66 per game) through 31.2 innings pitched and held opposing batters to a .266 average.
• Tallied six strikeouts through 4.0 complete innings in a no-decision versus North Central Missouri.
• Fanned a season-high 11 batters through 6.0 complete innings of work to help Mercer County to a 6-2 victory at Delaware Tech. He held the hosts to the two runs (one earned) on six hits and a walk to secure the win.
SAINT JOSEPH'S UNIVERSITY
2018
• Made three starts and seven appearances for the Hawks, going 2-2 with an 8.55 ERA.
• He allowed 19 runs on 25 hits while fanning 19 batters and walking nine through 20.0 complete innings of work.
HATBORO-HORSHAM HIGH SCHOOL
• Played for coach Pete Moore at Hatboro-Horsham High School, where he helped his team to a 2017 Conference Championship.
• Was named the Intelligencer Player of the Year as a senior after earning First Team All-Suburban One honors.
• Was also named to the All-Intelligencer Southeastern First
Team and the Philadelphia Inquirer All-Southeastern Second Team.
• Earned Second Team All-Conference honors as a junior and was named to the Perfect Game 16U All-Tournament Team as a sophomore.
PERSONAL
• Full name is Brian Patrick Edgington.
• Born on Sept. 2, 1998.
• Son of Jamie and Eileen Edgington.
• Pursuing a Masters in Educational Psychology