Virginia Cavaliers Official Athletic Site
D'Angelo Amos
Meadowbrook HS/West Point Prep
High School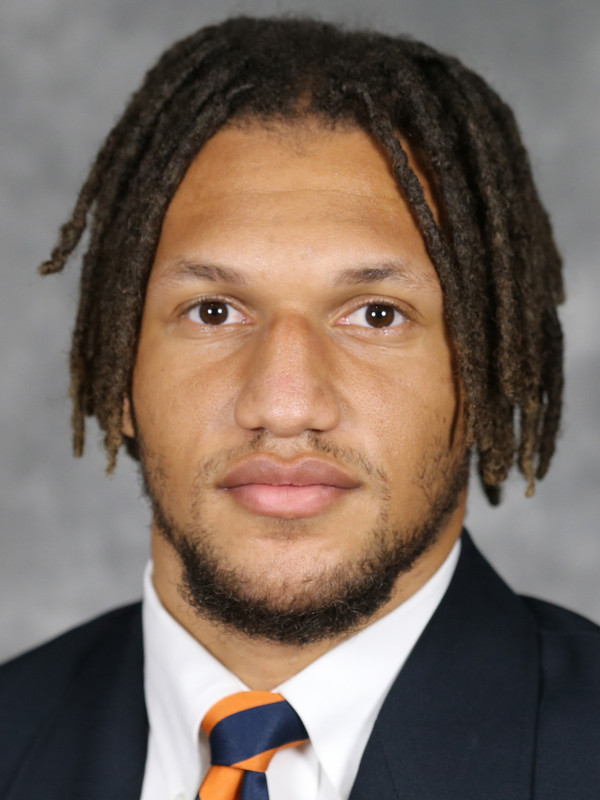 D'Angelo Amos Pronunciation
HONORS
Accepted invite to the 2021 College Gridiron Showcase in Ft. Worth, Texas.
AT VIRGINIA
2020 – Appeared in all 10 of UVA's games with five starts … made seven tackles and intercepted a pass in the season-opening win over Duke … made two solo tackles and broke up a pass at No. 1 Clemson … started against NC State and finished with 10 tackles and one pass breakup … made six tackles at Wake Forest … made seven tackles and 0.5 sacks at No. 11 Miami … made eight tackles and 1.0 tackle for loss in win over No. 15 North Carolina … made seven tackles, broke up a pass and notched 0.5 tackles for loss in the win over Louisville … made three stops against Abilene Christian … made one tackle, which was for a loss, and notched an interception in the win against Boston College.
PREVIOUS SCHOOL
A 2019 graduate from James Madison, where he appeared in 44 career games for the Dukes … leaves JMU No. 2 all-time with 1,259 career punt return yards … returned five punts for touchdowns, including three in 2018 … an AFCA first-team All-American in 2019, as well as a first-team All-CAA safety and punt returner … made 57 tackles, two interceptions, broke up five passes and blocked three kicks in 2019 … returned 33 punts for 426 yards and one touchdown … made 135 career tackles, 6.5 tackles for loss, 2.0 sacks, two interceptions, 11 pass breakups, four blocked kicks, three fumble recoveries and one forced fumble.
HIGH SCHOOL AND PERSONAL
Played one season at West Point Prep, retaining all years of eligibility … played safety at Meadowbrook High School for head coach Troy Taylor …  made four interceptions during 2015 season … All-Central Region utility player as a senior… earned three varsity letters … tri-sport athlete who also ran track and played basketball … all-state in 4×100 relay and All-Region long jumper … captained Meadowbrook's basketball team … distinguished honor roll all four years … National Honor Society member … Richmond's Student-Athlete of the Year … earned math and health academic cords and recipient of the Marine Athlete Award … son of Rena Amos … has four brothers and five sisters, including his twin sister, D'Asia … brother, DaShaun, was a defensive back for East Carolina (2012-16) … earned a degree in sport and recreation management … doing grad work in the Curry School (education).