Virginia Cavaliers Official Athletic Site
Jaylon Baker
Chattanooga, Tenn.
Hometown
Baylor School
High School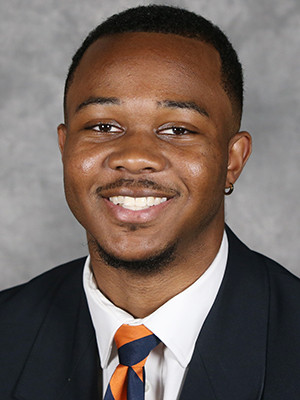 Jaylon Baker Audio Pronunciation
AT VIRGINIA
2022 – Named to 2022-23 ACC Honor Roll. 2021 – Did not appear in any games. 2020 – Appeared in seven of UVA's 10 games. 2019 – Appeared in five of UVA's 14 games … made collegiate debut at Miami … made first collegiate start at North Carolina … made one tackle in win over the Tar Heels. 2018 – Did not appear in any games … redshirted season.
HIGH SCHOOL AND PERSONAL
Speedy dual-threat prep player at cornerback and wide receiver … played for coach Phillip Massey at Baylor School … team posted a 4-8 record in 2017 and reached the quarterfinals of the Tennessee Secondary School Athletic Association Division II Class AAA playoffs … Baylor went 8-5 in 2016 and reached semifinals of state playoffs … named to Division II-AA East/Middle all-region team … had 33.5 tackles in nine games in 2017 … picked off four passes in final prep season … had seven touchdown catches as a senior … averaged 24.1 yards per catch on 20 receptions in 2017 … … returned one interception and one fumble for scores in 2017 … also plays basketball and competes on track & field team at Baylor High School … competes in high jump, long jump and triple jump … qualified for state championships in high jump in 2016 … son of Stephanie and Tim Baker … rated a three-star recruit by 247Sports.com and Rivals.com … pursuing master's degree in Educational Psychology.