Virginia Cavaliers Official Athletic Site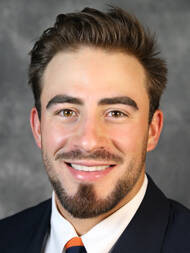 AT VIRGINIA
2018 – Appeared in all 13 of UVA's games as the long snapper … downed a Lester Coleman punt inside the 10 against No. 16 Miami. 2017 – Appeared in all 13 of UVA's games as the long snapper … during the season made one tackle and recovered one fumble during punt cover. 2016 – Appeared in four of UVA's 12 games made collegiate debut at Wake Forest as UVA's long snapper … also saw time at long snapper against Miami, at Georgia Tech and at Virginia Tech. 2015 – Did not appear in any games … named the scout team's special teams player of the week for the UCLA game. 2014 – Redshirted season.
HIGH SCHOOL AND PERSONAL
A quarterback at Hingham High School for head coach Paul Killinger … played safety in 2011 as well … passed for over 2,200 yards with 15 touchdowns, while also rushing for 920 yards and 14 touchdowns during junior and senior seasons … broke leg three games into senior season and missed all remaining games of the year … also earned three letters in basketball … member of the honor roll all four years at Hingham … also earned high honors in 2013 and 2014 … son of Frank and Laura Spaziani … father Frank played football for Penn State from 1965-68 as a quarterback and linebacker … father Frank also played baseball for the Nittany Lions and was drafted as a pitcher by the Cleveland Indians in the 1965 MLB Draft … father Frank was an assistant football coach at Virginia under George Welsh from 1982-91, including being the defensive coordinator from 1985-91 … father Frank was the head football coach at Boston College from 2009-12 … father Frank is currently the defensive coordinator at New Mexico State …  has a younger brother, Andrew, and a younger sister, Avery … majoring in foreign affairs.