Virginia Cavaliers Official Athletic Site
Joseph White
Virginia Beach, Va.
Hometown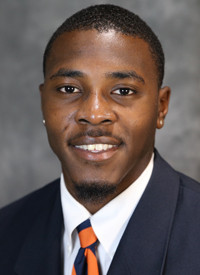 Joseph White Audio Pronunciation
AT VIRGINIA
2020 – Has appeared in seven of UVA's 10 games. 2019 – Appeared in nine of UVA's 13 games … made two tackles in the win over Liberty … has seen most of his time on special teams. 2018 – Appeared in three of UVA's 13 games … made collegiate debut against Pitt …saw all his time on special teams … retained redshirt under new NCAA rules.
HIGH SCHOOL AND PERSONAL
Played wide receiver and defensive back at Landstown High School for head coach Tommy Reamon, who coached former UVA quarterback Aaron Brooks … named first-team All-Beach District at wide receiver in 2017 and at defensive back … helped Landstown go 12-1 record and appearance in Class 6 Regional A final … in 2016 earned first-team All-Tidewater honors with 18 pass breakups, 40 tackles and seven interceptions, two of which he returned for touchdowns … also caught 45 passes for 850 yards in 2016 … son of Trilla Brinkley and Kenneth White … a three-star recruit by ESPN.com, Rivals.com, Scout.com and 247sports.com … major is African-American studies … recipient of the 2021-2022 Judge and Mrs. Harold H. Purcell Family Scholarship.