Virginia Cavaliers Official Athletic Site
Justin Duenkel
Great Falls, Va.
Hometown
Flint Hill School
High School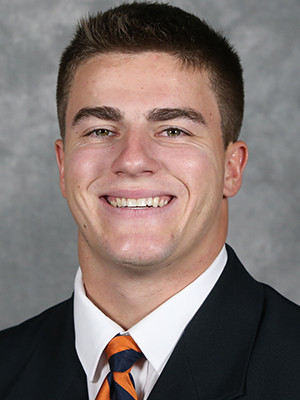 AT VIRGINIA
2022 – Named to 2022-23 ACC Honor Roll. 2021 – Appeared in six of UVA's games… made four field goals on the season… made a tackle against UNC. 2020 – Appeared in seven of UVA's 10 games … handled kickoff duties starting at Wake Forest through the rest of the season. 2019 – Appeared in one of UVA's 14 games … made collegiate debut against Duke when he kicked on PAT … is one of 17 UVA freshmen to appear in 2019 … retained redshirt under new NCAA rules.
HIGH SCHOOL AND PERSONAL
Played defensive back and was a kicker at Flint Hill School for head coach Tom Verbanic … helped Flint Hill to back-to-back undefeated state championships … also helped Flint Hill to the MAC championship in 2015, 2017 and 2018 … two-time first-team all-state kicker … two-time All-MAC kicker … first-team WashingtonPost All-Met in 2018 … Pro Football Hall of Fame All-American kicker in 2018 … Pigskin Club All-Metropolitan team … Kornbule Kicking five-star kicker … ranked the No. 3 kicker in the country by Kornblue Kicking … son of Alison and Doug Duenkel … has an older sister, Halle, and a younger brother, Ryan … father, Doug, played football at Virginia and was a member on the Cavaliers' All-American, Citrus and Sugar Bowl teams … mother, Alison, played soccer at JMU … sister, Halle, plays lacrosse at JMU and was a member of its 2018 NCAA title team … grandfather, Richard Duenkel, is a hall of fame football player at George Washington … grandfather, Amen Hillow, played baseball at Bucknell … aunt, Virginia Duenkel, won Olympic gold in the 400 freestyle at the 1964 Olympics and the bronze in the 400 backstroke … uncle, Bob Duenkel, was a three-time All-American swimmer at Kansas State … director at Compassion in Actions, Inc., a faith-based non-profit founded by the Duenkel family to serve the spiritually and economically deprived in the name of Jesus Christ … enjoys fishing, lifting, spikeball, cornhole and eating … was 5-2 and 110 pounds as a freshman in high school … scored on a pick-6, extra point and two-point play in the same game against Potomac High School … major is Sociology.