Virginia Cavaliers Official Athletic Site
Mike Kosar
Saint John Paul the Great Catholic
High School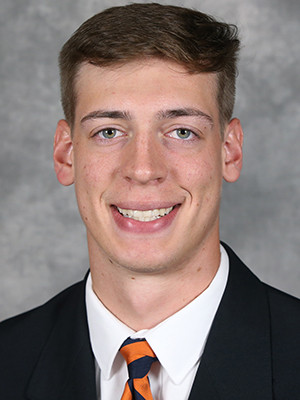 Mike Kosar Audio Pronunciation
AT VIRGINIA
2022 – Named to 2022-23 ACC Honor Roll. 2021 – Appeared in three of UVA's games… saw time in wins over William & Mary, Illinois, and Louisville. 2020 – Appeared in four of UVA's 10 games… made collegiate debut against Duke in the season opener… also saw time against Clemson, Abilene Christian and Boston College… named to 2021 ACC Academic Honor Roll. 2019 – Did not appear in any games.
HIGH SCHOOL AND PERSONAL
Played tight end and defensive end at Saint John Paul the Great Catholic for head coach Donald Turner (2017-18) and Jerry Sarchet (2018) … four-year letterwinner and a second-team all-state honoree in 2017 at defensive end … second-team all-state tight end in 2018 … set a single-season school record with 323 receiving yards as senior … tied a single-season school record with nine sacks as a junior … team captain as a senior … won the Wolf Award, which demonstrates the characteristics and ideals of the school on and off the field … also earned two letters in basketball where he helped JP to the state playoffs in 2019 and helped them win the Mount Vernon Tournament … also a team captain as a senior … member of the National Honor Society, the Spanish Honor Society, Principal's Honor Roll and graduated with Highest Honors … volunteered with  Habitat For Humanity and Carpenter's Shelter … cooked food for homeless at Carpenter's Shelter … volunteered for the Special Olympics in Virginia and an alter server at local church … also a member of the church's Pastoral Council, which oversees the operations of the church … son of Corrine and Michael Kosar … father, Michael, played football from 1979-83 at The Catholic University of the America … cousin, Richie Shaffer, played baseball at Clemson and was a 2012 first round draft pick of the Tampa Bay Rays, making his MLB debut with the organization in 2012 … cousin, Sean Pogorelc, is a junior on the football team at Carnegie Mellon … cousin, Chris Shaffer, played football at Appalachian State from 2011-13 … cousin, Brian McManus, played football at Bridgewater College from 2012-14 … can make maple syrup from scratch … loves to fish and caught a 104-inch, 170-pound striped marlin in Cabo San Lucas, Mexico … also caught a 65-inch, 143-pound halibut in Cook Inlet, Alaska … major is computer science.