Virginia Cavaliers Official Athletic Site
Nathaniel Beal III
Strake Jesuit College Prep
High School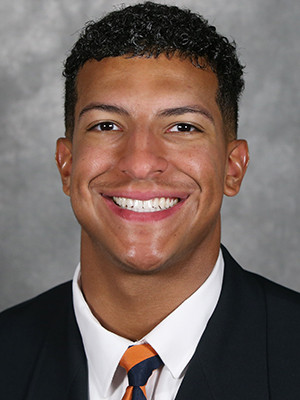 Nathaniel Beal III Audio Pronunciation
AT VIRGINIA
2021 – Appeared against William & Mary. 2020– Appeared in three of UVA's 10 games … made collegiate debut against Louisville … also appeared in the Abilene Christian and Boston College games.. 2019 – Did not appear in any of UVA's 13 games … suffered a season-ending injury in preseason camp.
HIGH SCHOOL AND PERSONAL
Played wide receiver at Strake Jesuit College Prep for head coach Klay Kubiak … was a 2018 unanimous first-team all-district honoree after making 31 receptions for 691 yards and eight touchdowns as a senior … averaged 22.3 yards per reception as a senior in 2018 … in nine games in 2017 he made 25 catches for 590 yards and three touchdowns … averaged 23.6 yards per reception as a junior … a three-star recruit by ESPN.com, Rivals.com and 247sports.com … major is Religious Studies.