Virginia Cavaliers Official Athletic Site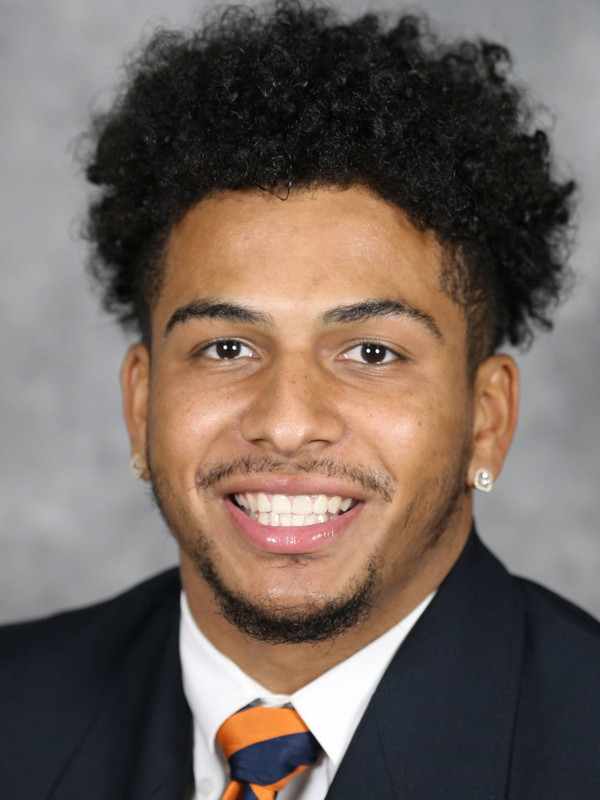 Shane Simpson Audio Pronunciation
HONORS
Accepted invite to the 2021 College Gridiron Showcase in Ft. Worth, Texas.

AT VIRGINIA
2020 – Appeared in all 10 of UVA's games with one start … rushed eight times for 36 yards in the season-opening win over Duke … also caught two passes for 11 yards against the Blue Devils … rushed three times for 11 yards at No. 1 Clemson … also caught one pass for nine yards against the Tigers and returned one kick for 18 more … rushed seven times for 37 yards against NC State … caught another pass against the Wolfpack … rushed five times for 24 yards at Wake Forest … led UVA with 70 rushing yards and 71 receiving yards in win over No. 15 North Carolina … scored on a career-long 71-yard receiving touchdown against the Tar Heels via a swing pass from Brennan Armstrong … rushed 12 times for 50 yards in the win over Louisville … added one reception against the Cardinals … rushed for two touchdowns against Abilene Christian … returned three kicks for 119 yards, including a long of 73 against Boston College … also rushed for 19 yards against the Eagles … rushed for 22 yards at Virginia Tech … also caught three passes against the Hokies.
PREVIOUS SCHOOL
A 2019 graduate from Towson, earning a degree in sport management … appeared in 35 career games for Towson over the 2015-19 seasons … missed most of the 2015 and 2019 seasons with injuries and was granted a sixth year by the NCAA for 2020 … named a first-team FCS All-American in 2018 by the Associated Press, AFCA and Hero Sports after finishing second in all of FCS with 171.5 all-purpose yards per game … also named a 2018 second-team FCS All-American by STATS … named the 2108 CAA Special Teams Player of the Year and was a three-time all-conference selection in 2018 (first-team at running back, second-team at kick returner and third-team at punt returner) … also earned STATS third-team All-America honors in 2016 as kick returner and was a first-ream HERO Sports Freshman All-American on the 2019 Walter Payton Award Watch List … accumulated 1,925 career rushing yards and 13 touchdowns at Towson … also recorded 5,088 career all-purpose yards, including 2,080 on kick return with two more scores … position coach at Towson was former UVA running back Tyree Foreman (1999-01).
HIGH SCHOOL AND PERSONAL
Played for head coach Steve Shiffert at Easton High School … earned first-team all-state honors after rushing for 2,124 yards and 41 touchdowns as a senior … set school record with seven touchdowns in one game … finished career with 4,780 rushing yards, 1,587 receiving yards and 85 touchdowns … named a Blue/Grey All-American … selected to participate in the Big 33 Classic … also a state finalist in the 100-meter dash … son of Yolanda and Troy Simpson … has one sister, Tenesia … doing grad work in the Curry School (education).