Virginia Cavaliers Official Athletic Site
Tavares Kelly Jr.
St. Thomas Aquinas HS
High School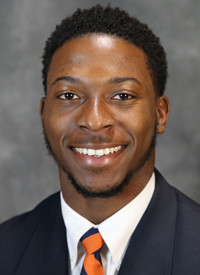 Tavares Kelly Jr. Audio Pronunciation
AT VIRGINIA
2020 – Appeared in five of  UVA's 10 games with one start … made five receptions for 26 yards at Wake Forest … also returned two kicks for 65 yards against the Demon Deacons … caught one pass for 13 yards against No. 15 North Carolina … caught two passes and returned four kicks for 75 yards against Louisville before leaving with an injury … missed the last three games of the year with injury. 2019 – Appeared in 11 of UVA's 14 games with one start … caught four passes against William & Mary … returned one kickoff for 28 yards, while rushing once for nine yards against the Tribe … made two catches for 23 yards in the win over Old Dominion … caught two passes for 35 yards at Miami … rushed once for 17 yards against Duke … recorded his first collegiate touchdown on a four-yard reception at Louisville … caught one pass for 21 yards in win at North Carolina … returned five kicks for 129 yards and caught two passes for 46 yards in the win over Georgia Tech … notched 175 all-purpose yards against the Yellow Jackets … made one catch for 13 yards in win over Liberty … made one catch for nine yards against Virginia Tech. 2018– Appeared in all 13 of UVA's games with two starts … one of 13 UVA true freshmen to see action in 2018 … one of eight true freshmen to make collegiate debut in season-opening win against Richmond … rushed once for four yards and returned one kick for 17 yards against the Spiders … caught first collegiate pass against Ohio in Nashville … also returned first three collegiate punts against the Bobcats, one return going for 42 yards … caught one pass for 25 yards against Louisville in the ACC opener … he also rushed once for eight yards against the Cardinals … caught three passes for 57 yards at NC State … returned two punts against No. 16 Miami with a long of eight yards … returned two punts for 72 yards, including a long of 43 yards at Duke … also returned one kick off for 10 yards … made his first collegiate start against North Carolina and caught three passes for 21 yards … also rushed once against the Tar Heels and returned three punts … caught two passes for 17 yards against Pitt … also returned two punts against the Panthers … rushed once for 11 yards against Liberty.
HIGH SCHOOL AND PERSONAL
A wide receiver and kick returner at St. Thomas Aquinas High School for head coach Roger Harriott … as a senior caught 26 passes for 440 yards and five touchdowns … also recorded 1,294 all-purpose yards, including 425 kick return yards and 386 punt return yards … as a senior rushed the ball seven times for 43 yards and one touchdown … during junior season he returned punts for 382 yards … caught six passes in 2016 for 73 yards and one touchdown … rushed the ball eight times for 133 yards and one touchdown … part of St. Thomas Aquinas' 2015 and 2016 state championship teams, appearing in some postseason games as a sophomore in 2015 … attends same high school as many current and former professional athletes, including Hall of Famer Michael Irvin, Hall of Fame tennis player Chris Evert, current Chargers' defensive lineman Joey Bosa and former Chicago Bear Brian Piccolo, who had his courageous fight with cancer documented in the TV movie Brian's Song … a three-star recruit by ESPN.com, Rivals.com, Scout.com and 247sports.com … major is American studies … 2020-21 John Dahlgren Endowed Scholarship recipient.