Virginia Cavaliers Official Athletic Site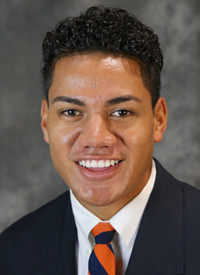 Wayne Taulapapa Audio Pronunciation
AT VIRGINIA
2020 – Appeared in all 10 of UVA's games with eight starts … rushed 16 times for 95 yards and two scores in season-opening win over Duke … also caught two passes for nine yards against the Blue Devils … rushed 13 times for 47 yards at No. 1 Clemson … rushed 12 times for 35 yards against NC State … rushed 10 times for 68 yards and a touchdown at Wake Forest … rushed 10 times for 56 yards at No. 11 Miami … rushed 10 times for 29 yards and a touchdown against No. 15 North Carolina … rushed for 32 yards in the win over Louisville .. rushed four times for 21 yards and a touchdown against Boston College … named to 2021 ACC Academic Honor Roll. 2019 – Appeared in 12 of UVA's 14 games with 11 starts … started first career game at Pitt in the season opener … rushed 10 times for 66 yards and first career touchdown against the Panthers … also caught a pass for five yards … missed William & Mary game with an injury … rushed 18 times for 53 yards and three touchdowns in the win over Florida State … his back-to-back touchdowns at 6:02 and 2:34 in the fourth quarter helped erase a seven-point deficit against the Seminoles … rushed 11 times for 33 yards and a touchdown in UVA's win over Old Dominion … rushed for 31 yards at No. 10 Notre Dame … rushed eight times for 27 yards at Miami … rushed 14 times for 77 yards and two touchdowns in win over Duke … rushed 11 times for 54 yards and two scores at Louisville … rushed for 37 yards and two touchdowns in win over Georgia Tech … rushed six times for 17 yards and a touchdown in the Commonwealth Cup win over Virginia Tech … rushed eight times for 43 yards in the ACC Championship game against Clemson … also caught a pass for 10 yards against the Tigers … rushed five times for 14 yards in the Orange Bowl against Florida. 2018 – Appeared in seven of UVA's 13 games …one of 13 UVA true freshmen to appear in 2018 … made collegiate debut against Miami … has seen his time on special teams … made a special teams tackle against Pitt.
HIGH SCHOOL AND PERSONAL
Played running back at Punahou High School for head coach Kale Ane … rated a three-star recruit according to ESPN.com and Scout.com … rated a two-star recruit according to Rivals.com and 247sports.com … concluded career with 3,279 rushing yards and 52 touchdowns as a three-year starter for the Buffanblu … a first-team Honolulu Star-Advertiser all-state honoree after rushing 180 times for 1,107 rushing yards (6.2 yards per carry) and 18 touchdowns … as a junior rushed 130 times for 1,171 yards and 20 touchdowns in eight games … also caught 15 passes for 114 yards in 2014 … in 2014 he was the 2014 State Championship Impact Player of the Game and a member of the Honolulu Star-Advertiser, KHON Cover 2 and ScoringLive.com first-team all-state … member of Punahou's 2013 state title team and 2014 runner-up squad … last name is pronounced Towel-LA-Papa … served a two-year LDS mission to Managua, Nicaragua … 2020-21 T. David Fitz-Gibbon Football Scholarship recipient … major is Spanish.