Virginia Cavaliers Official Athletic Site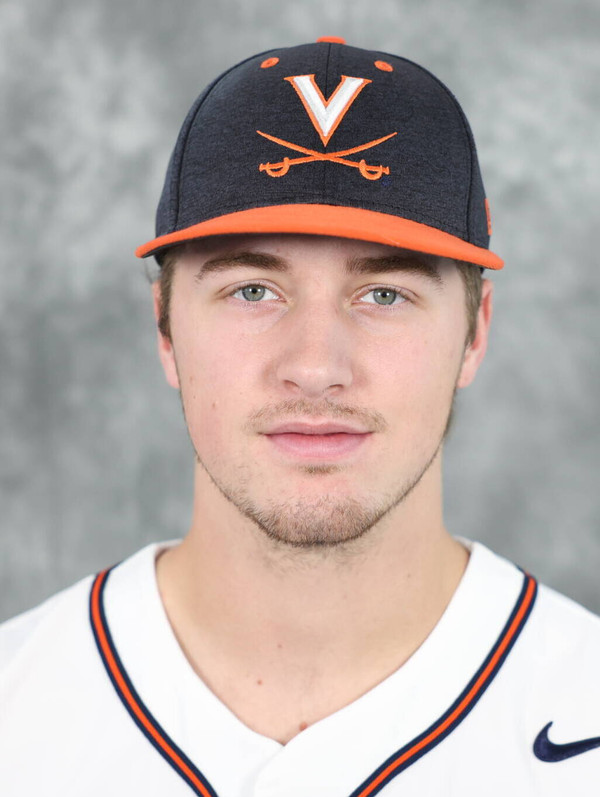 2023
• Baseball America First Team Preseason All-American (Catcher)
2022
• Started all 58 games at catcher, the second-most starts in a season at the catcher position in program history (64 – Justin Counts – 1996).
• Batted .276 (61-for-221) with 12 doubles, three triples, six homers and 45 RBI. His 41 walks led the team and were the tied for the 12th-most in the ACC.
• Named to Greenville All-Regional Team after going 4-for-11 (.364) with two doubles and two RBI in three games.
• His five sacrifice flies were tied for the second-most on the team and 7th most in the ACC.
• Totaled 596 chances and and 554 putouts, both the second most in the league.
• Hit grand slams against Cornell (2/27), Rider (3/15) and Boston College (3/19). The three grand slams are the most in a season by any Cavalier since 2000. His four career grand slams are also the most of any UVA a player in the last 22 years.
• Against Cornell on Feb. 25, walked five times, tying Phil Gosselin's single-game school record set back on March 17, 2010 against James Madison. He was the only player in the ACC to walk five times and one of 13 nationally with five free passes in one game in 2022.
• Went 7-for-12 (.583) with five runs, three RBI in three game series against North Carolina. Went 4-for-5 with three runs scored and an RBI in the series clinching, game two victory.
• Drove in five runs, twice – Cornell (Feb. 25) and Rider (March 15)
• Reached base safely in the first 17 games of the season, extending his reached base streak that began at the end of the 2021 season to 44, tied for the second longest by any Cavalier since 1998.
• USA Baseball Golden Spikes Award Preseason Watch List
• In D1Baseball.com's Top-50 preseason power rankings, was the No. 3 catcher
• D1Baseball.com Second Team Preseason All-American
• Perfect Game Preseason All-ACC selection (UTL) and ranked No. 23 on Perfect Game's top 100 sophomores prior to the season
• One of the 76 catchers on the initial Buster Posey Award Watch List
SUMMER 2022: Selected to play on the USA Baseball Collegiate National Team for the second-straight season. He and Sean Doolittle are the only two Cavaliers to play on the CNT in back-to-back seasons.
2021
• Earned freshman All-America honors from D1Baseball.com (first team), Baseball America (first team), Collegiate Baseball Newspaper, Perfect Game (second team). First UVA freshman ever to earn first team honors from D1Baseball and first since Danny Hultzen in 2009 to earn first team accolades from Baseball America.
• A Third Team All-ACC selection at designated hitter (first UVA DH since 2002) and ACC All-Freshman team selection
• Named to the All-Columbia Regional Team after batting a team-best .391 (9-for-23) with five runs scored, two doubles and three RBI.
• One of four Cavaliers named to the ACC All-Academic Team and also listed on the ACC Academic Honor Roll
• Named the Virginia athletic department's male rookie of the year
• As a true freshman started 53 of the 54 games in which he appeared. Started 15 games at catcher, 19 in right field and 19 at designated hitter
• Missed 10 of the first 11 games, including five ACC contests
• Came on as a pinch hitter to make his collegiate debut against George Washington on March 2. Recorded his first hit and RBI in his second at bat.
• Became the first UVA freshman to lead the team in hitting (.335) since 2008 (John Barr -.325).
• His .335 average was tied for the 10th-most in the ACC and his 70 hits were tied for the eighth most in the league
• Co-led the team with nine home runs and was tied for second on the club with 41 RBI
• Hit his first career homer on March 13 against Notre Dame, his fifth collegiate game
• Hit a go-ahead, opposite-field homer in the bottom of the eighth in a 6-5 win over Liberty on April 27
• Homered in back-to-back games twice. First against Notre Dame on March 13 and 14 and again on April 27 and April 30 against Liberty and Virginia Tech, respectively.
• Reached base in 26-straight games to end the season, the longest on the team in 2021
• Hit the first grand slam in UVA postseason history in the seventh inning of game three of the Super Regionals to erase a 2-1 deficit
• Put together 23 multi-hit games, second most on the team
• Only had three or more hits three times, all came in the postseason.
• Against Jacksonville in the Columbia Regional went 4-for-6 with a double and two RBI. The four hits matched a UVA NCAA Tournament single-game record.
• Went 7-for-12 (.583) with a double and an RBI in three College World Series games
SUMMER 2021: Selected to play on the USA Baseball Collegiate National Team, one of 14 to be named to the team in UVA history … played 11 games for Team USA … batted .233 (7-for-30) with three doubles and an RBI … joined the Wisconsin Rapid Rafters of the Northwoods League with teammate Addie Burrow where he played an additional 14 games … he batted .277 (13-for-47) with 14 runs scored, two doubles, a home run and 10 RBI … five of his 14 games were multi-hit efforts.
MAHWAH HIGH SCHOOL
• Named the 2020 New Jersey Gatorade Player of the Year
• The No. 1 overall player in the state of New Jersey according to Perfect Game
• 2019 Second Team All-State selection as a shortstop. Also spent time as an outfielder, pitcher and catcher during his prep career.
• One of 80 players invited to the Major League Baseball Prospect Development Pipeline League in August of 2019
• Ranked as the nation's No. 16 prospect in the Class of 2020 by Prep Baseball Report and the No. 41-ranked player in the country by Baseball America.
• As a junior in 2019, batted .574 (35-for-61) with eight homers, 31 RBIs, posted an on-base percentage of .678 and a slugging percentage of 1.164. He struck out twice and drew 21 walks. On the mound he went 3-0 with three saves and fanned 16 in 11.2 innings.
• In the summer of 2020, played for the Wisconsin River Rafters of the Northwoods League. Appeared in 31 games, batted .258 (25-for-97) with three home runs, four doubles and 18 RBI
• Played travel ball for Canes Baseball (2017-19)
PERSONAL
• Born in Ridgewood, N.J.
• Son of Garett Teel and Janine Libutti
• His brother, Aidan, is also a member of the UVA baseball team. Kyle and Aidan are the seventh set of brothers to play for head coach Brian O'Connor at UVA and only the second set to play on the same team (Jake/Zack Gelof).
• His father Garett was a 11th round draft pick (318th overall) of the Los Angeles Dodgers in the 1989 draft. He spent five seasons in the organization both as a player and coach.
• Has yet to declare a major at UVA
• Recipient of the 2022-2023 James O. West Endowed Baseball Scholarship