Virginia Cavaliers Official Athletic Site
Bobby Haskins
Fairfield, Conn.
Hometown
The Hun School (N.J.)
High School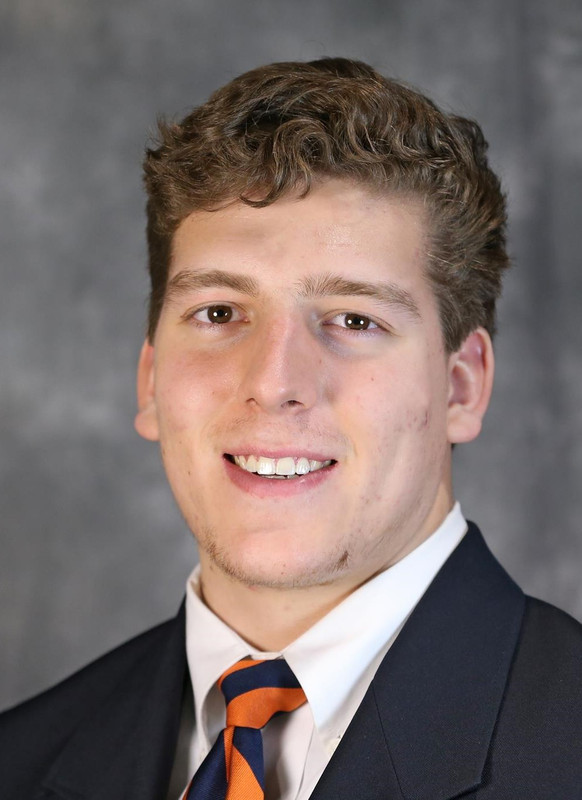 AT VIRGINIA
2020 – Appeared in eight of UVA's 10 games … dealt with off-season injury to start the year … saw most of time on special teams … also rotated in at tackle positions. 2019 – Appeared in all 14 of UVA's games with 13 starts at left tackle … helped block for quarterback Bryce Perkins, one of two quarterbacks in the nation with 3,000+ passing yards and 700+ rushing yards … blocked for Perkins as he broke the UVA single-season passing record and single-season total offense record. 2018 – Appeared in all 13 of UVA's games … has seen time at the tackle positions and on special teams … has helped block for Bryce Perkins, who was one of two players in the nation with 2,600+ passing yards (2,680) and 900+ rushing yards (923), joining Oklahoma's Kyler Murray … Perkins finished the season No. 1 in the ACC and No. 13 in the nation with 206 points responsible for … Perkins was also No. 3 in the ACC and No. 21 in the nation with 3,603 yards of total offense.
HIGH SCHOOL AND PERSONAL
Was a January enrollee and will take part in 2018 spring practice … played left tackle and defensive end at the Hun School for head coach Todd Smith … named first-team all-league in 2017 and named to the New Jersey Mid-Atlantic Prep League All-Star team … earned the 2017 U.S. Army Reserve National Student-Athlete Award … also earned in 2017 the National Football Foundation and Hall of Fame Student-Athlete Award … spent first three years of high school at Fairfield Prep where he also played tight end … was a 2016 Connecticut Interscholastic Athletic Conference Class LL All-League tight end … in 2016 earned ESPN Radio Connecticut High School Player of the Week and Connecticut Channel 12 TV Scholar Athlete of the Week honors … earned the 2017 Reverend Adolpho Nicolas Award as the Outstanding Leader and the 2017 Reverend Eugene Bissette Award as the Outstanding Student-Athlete at Fairfield Prep … also played basketball at Fairfield Prep and helped them win the 2015 Connecticut Interscholastic Athletic Association LL State championship … son of Bob and Kim Haskins … has three sisters, Cooper, Julia and Peyton … member of the National Honor Society … Student Body Vice President at Fairfield Prep … volunteer elementary school basketball coach at Cardinal Sheehan Center in Bridgeport, Conn. … father, Bob, was a three-year letterman at Columbia as a defensive end … enjoys golf … a three-star recruit by ESPN.com, Rivals.com, Scout.com and 247sports.com … born in Greensboro, N.C. … major is foreign affairs.