Virginia Cavaliers Official Athletic Site
Devin Chandler
Huntersville, N.C.
Hometown
William Amos Hough
High School
Wisconsin
Previous School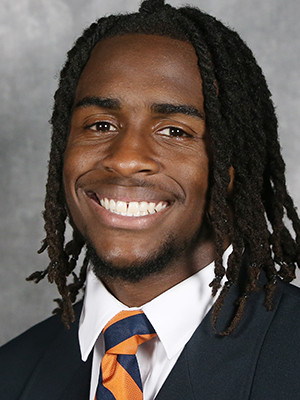 PRIOR TO VIRGINIA (WISCONSIN)
2021: Appeared in six games … returned a total of four kicks for 85 yards, 73 came on three returns against Notre Dame on Sept. 25. 2020: Earned first letter, playing in four games as a wide receiver and kickoff returner … had two catches for 28 yards (both at Iowa) … returned 6 kickoffs for 156 yards … had a 59-yard kickoff return and 18-yard rush in the Duke's Mayo Bowl against Wake Forest.
HIGH SCHOOL AND PERSONAL
Three-star recruit by 247 Sports … first-team I-Meck Conference as a senior in 2019 … started his prep career at Arlington High School in Tennessee where he played wide receiver and defensive back before transferring to William Amos Hough High School in North Carolina for his senior season … hauled in 128 receptions for 2,391 yards during his prep career and caught 33 touchdowns and tallied 7 interceptions … scored 14 touchdowns his senior year while hauling in 50 catches for 905 yards … caught 28 passes for 728 yards and 8 touchdowns his junior season … caught 43 passes for 758 yards and 11 touchdowns his sophomore year while posting 5 interceptions … also competed in track and field where he was the Tennessee state runner-up in the 110 hurdles in 2019 … honor-roll student … high school coach was Matthew Jenkins … major is undecided in UVA's College of Arts and Sciences.