Virginia Cavaliers Official Athletic Site
Tony Elliott
The Fralin Family Head Football Coach
Position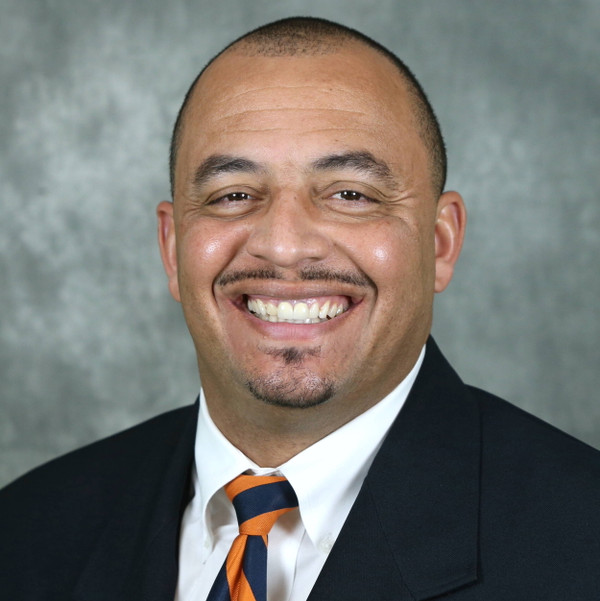 Now entering his second season at Virginia, Tony Elliott, a patient man, was looking for the right fit when it came time for him to leave the assistant coaching ranks and take on the responsibility of running a collegiate football program as the head coach. During his 11-year tenure at Clemson, his alma mater, several opportunities presented themselves, but it was not until Virginia came calling that he felt the setting was right for what he wants to accomplish.
On Dec. 10, 2021, Elliott was named the University of Virginia's Fralin Family Head Football Coach. At his introductory press conference, he explained his decision to become the Cavaliers' head coach and what he wants to accomplish in Charlottesville.
"I chose UVA because I wanted to lead a program that was partnered with a university that had world-class academics," he said "I wanted to be able to recruit the best and the brightest student-athletes.
"I wanted to compete in the best conference in college athletics. I wanted to be a part of an alignment with (athletic director) Ms. Carla (Williams) and President (Jim) Ryan that shared a vision that was similar to mine, which is centered around the holistic development of the student-athlete. And lastly, I wanted to be part of a university and athletic department that would not compromise its values to win.
"There is no better place for me than UVA. And there is no better time than now."
Since arriving at Virginia, Elliott has worked to craft what he had hoped to build for years – The Model Program.
"My vision for the UVA football program is to become the model in college football, the model program in college football," he said. "My goal is to contribute to changing the narrative in college football and demonstrate that you can win at the highest level and you can do so while achieving excellence in education, leadership and service."
Elliott's cornerstones of that culture are based on H.E.A.R.T.–  humility, effort, accountability, respect and toughness.
"I think that building a championship culture starts with making sure that you have alignment and a vision," he said. "You clearly state the vision and you are particular in the people that you bring in and make sure that they align with the vision, and then you stay grounded to the principles that you set in place for the players and the staff, and you go to work every single day, and you keep an inside-out mentality. It's one day at a time, and eventually that will bring your championship culture to life."
Elliott's background and coaching pedigree is rich with championship experiences.
He spent 11 seasons as an assistant on Dabo Swinney's staff at Clemson. In January of 2021, he was named the program's assistant head coach and offensive coordinator. He previously served as the team's co-offensive coordinator (2014-20) and the team's running backs coach (2011-20).
At Clemson, Elliott was a part of a 10-season stretch in which the Tigers won 10 or more games. In that span, Clemson won six Atlantic Coast Conference Championships, made four appearances in the College Football Playoff National Championship game and captured national titles in 2016 and 2018.
Following Elliott's promotion to co-offensive coordinator prior to the 2014 Russell Athletic Bowl, the Tigers posted an 89-10 record and ranked in the top 12 nationally in total offense. Clemson either led or ranked No. 2 in the ACC in total offense in five of his seven seasons as an offensive coordinator. Elliott's 2018 and 2019 offenses were responsible for two of the 22 650-point seasons in major college football history.
Elliott was named the Frank Broyles Award recipient as the nation's top assistant coach in 2017. Before transitioning to the tight ends room this year, Elliott was in charge of Clemson's running backs for his first 10 seasons. In that time, he guided  Clemson running back Travis Etienne to one of the most illustrious careers in ACC and college football history, helping him set the NCAA record for most games scoring a touchdown (46) and secure ACC records for career rushing yards (4,952), total touchdowns (78), rushing touchdowns (70) and points (468).
As the program's offensive coordinator, Elliott worked with two first-round draft picks at quarterback, including the 2021 first overall pick Trevor Lawrence. From 2015-2020, a Clemson offensive player took home both the ACC's Player of the Year and Offensive Player of the Year awards  four times.
Prior to returning to his alma mater, Elliott spent three seasons at Furman (2008-10) and two at South Carolina State (2006-07) coaching wide receivers at both schools. Prior to his coaching career he worked for Michelin North America for two years.
In 2002, Elliott earned his undergraduate degree in industrial engineering from Clemson, where he was a first-team Academic All-ACC selection as well as a CoSIDA Academic District III member. He was also a recipient of an ACC Weaver-James-Corrigan Postgraduate Scholarship.
Under Tommy Bowden, he came to Clemson as a walk-on wide receiver in the fall of 1999 and finished his career with four letters and appeared in 44 games. Swinney was his position coach his senior year (2003) in which he was named a co-captain of a team that finished with a 9-4 record and a No. 22 final ranking by AP and USA Today.
Born in Watsonville, Calif., Elliott and his wife, Tamika, have two sons, A.J. and Ace.
TONY ELLIOTT COACHING LEDGER
| Year | School | Position(s) | W-L | Bowl(s) |
| --- | --- | --- | --- | --- |
| 2006 | SC State | WR | 7-4 | |
| 2007 | SC State | WR | 7-4 | |
| 2008 | Furman | WR | 7-5 | |
| 2009 | Furman | WR | 6-5 | |
| 2010 | Furman | WR | 5-6 | |
| 2011 | Clemson | RB | 10-4 | Orange |
| 2012 | Clemson | RB | 11-2 | Chick-fil-A |
| 2013 | Clemson | RB | 11-2 | Orange |
| 2014 | Clemson | RB | 9-3 | |
| | Clemson | Co-OC,RB | 1-0 | Russell Athletic |
| 2015 | Clemson | Co-OC,RB | 14-1 | Orange, CFPNCG |
| 2016 | Clemson | Co-OC,RB | 14-1 | Fiesta, CFPNCG |
| 2017 | Clemson | Co-OC,RB | 12-2 | Sugar |
| 2018 | Clemson | Co-OC,RB | 15-0 | Cotton, CFPNCG |
| 2019 | Clemson | Co-OC,RB | 14-1 | Fiesta, CFPNCG |
| 2020 | Clemson | Co-OC,RB | 10-2 | Sugar |
| 2021 | Clemson | OC, TE | 9-3 | |
| 2022 | Virginia | Head Coach | 3-7 | |
| | | Record as HC | 3-7 | |
| | | Record as Asst. | 162-45 | |
| | | Clemson Record | 130-21 | |
| | | Record as OC | 89-10 | |