Virginia Cavaliers Official Athletic Site
Tayvonn Kyle
Iowa State
Previous School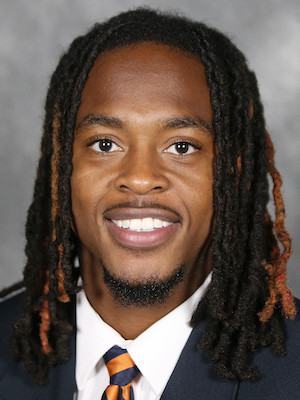 Tayvonn Kyle Audio Pronunciation
PRIOR TO VIRGINIA (IOWA STATE)
2022 (Senior): Played in all 12 games, making two starts … had 16 tackles, including one for a loss … registered four pass breakups … had four tackles in games against Oklahoma State and TCU … also broke up two passes against the Horned Frogs … finished his career playing in 42 games and making 76 tackles, including seven tackles for a loss … also had one career interception. 2021 (Junior): Played in 11 games, registering three tackles … named to Big 12 Commissioner's Honor Roll. 2020 (Sophomore): Honorable mention All-Big 12 … played in all 12 games, starting five … recorded 28 tackles, including 20 solo stops … also had 2.0 TFL and an interception … led the team with six pass breakups … posted five tackles vs. Oklahoma … had six stops and a pass breakup vs. Texas Tech … had three solo tackles and first career interception vs. Baylor … had a career-high two pass breakups vs. Texas. 2019 (RS Freshman): Honorable mention All-Big 12 … emerged as one of ISU's top corners, starting the last five games of the season … played in seven games … posted 29 tackles and 4.0 TFL … tallied five tackles vs. Texas Tech in his first game with significant snaps … in his first career start vs. Oklahoma, tallied six tackles and 1.5 TFL … had four solo tackles and a pass breakup vs. Kansas … posted a season-high seven tackles vs. Notre Dame. 2018 (Freshman): Redshirted initial collegiate season … began career as a wide receiver before switching to the defensive secondary.
HIGH SCHOOL AND PERSONAL
A three-star recruit by 247Sports, Rivals and ESPN … ranked as the No. 136 athlete by 247Sports … a first-team all-state selection in 2017 as a returner … caught 42 passes for 766 yards and 10 touchdowns as a senior … also threw a pair of touchdown passes in his only two attempts … team finished the season at 11-1 … runs the 40 in 4.42 … also member of the track and field team … member of 4X100 relay team that finished eighth in Class 7A at the 2018 state meet … placed fifth in the triple jump (45-01.25) … coached by Randy McPherson … son of Kenya Kyle … management major at Iowa State…pursuing a graduate non-degree in Education at UVA.