No. 2 Syracuse Hands No. 5 UVa its First Loss of the Season, 15-9
Story Links
Box Score March 1, 2015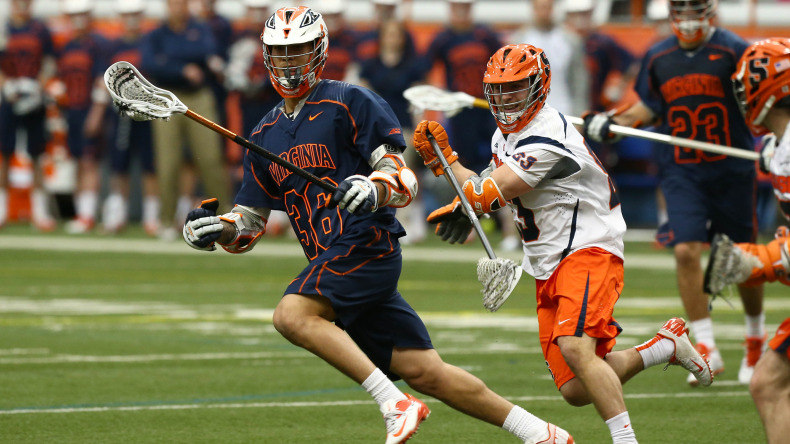 SYRACUSE, N.Y. – No. 2 Syracuse (4-0, 1-0 ACC) utilized a 7-0 run out of the gate to set the tone in its 15-9 win over No. 5 Virginia (3-1, 0-1 ACC) on Sunday afternoon, inside the Carrier Dome.
"It felt a little like men and boys out there at times," said Virginia men's lacrosse head coach Dom Starsia. "You go into a game like this thinking you want to stay out of the penalty box and do all the little things. We were not able to accomplish those things. I thought that our kids battled the whole time. I thought that Syracuse's comfort level in the building and with its experience overall – they were very good in those unsettled situations and picking the ball up off the ground and we were not good enough in those situations."
Syracuse sprinted out to a 7-0 lead, including holding the Cavaliers scoreless for the game's first 26:21 of play. UVa's Greg Coholan stopped the bleeding with the Cavaliers' first goal with 3:39 left in the second quarter. Nicky Galasso started the game with back-to-back goals for Syracuse and he completed the hat trick with his third score with 16 seconds left in the first half.
The Cavaliers made it interesting in the second half, outscoring the Orange 8-7, but it wasn't enough. After Kevin Rice scored a man-up goal for Syracuse to start the third quarter scoring, James Pannell and Ryan Tucker each tallied goals to dent the scoreboard on UVa's side. Tucker's score on a Coholan helper cut the deficit to seven goals, 10-3, with 10:02 left in the third stanza.
Syracuse retaliated with three straight goals, capped by Tim Barber's score with 5:59 left in the third period. Ryan Tucker picked up a Matt Barrett save and went coast-to-coast and capped the third quarter scoring with his second goal with four seconds left on the clock.
Virginia continued to flourish with five goals in the fourth quarter. Nine seconds into the final frame Coholan scored his second goal of the game off a UVa faceoff win. Michael Howard provided his first career assist on the play, cutting the Syracuse deficit back to seven goals, 12-5. Owen Van Arsdale had a nifty behind the back goal on a Ryan Lukacovic helper, while Zed Williams scored twice and Tyler German added one in the fourth frame, but it wasn't enough as the Orange held court for the win.
Syracuse controlled time of possession by winning the faceoff (20-7) and shots (50-31) battles. Syracuse's Galasso led all scorers with four goals, while UVa received two goals apiece from Coholan, Tucker and Williams.
Virginia returns to action on March 7 when No. 13 Cornell comes to Klöckner Stadium. Faceoff is set for 1 p.m.